President's Letter
March 2018
As I sit here writing this letter, we're dealing with our second Nor'easter in five days. We had a few good days to fish in January and February, but this March stinks so for. The streams are so high that even if it warmed up and stopped raining, we're at least a week or two away from a fishable height. The reason being the ground is so saturated that it cannot absorb any more water.
I always try to fill you in on my fishing exploits over the last month. Molder's Fish Preserve is only twenty minutes from my home in Marlboro. A few of us have been testing it since we're having our fly casting course there on April 21. Molder's allows us to fish catch and release with barbless hooks for $12.00 a day. If you go there to fish, make sure you tell them you're from CJTU. You can always keep some fish for a fee. He stocks the large trout pond with rainbows and tigers. It was last stocked in November, so there are less trout there now, and those there tend to be spooky.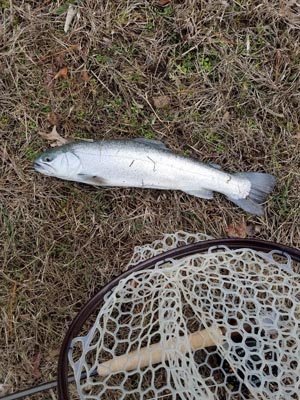 Embedded in this letter is a picture of a thirteen-inch tiger I caught and released about three weeks ago. They are basically silver since I think they feed on minnows exclusively. I couldn't capture the vermiculation in the picture. I did see it though on the fish's back in the sunlight. BTW, the last time I was there I saw a large tiger about seventeen inches near the bank waiting to ambush some baitfish. I tossed my wollybugger in his view but he spooked.
Molder's is waiting for the path to the trout pond to dry up so the stocking truck can get to the pond to stock. They told me hopefully that will happen in the next couple of weeks. You can phone them at 732-446-2850 in a couple of weeks to ask if it has been stocked.
Don't forget our Musky cleanup and stream walk afterwards on April 14. We will meet at 9:00 at the small parking area on Point Mountain Road. If you want to learn which flies to fish and the pools to fish on the TCA Point Mountain Stretch, this is your chance. Please sign up for the cleanup and stream walk at the meeting on March 13.
On March 24 and 25 we will be at the Pequest Open House. We're asking for any old fishing equipment that you no longer use, so we can sell it there. Last year we did very well raising funds by selling flies and the donated used equipment. Please consider looking through your basement and garage to see what you can donate and bring your donation to our meeting on March 13.
In April we're going to be at Rutger's Day on Saturday April 28. That is always a super event to get our TU conservation message out to thousands of people.
Again, this month we have another interesting speaker, Matt Grobert speaking on New Jersey hatches and their imitations. And as usually, pizza soda and a lot of good prizes. Come out and join us!
Tight Lines,
George
You can contact George at



---
February 2018
It's the morning of February 5 as I write this letter. It's another cold and windy day outside, not conducive to enjoying a day on a stream. Nevertheless, checking the long-term forecast, Valentine's Day is supposed to reach 49 degrees. If that holds true, I plan to be on a stream. January 22 was a warm, cloudy day with only a brief sprinkle of rain which allowed me to fish the "Gorge". I found the Gorge to have a good number of fish in it, and managed to land five, including one about eighteen inches. Maybe, just maybe, I'll get the same thrill on Valentine's Day. At least I can hope!
It looks as though we have a good number of people registered for our beginner's and intermediate fly tying classes. The beginner's program will be new, with web-based tying incorporated in the course. That program was developed by our instructors this past fall. They are indeed a gifted and creative group! I'm sure those attending the beginner's classes will learn the art of tying and have a new hobby to fill their winter evenings.
The Garden State Outdoor Sportsman's Show and the Fly Fishing Show were well attended, and we had the pleasure of talking to a good number of people interested in our chapter's conservation and fishing activities. If half the people I invited to our February 13 meeting show up, we will have a very large crowd. If you and I spoke, please don't forget my invitation, and join us on Feb.13.
I am pleased to announce that one of our long-term members, Neil DeRiggi, has volunteered to be CJTU's Veterans Coordinator. Neil joined our chapter back in the late 70's and has been heavily involved with "Project Healing Waters" for the last several years. I mention this in case any of you are veterans and would like to reach out to Neil. You can talk with him at one of our meetings or reach out to him on e-mail < fishn50@aol.com >. Thank you, Neil.
The "A-Frame project", which is a major stream restoration and improvement project, will officially begin on June 18. We will need some people to help clear a path for the heavy equipment entering the stream. All of the final permits were granted, and we have received the signed documents. This is another exciting time for our chapter as it was when the Point Mountain project commenced in June of 2015. I feel after our work on the A-Frame property, that stretch will rival Point Mountain as a destination to fish. Most of the work on this project was done by our Conservation Chair, Fred Simonson. From his work with the Point Mountain project and now the A-Frame project, Fred has been our resident expert, as well as being the Chapter Treasurer. Kudos to Fred!
Dates to remember: April 14 is the annual Musconetcong River cleanup, followed by a stream walk of Point Mountain. If you want to learn where to fish and what flies to use to be successful there, please join us. We had a blast on our last stream walk there this past November 4. On May 5 we will be teaching fly casting at Molder's Fish Preserve in Englishtown. Their trout pond is heavily stocked, so hopefully students may experience their first tight line. On June 29 we will be teaching fly casting at the Pequest Hatchery Education Center. Students will have another chance to catch and release some large rainbows at the education pond.
Keep an eye out for a warm day and wet a line this month!
You can contact George at



---
January 2018
Well first of all, I would like to mention for those of you who didn't attend, that the December meeting was a great time and everyone had fun. Santa's arrival was quite a scene that evening. Santa was kind enough to hand out a fly box to everyone. At first Santa gave me a bag of coal, but afterwards he mended my broken heart and gave me a fly box. The big winner of the night was Trevor Martin, one of our younger members, who won the 9'0" 4 wt. Orvis Clearwater rod which Santa brought in as the big door prize. Here you see Trevor with Santa and his new rod. Congratulations Trevor! Santa will return next December, and who knows what he will have next year in his goodie bag!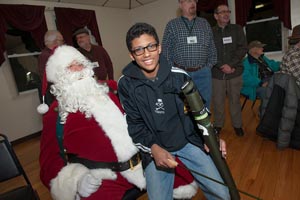 OK! It's far too cold for anyone of us to wade a stream now and for the foreseeable future. How long is it to mid-March? This is the time of year for us trout bums when many of us contract a severe case of "cabin fever". There is no better antibiotic for cabin fever than attendance to one of two shows later this month. The Garden State Outdoor Sportsman Show (Jan. 11, 12, 13, & 14) and the Fly Fishing Show (Jan. 26, 27, & 28). Both shows will be at Exhibition Center located in the Raritan Center in Edison. We will have a booth at both shows. Please don't be shy and stop by and introduce yourself at either show. I always enjoy meeting new people who haven't attended one of our General Meetings.
For those of you who have yet to learn fly tying or want to enhance your tying ability, we're offering both beginner's and intermediate fly tying instruction. A lot of effort has been put into these classes. A five-man committee has been working the last few months on preparing these two offerings. We do know that most fly tying today is learned independently by sitting in front of your computer and watching YouTube videos. Well our instructors have integrated these classes with web instruction. From listening to our fly tying instructors, I'm convinced we have modernized fly tying classes to meet with 2018 demands. We have fused the old with the new to offer a better learning environment. You can find see additional details of the classes in this issue of Mainstream.
This month Lou DiGena will give us a presentation of fly fishing the Japanese way, "Tenkara". Lou truly knows this manner of fly fishing. I've seen John Wester "knock'em dead" with a Tenkara rod in his hand this past June. It should be a very interesting program for those of you with little knowledge of Tenkara. Please consider joining us on January 9. Get there early at 7:30 and enjoy some pizza and soda. Next month we're having Andrew from "Trout Haven" in Central PA. I saw this program a few months ago at the Ernest Schwiebert Chapter of TU in Princeton. Trout Haven is an appropriate name for this lodge and private stretch of stream. When you see some of the pictures of the fish caught you will see that it is in fact haven!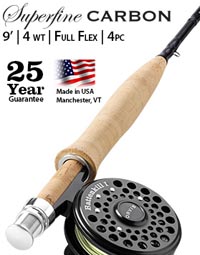 Things to watch for this Spring from the Chapter: Musky Stream Cleanup and stream walk of the Point Mountain Stretch. Casting on May 2 at Mulder's Fish Farm in Englishtown. Casting Instruction at the Pequest Trout Hatchery on June 29. Beginning of stream restoration/improvement of the A-Frame Stretch on the Musky shortly after June 15. Participation at the Pequest Open House.
One final thing! Don't forget to buy a chance on our yearly conservation raffle at a meeting or one of the shows. The tickets are five dollars and the prize is the outfit pictured here.
Stay warm,
George
You can contact George at



---
---