President's Letter
January 2018
Well first of all, I would like to mention for those of you who didn't attend, that the December meeting was a great time and everyone had fun. Santa's arrival was quite a scene that evening. Santa was kind enough to hand out a fly box to everyone. At first Santa gave me a bag of coal, but afterwards he mended my broken heart and gave me a fly box. The big winner of the night was Trevor Martin, one of our younger members, who won the 9'0" 4 wt. Orvis Clearwater rod which Santa brought in as the big door prize. Here you see Trevor with Santa and his new rod. Congratulations Trevor! Santa will return next December, and who knows what he will have next year in his goodie bag!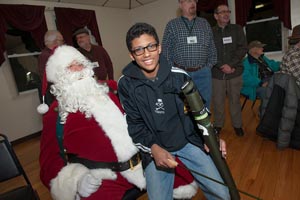 OK! It's far too cold for anyone of us to wade a stream now and for the foreseeable future. How long is it to mid-March? This is the time of year for us trout bums when many of us contract a severe case of "cabin fever". There is no better antibiotic for cabin fever than attendance to one of two shows later this month. The Garden State Outdoor Sportsman Show (Jan. 11, 12, 13, & 14) and the Fly Fishing Show (Jan. 26, 27, & 28). Both shows will be at Exhibition Center located in the Raritan Center in Edison. We will have a booth at both shows. Please don't be shy and stop by and introduce yourself at either show. I always enjoy meeting new people who haven't attended one of our General Meetings.
For those of you who have yet to learn fly tying or want to enhance your tying ability, we're offering both beginner's and intermediate fly tying instruction. A lot of effort has been put into these classes. A five-man committee has been working the last few months on preparing these two offerings. We do know that most fly tying today is learned independently by sitting in front of your computer and watching YouTube videos. Well our instructors have integrated these classes with web instruction. From listening to our fly tying instructors, I'm convinced we have modernized fly tying classes to meet with 2018 demands. We have fused the old with the new to offer a better learning environment. You can find see additional details of the classes in this issue of Mainstream.
This month Lou DiGena will give us a presentation of fly fishing the Japanese way, "Tenkara". Lou truly knows this manner of fly fishing. I've seen John Wester "knock'em dead" with a Tenkara rod in his hand this past June. It should be a very interesting program for those of you with little knowledge of Tenkara. Please consider joining us on January 9. Get there early at 7:30 and enjoy some pizza and soda. Next month we're having Andrew from "Trout Haven" in Central PA. I saw this program a few months ago at the Ernest Schwiebert Chapter of TU in Princeton. Trout Haven is an appropriate name for this lodge and private stretch of stream. When you see some of the pictures of the fish caught you will see that it is in fact haven!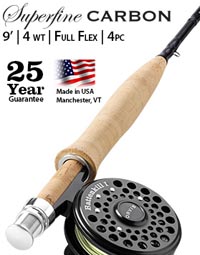 Things to watch for this Spring from the Chapter: Musky Stream Cleanup and stream walk of the Point Mountain Stretch. Casting on May 2 at Mulder's Fish Farm in Englishtown. Casting Instruction at the Pequest Trout Hatchery on June 29. Beginning of stream restoration/improvement of the A-Frame Stretch on the Musky shortly after June 15. Participation at the Pequest Open House.
One final thing! Don't forget to buy a chance on our yearly conservation raffle at a meeting or one of the shows. The tickets are five dollars and the prize is the outfit pictured here.
Stay warm,
George
You can contact George at



---
---