General Meeting
Tuesday, March 14, 2017
Agust Gudmundsson
"New Jersey Trout Streams Tour"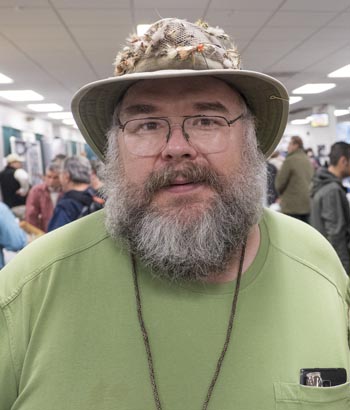 Agust was born in Reykjavik Iceland, and raised in northern New Jersey.  He is an avid angler who's involvement in Trout Unlimited began with a fly tying class in 1975.  Agust joined the Central Jersey Chapter in 1987, after meeting Dick Turse at Efingers while buying tippet and other fishing materials.  Agust has served as Conservation Chair, V.P., Chapter President of the Central Jersey Chapter, State Council Chair and is the Current Membership Director for the NJ State Council.  For the last 7 years Agust has been serving on the NJ Fish and Game Council, having been appointed by Governor Chris Christie, where he currently heads the Fish Committee.  Agust is also the Northern Region representative for the Federation of Sportsmen's Clubs .
Agust's presentation includes a tour of selected NJ streams, wild and stocked, with anecdotes about where to park, what flies to use or lies to tell.  This is expected to be an open conversation, and audience participation will be encouraged. Join us for a fun and insightful evening with one of our own fishing and conservation legends.
Tuesday, April 11, 2017
Tim Flagler
"What's Happening on New Jersey Trout Streams"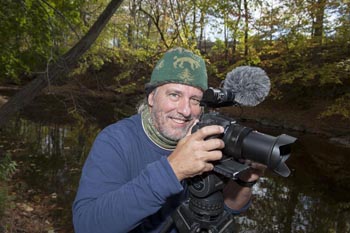 Tim Flagler, videographer and fly tier, is the owner of Tightline Productions, L.L.C., a video production company located in Califon, NJ. Although Tightline produces video programs over a wide range of topics, their specialty is fly fishing. Almost every week they produce a new fly tying or "how to" video which appears not only on their Vimeo and YouTube channels but on Midcurrent and the Orvis fly tying blog as well. These videos often get picked up by other sites too, including Frankenfly, Chiwulff, The Limp Cobra, Globalflyfisher, Gink and Gasoline and Wideopenspaces, just to name a few. Many of the tying videos take the viewer well beyond just the tying of the fly and show what it looks like underwater, what natural it represents and how it can be fished.
Tim's presentation will include a wealth of video about insects, fish, and popular fly patterns and techniques that help you catch trout in the Garden State.
American Legion Hall
137 New Market Road
Dunellen, NJ
Meeting starts at 8 PM
Non Members are always welcome!
News & Events
CJTU
Fly Tying School 2017
Dates: February 1, 8, & 15 & March 1, 8, & 15, 2017
Time: 7:30 to 9:30 PM
Registration Fee

$75.00 for Beginners, Materials and Tools provided.

$50.00 for Intermediate Courses (Students must have there own vise and tools.)
This year we will be offering the following courses:
Beginners Fly Tying Class:This is our entry-level class for the persons just getting started in fly tying or who has very little experience. We will cover the basic tools, techniques and materials necessary to tie a variety of basic flies, concentrating on patterns that work well on local rivers and streams.
Intermediate Fly Tying Class: This class is for the intermediate tier who has acquired the basic skills in handling tools and materials either by previously taking a beginners course and/or tying flies regularly for a year.
Tier's Round Table: The "Fly Tying Workshop" is now the "Tier's Round Table." Bring your vise and materials to our Tier's Round Table, learn a new fly and/or get help fellow members on patterns old and new. The "Tier's Round Table" is self-directed and no formal instruction is planned. All we request is a donation of $5.00 per session to help defer the cost of the hall.
---
It's Time for a New License!
---
Pequest Open House
and Sportsmen's Flea Market
April 1 & 2, 2017
10 a.m. - 4 p.m. Daily
---
Trout in the Clasroom
Central Jersey TU Schools
2016 - 2017 School Year
Bridgewater High School, Bridgewater
Colonia Middle School, Colonia
Dunellen High School, Dunellen
Middlesex County Vo-Tech, East Brunswick
Warnsdorfer School, East Brunswick
New Road School, Parlin
Sayreville Middle School, Parlin
Edmund Hmieleski ECC, Perth Amboy
Samuel E Shull School, Perth Amboy
Bright Beginnings Learning Center, Piscataway
Spotswood High School, Spotswood
Angelo L. Tomaso Elementary School, Warren
Watchung Hills Regional High School, Warren
Wilburforce School, Princeton Junction
Purnell School,Pottersville
Monroe Township High School, Monroe Township
Taylor Mills School,Manalapan
Lafayette Mills School,Manalapan
Clark Mills School,Manalapan
Wemrock Brook School,Manalapan