General Meeting
Tuesday, April 11, 2017
Tim Flagler
"What's Happening on New Jersey Trout Streams"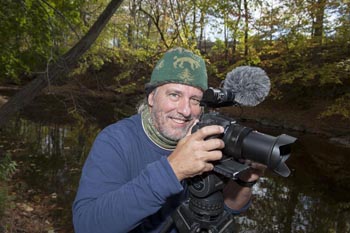 Tim Flagler, videographer and fly tier, is the owner of Tightline Productions, L.L.C., a video production company located in Califon, NJ. Although Tightline produces video programs over a wide range of topics, their specialty is fly fishing. Almost every week they produce a new fly tying or "how to" video which appears not only on their Vimeo and YouTube channels but on Midcurrent and the Orvis fly tying blog as well. These videos often get picked up by other sites too, including Frankenfly, Chiwulff, The Limp Cobra, Globalflyfisher, Gink and Gasoline and Wideopenspaces, just to name a few. Many of the tying videos take the viewer well beyond just the tying of the fly and show what it looks like underwater, what natural it represents and how it can be fished.
Tim's presentation will include a wealth of video about insects, fish, and popular fly patterns and techniques that help you catch trout in the Garden State.
American Legion Hall
137 New Market Road
Dunellen, NJ
Meeting starts at 8 PM
Non Members are always welcome!
News & Events
It's Time for a New License!
---
Pequest Open House
and Sportsmen's Flea Market
June 3 & 4, 2017
10 a.m. - 4 p.m. Daily
Due to excessive snow cover and resulting poor condition of the grounds at the Pequest Trout Hatchery, the Open House has been rescheduled from April 1 and 2 to June 3 and 4. The new date will coincide with National Fishing and Boating Week, which runs from June 3 – 11, and the June 10 Free Fishing Day.
For information and updates visit www.njfishandwildlife.com/peqoh.htm on the NJDEP Division of Fish and Wildlife website.
---
Pequest Open House
Fundraising Event
If your like me, you have probably accumulated a lot of fishing, hunting and camping gear over the years. While many of these items are prized possessions, you probably also have some gear lying around that has fallen out of regular use and is just collecting dust. If your married like me, these items are taking up valuable space that your significant other feels could be better served storing something else. Chances are you can't bring yourself to throw the stuff away. What if I told you you could clean out that garage, basement or spare room and help out Central Jersey Trout Unlimited at the same time? We are now accepting donations of any type of outdoor sporting gear.
Every year, Central Jersey Trout Unlimited attends the Pequest Open House/Sportsman's Flea Market at the Pequest Hatchery. This year the event will be taking place on June 3rd and 4th, 2017. Your unused gear could be used to support our 2017 fundraising efforts. In past years we have raised several hundred to over a thousand dollars selling CJTU members old, unwanted gear. This money goes directly to our conservation efforts. We are currently looking to raise funds to support another restoration project on public water, on the Musconetcong River. Please consider making a donation of your unwanted gear to CJTU. You can bring the gear to any monthly meeting December thru March. If that is not possible, we can make arrangements to pick the items up at your convienance. If you want arrange for a pick-up please send an email to bartlombardo@optonline.net. Thank you in advance for your support.
Bart Lombardo
Trout in the Clasroom
Central Jersey TU Schools
2016 - 2017 School Year
Bridgewater High School, Bridgewater
Colonia Middle School, Colonia
Dunellen High School, Dunellen
Middlesex County Vo-Tech, East Brunswick
Warnsdorfer School, East Brunswick
New Road School, Parlin
Sayreville Middle School, Parlin
Edmund Hmieleski ECC, Perth Amboy
Samuel E Shull School, Perth Amboy
Bright Beginnings Learning Center, Piscataway
Spotswood High School, Spotswood
Angelo L. Tomaso Elementary School, Warren
Watchung Hills Regional High School, Warren
Wilburforce School, Princeton Junction
Purnell School,Pottersville
Monroe Township High School, Monroe Township
Taylor Mills School,Manalapan
Lafayette Mills School,Manalapan
Clark Mills School,Manalapan
Wemrock Brook School,Manalapan