President's Letter
I'm not sure that this is the April's President's Letter. It seems more like early March. I just checked the weather forecast for the area around The Gorge and Point Mountain, and the area is now experiencing heavy rain and then snow for opening day this Saturday. It is certainly not pleasant weather to fish. Besides, the stream flow in the Musky was at 512 CFS this morning. Oh well, we'll just have to endure the weather and high water if we want to fish opening day! All this, and just when I'm ready to wade a stream again after a knee injury I had in early February. My Buddy, Bart Lombardo, has advised any CJTU members he speaks with not to ask me for any suggestions as to how to wade a stream. My mishap happened while wading The Gorge with Bart. On a serious note, if it weren't for Bart, I might still be trying to get up after my fall. He is a good friend!
If you're interested in finding new places to fish for trout in New Jersey, DO NOT MISS THIS MEETING! Our speaker this month is Agust Gunmundsson who will be presenting the second half of his presentation from last April. He is a wealth of knowledge when it comes to trout fishing in New Jersey. I remember Agust thirty some years ago when he first joined CJTU. From that time, he has made quite a name for himself. Despite that, he is very approachable and easy to talk to. I was delighted when he told me he will try to attend every other CJTU monthly meeting. It's like old times to see him so often.
This is a very busy time of the year for CJTU and for all of us trying to find the time to fish. The following are the various activities in which we are involved in the next few months. Please mark your calendars with these events.
On Saturday, April 14, we'll be meeting at 9:00 a.m. at the parking area on Point Mountain Road near the river. We will begin the day with our annual cleanup of the TCA stretch. The cleanup should take no longer than an hour and a half. After that, we're going to don our waders and hit the river for a stream walk and some fishing. This is an opportunity for those of you who aren't familiar with the TCA stretch to learn the ropes. Those of us who fish it often will share our knowledge in the hope of you experiencing "tight lines" that day. Hopefully, we won't have any snow that day, but who knows with our crazy weather this year.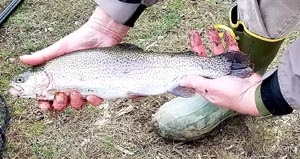 The next Saturday, April 21, we'll be teaching fly casting at Molder's Fish Preserve's trout pond in Jamesburg. There is a $12 fee to fish and a chance to catch some trout. We're going to cast flies with barbless hooks. This will protect the fish and allow us to release them. There is a opportunity to hook into some larger trout like the rainbow you see here. If you want to take fish home for dinner, there is $6 cost per pound of fish. Not a bad deal to learn to cast and have some fun at the same time.
Please consider donating your no-longer-used fishing items to CJTU to be sold at the Pequest Open House June 2 & 3. We did very well selling items last June and raised additional funds for our conservation efforts.
On May 5 we will be participating in the second annual Califon Trout Fest. Further details about the Trout Fest will appear on our website, Facebook, and Instagram during the next few weeks.
In closing, stay warm this Saturday, "Opening Day", and catch a few trout.
Until next month,
George
---