General Meeting
Tuesday, December 13, 2016
7th Annual Fly Tying Night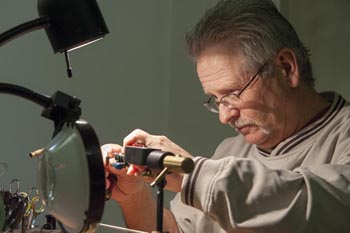 Our December 13th meeting will be our 7th Annual Fly Tying Night. We are asking all our members who tie flies to grab your vise and some materials and come out and tie one on. Some of the chapter's best tiers will be on hand showing off their favorite patterns. This is a great opportunity to get some hands on instruction if you are a veteran or a novice tier. Our more experienced members would be happy to work with you and provide with some one on one instruction. This evening is also a great way to introduce some of the magic that happens during our Fly Tiers Course, which begins again in February. It's not too early or too late to register! See Bart Lombardo or Lou DiGena for details on the classes at the meeting.
We will be gearing up a little early with most of the tiers setting up for an official start of 7:30pm. Our business portion of the meeting will be very short and our tiers will be there all night. Even if you are not a fly fisherman or fly tier this is a great evening out to socialize as this meeting has proven to be one of our most popular yearly events. Break that cabin fever and come on out and tie some flies with us.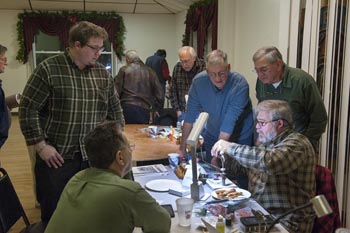 Tuesday, January 10, 2016
Andrew Dang
"Youth in Trout Unlimited"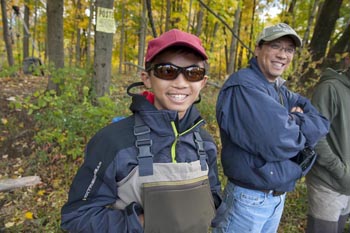 Andrew Dang is a sophomore at the Wilberforce School. He's had a love for fishing since he was 4 years old, and has since developed a love for fly fishing and conservation. Two years ago Andrew attended the 4th annual TU Teen Summit in North Carolina, where he began his involvement in the TU Teens program. Following the Summit Andrew participated in the Youth Leadership Council (YLC), a teen-based volunteer group that works to bring more teens to love conservation and fly fishing. Later that year Andrew was selected to attend the TU Headwaters Youth Council in Washington D.C., where he met with the TU board of Trustees to discuss the future of TU Teens. Since then Andrew has attended the 2016 TU Teen Summit, on Georgetown Lake in Montana, where he filmed the official TU Teens video and led several other projects. Andrew was also the CJTU representative at the 2015 annual New Jersey Fly Fisherman of the Year Competition and is the newest member of CJTU Board of Directors. . Outside of conservation, Andrew absolutely loves fly fishing and film-making. Andrew avidly fly fishes for trout in NJ and PA, and also enjoy making videos of his trips while fishing.
Come join us and experience the insights of a remarkable young man as Andrew presents the video he made for the 2016 TU Teen Summit.
American Legion Hall
137 New Market Road
Dunellen, NJ
Meeting starts at 8 PM
Non Members are always welcome!
News & Events
CJTU
Fly Tying School 2017
Dates: February 1, 8, & 22, & March 1, 8, & 15, 2017
Time: 7:30 to 9:30 PM
Registration Fee

$75.00 for Beginners, Materials and Tools provided.

$50.00 for Intermediate Courses (Students must have there own vise and tools.)
This year we will be offering the following courses:
Beginners Fly Tying Class:This is our entry-level class for the persons just getting started in fly tying or who has very little experience. We will cover the basic tools, techniques and materials necessary to tie a variety of basic flies, concentrating on patterns that work well on local rivers and streams.
Intermediate Fly Tying Class: This class is for the intermediate tier who has acquired the basic skills in handling tools and materials either by previously taking a beginners course and/or tying flies regularly for a year.
Tier's Round Table: The "Fly Tying Workshop" is now the "Tier's Round Table." Bring your vise and materials to our Tier's Round Table, learn a new fly and/or get help fellow members on patterns old and new. The "Tier's Round Table" is self-directed and no formal instruction is planned. All we request is a donation of $5.00 per session to help defer the cost of the hall.
---
Garden State Outdoor Sports Show
January 12 - 15, 2017
New Jersey Convention & Expo Center
Edison, NJ
The Fly Fishing Show
January 27 - 29, 2017
Garden State Exhibit Center
Somerset, NJ
---
Fall/Winter Trout Stocking Information
Information on the upcoming fall and winter trout seasons, including stocking schedules, is available on the NJDEP Division of Fish and Wildlife website. Changes include moving six lakes/ponds from the winter program to the fall. Visit http://www.njfishandwildlife.com/trtinfo.htm for links to both stocking programs.
---
Trout in the Clasroom
Central Jersey TU Schools
2016 - 2017 School Year
Bridgewater High School, Bridgewater
Colonia Middle School, Colonia
Dunellen High School, Dunellen
Middlesex County Vo-Tech, East Brunswick
Warnsdorfer School, East Brunswick
New Road School, Parlin
Sayreville Middle School, Parlin
Edmund Hmieleski ECC, Perth Amboy
Samuel E Shull School, Perth Amboy
Bright Beginnings Learning Center, Piscataway
Spotswood High School, Spotswood
Angelo L. Tomaso Elementary School, Warren
Watchung Hills Regional High School, Warren
Wilburforce School, Princeton Junction
Purnell School,Pottersville
Monroe Township High School, Monroe Township
Taylor Mills School,Manalapan
Lafayette Mills School,Manalapan
Clark Mills School,Manalapan
Wemrock Brook School,Manalapan