General Meeting
Tuesday, November 8, 2016
Olaf Jensen

"The River Wolf and the Blue Pearl:
Ecology and Conservation of Endangered Salmonids in Mongolia"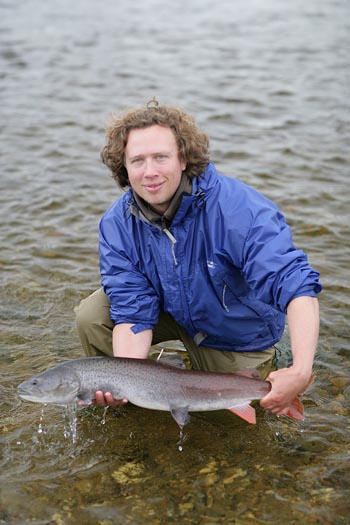 The lakes and rivers of Northern Mongolia are among the most pristine freshwater ecosystems in the world. Nevertheless, threats including climate change, overfishing, and mining have placed several of Mongolia's salmonid fishes at risk. Populations of taimen (Hucho taimen) – the world's largest salmonid – have become the target of growing recreational fisheries despite the fact that taimen are classified as "endangered" on Mongolia's red list. Do these largely catch & release fisheries represent a risk to taimen or an incentive for their conservation?
Within the same region, Lake Hovsgol represents a unique opportunity to disentangle the effects of climate change from other human impacts on aquatic ecosystems. Lake Hovsgol is the 17th largest lake in the world by volume and relatively free of human impacts such as urban development, pollution, overfishing, and invasive species. However, the Lake Hovsgol region has experienced an air temperature increase of more than 2 °C over the past 40 years – a rate more than three times faster than the Northern Hemisphere average. Drying of tributary streams threatens the endangered endemic Hovsgol grayling (Thymallus nigrescens). How have such changes impacted the rest of the Lake Hovsgol fish community and can this lake serve as a model system for understanding climate change effects on aquatic ecosystems?
Olaf Jensen is an Associate Professor in the Department of Marine and Coastal Sciences at Rutgers University. He studies fisheries and aquatic ecosystems, including marine, estuarine, and freshwater environments, with the goal of improving the scientific basis for sustainable management. Dr. Jensen's work relies on a combination of mathematical modeling, data synthesis and field studies in locations ranging from the Louisiana salt marsh to coastal New Jersey and Mongolian lakes and rivers.
American Legion Hall
137 New Market Road
Dunellen, NJ
Meeting starts at 8 PM
Non Members are always welcome!
News & Events
Fall/Winter Trout Stocking Information
Information on the upcoming fall and winter trout seasons, including stocking schedules, is available on the NJDEP Division of Fish and Wildlife website. Changes include moving six lakes/ponds from the winter program to the fall. Visit http://www.njfishandwildlife.com/trtinfo.htm for links to both stocking programs.
Trout in the Clasroom
Central Jersey TU Schools
2016 - 2017 School Year
Bridgewater High School, Bridgewater
Colonia Middle School, Colonia
Dunellen High School, Dunellen
Middlesex County Vo-Tech, East Brunswick
Warnsdorfer School, East Brunswick
New Road School, Parlin
Sayreville Middle School, Parlin
Edmund Hmieleski ECC, Perth Amboy
Samuel E Shull School, Perth Amboy
Bright Beginnings Learning Center, Piscataway
Spotswood High School, Spotswood
Angelo L. Tomaso Elementary School, Warren
Watchung Hills Regional High School, Warren
Wilburforce School, Princeton Junction
Purnell School,Pottersville
Monroe Township High School, Monroe Township
Taylor Mills School,Manalapan
Lafayette Mills School,Manalapan
Clark Mills School,Manalapan
Wemrock Brook School,Manalapan