An Important Message from Central Jersey Trout Unlimited concerning COVID-19
At this point, everyone is aware of the alarming situation regarding the COVID-19 virus. There have been various recommendations from the authorities, news, and others regarding appropriate safety and precautions. Recently Trout Unlimited has also released some guidelines concerning TU related activities during this uncertain time. In an overabundance of caution, we will be suspending all group activities until the end of April. We will re-evaluate the current conditions as we near the end of the month and make a decision on how to move forward. This action will result in the cancellation of our current fly tying class, April meetings, and all other activities, including our upcoming Fly Fishing 101 class and Rutgers Day event.
We will continue to monitor the situation and update our membership where appropriate. You can check our website for up to date information about future events outside of the window of time mentioned above.
---
Due to COVID-19, all group activities have been cancelled through June!
---
American Legion Hall
137 New Market Road
Dunellen, NJ
Meetings starts at 7:30 PM
Non Members are always welcome!
News & Events
---
Trout Stocking Update
5-19-20 - Stocking of 11-inch Rainbow Trout in waters continues through Thursday this week. Due to higher than anticipated pond temperatures, only rivers and streams will be stocked for the remainder of the season. There are no closed periods on stocking days.
5-15-20 - Beginning Monday, May 18, trucks will again roll out from the Pequest Hatchery to stock the remaining 50,000 11-inch Rainbow Trout in 31 waters throughout the state. Stocking will conclude on Thursday, May 21. There are no in-season closures and no need to wait until 5:00 p.m. on these waters.
Stocked waters will be posted each afternoon when stocking is completed in the Updates section of the Spring Trout Fishing page. This is to avoid crowds and help keep the public and our staff safe. Please remember to maintain proper social distancing while fishing and in parking areas.
4/30/20 - State Parks to Reopen on Saturday, May 2, 2020
Wildlife Management Areas Are Currently Open For Hunting And Fishing
4/17/20 - There have been a number of changes to the 2020 Trout Stocking Schedule due to the uncertainty of COVID-19 restrictions affecting our ability to stock state waters. For details see the Update on New Jersey's 2020 Trout Season page.
Among the changes were:
Catch and release fishing for trout began at on April 1 and concluded at midnight on April 10.
The season re-opened at 8:00 a.m. on Saturday, April 11. Trout can now be harvested within established regulations, including a limit of six trout per day where allowed. All usual regulations are in effect. See the Freshwater Digest for regulation information.
In-season closures were removed. This year anglers may fish all waters at any time on any day of the week.
Revised Stocking Schedule - Most trout have been distributed under an accelerated stocking schedule. There will be no regularly scheduled in-season stocking this spring.
4/14/20 - Trout season is open and most waters have received their full allotment of trout. All regulations remain in effect except there will be NO IN-SEASON CLOSURES on the 14 major streams where they normally would be in effect. State Wildlife Management Areas remain open except for the Round Valley Reservoir boat ramp. Help keep WMAs and other areas open by observing proper social distancing!
#ResponsibleRecreation:
Join TU Social Distance Fishing Effort and Win Prizes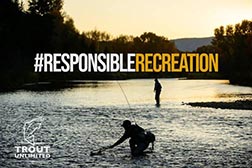 TU and our partners are asking everyone to practice #ReponsibleRecreation when outside enjoying America's great fishing opportunities.
Here's what we recommend, given what we know about the threats posed by the coronavirus outbreak and the COVID-19 disease:
Practice good social distancing on the water. The Centers for Disease Control recommends staying six feet apart from others. We're taking it a step farther — we're asking anglers to stay a rod's length apart from their fishing partners whenever possible. The standard fly rod is nine feet long.
Wear a multi-layered face covering when in the vicinity of other anglers. Even a double-layered cloth mask can help slow the spread of the virus.
Avoid fishing from a boat with someone you haven't been in lock-down with. In other words, if they're not family, don't fish from a boat with them — it's just not possible to practice social distancing while in a drift boat.
Drive to the river separately to get to the angling destination.
Stay local, if at all possible, to limit exposure to others, and limit others' exposure to you.
Fishing, when done correctly, can be a great way to get outside safely, but doing so wisely, particularly as many states begin to slowly re-open in the face of the outbreak, is vital for everyone.
Help spread the word by posting photos and videos on Facebook, Instagram and Twitter of you and your family practicing social distancing while fishing. Be sure to use #ResponsibleRecreation and tag @troutunlimited to be entered to win some great prizes and TU swag.
Keep fishing. Keep your distance. Show @troutunlimited how you're practicing #ResponsibleRecreation https://www.tu.org/blog/share-your-responsiblerecreation-posts-and-win-a-fly-rod/
---
Trout in the Clasroom
Trout in the Classroom (TIC) is an environmental education program in which students in grades k-12:
Raise trout from eggs to fry.
Monitor tank water quality.
Engage in stream habitat study.
Learn to appreciate water resources.
Begin to foster a conservation ethic.
Grow to understand ecosystems.
Most programs end the year by releasing their trout in a state approved stream near the school or within a nearby watershed.
During the year each teacher tailors the program to fit his or her curricular needs.  Therefore, each program is unique. TIC has interdisciplinary applications in science, social studies, mathematics, language arts, fine arts, and physical education.
Central Jersey TU Schools
2019 - 2020 School Year
John F. Kennedy Memorial High School (two tanks) – Iselin
Saint Helena School - Edison
Bright Beginnings Learning Center - Piscataway
Spotswood High School - Spotswood
Crim Primary School - Bridgewater
Van Holten School - Bridgewater
Monroe Township High School - Monroe Township
Alexander Batcho Intermediate School - Manville
New Road School - Parlin
Sayreville Middle School - Parlin
Edmund Hmieleski ECC – Perth Amboy

---
Fly Tying School
Central Jersey Trout Unlimited offers fly tying classes yearly February through March. A beginners program is offered for those new to fly tying and we offer an intermediate level program for those who have mastered the basic skills.
More information on the current Fly Tying Program can be found here:
Subscribe to Mainstream
Sign up to receive our monthly newsletter "Mainstream" by entering your e-mail address in the box on the right and click on the "Go" button. You will be taken to a page where you can enter additional information. Receiving Mainstream will guarantee that you are kept up to date on meetings and other chapter events.
Within a few minutes you should receive an e-mail asking you to confirm your subscription request. Be sure to click on the link provided or just reply to complete the process.
If you do not receive the e-mail asking for confirmation, make sure that if you are running a spam filter, it can accept mail from
The process is complete when you receive an e-mail thanking you for subscribing.
Sign up for Our Email Newsletter

---
Central Jersey Trout Unlimited's Advertisers and Supporters
---