News & Events
General Meeting - Tuesday, December 8, 2015
"6th Annual CJTU Fly Tying Night"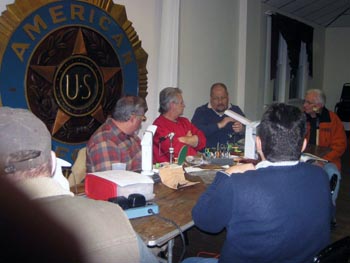 Our December meeting will be our 6th Annual Fly Tying Night. We are asking all our members who tie flies to grab your vise and some materials and come out and tie one on. Some of the chapter's best tiers will be on hand showing off their favorite patterns. This is a great opportunity to get some hands on instruction if your are a novice tier. Our more experienced members would be happy to work with you and provide with some one on one instruction. Also a great way to introduce some of the magic that happens during our Fly Tiers Course, which begins again later this month. It's still not too late to register !
We will be gearing up a little early with most of the tiers setting up for an official start of 7:30pm. Our business portion of the meeting will be very short and our tiers will be there all night. Even if your not a fly fisherman or fly tier this is a great evening out to socialize as this meeting has proven to be one of our most popular yearly events. There will even be refreshments on hand. Break that cabin fever and come on out and tie some flies with us.
We will be joined at the fly tying demo by Rich Biemiller, the new Upper New Jersey Delaware River Project Coordinator for National TU. Rich, who grew up in south central PA's Roaring Spring near Altoona, has been a fly fisher since the age of 12 and holds multiple degrees, including a PhD in Entomology from the University of Kentucky. He has extensive experience in stream restorations. Rich is looking forward to introducing himself and speaking with the membership in the relaxed and informal setting of the tying demo.
American Legion Hall
137 New Market Road
Dunellen, NJ
Meeting starts at 8 PM - Non Members are always welcome!
---
CJTU Fly Tying School 2016
The CJTU Fly Tying School will be starting in January. Sign up now!
Garden State Outdoors Sports Show
January 7 - 10, 2016
NJ Convention Center, Edison
The Fly Fishing Show
January 29 - 31, 2016
Garden State Convention Center, Somerset
CJTU Committee Structure
Fred Simonson
During the business meeting portion of December's program CJTU board members will give a short presentation and will discuss some new ideas that will provide the CJTU membership the opportunity to be a more integral part of the chapter's direction and program initiation. We will lay out a committee structure that we hope will encourage greater participation by chapter members. We look forward to seeing you Tuesday, and hope that you will consider participating on one or more of the committees that capture your interest. The Presentation is currently posted on CJTU.org