News & Events
General Meeting - Tuesday, September 14, 2010
Mark Sedoti
"Living Streamers for Trout"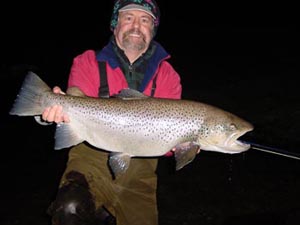 Living streamers are new and special baitfish imitations that have "built in" action which trigger strikes the same way many popular plastic baits do. Learn what they are, and how, and where to fish them. Will also cover catching big trout with very big lifelike streamers. These are essentially Northeast saltwater patterns which have turned out to be some of the most productive trout streamers on the planet, if not of all time.
Mark Sedotti is one of the best fly casters in the world with a passion for chasing really big trout with streamers. He was Casting Columnist for Saltwater Fly Fishing Magazine for it's first five years, and has written many articles for American Angler, Saltwater Fly Fishing Magazine, Fly Rod & Reel, Outdoor Life, and others. He was a "can't miss" act as a featured fly caster on the Fly Fishing Show circuit going around the U.S. for years.
Arrive early to catch his pre-meeting Fly Casting Demonstration. Guaranteed to be "something you won't forget."
Tuesday, October 12, 2010
Ozzy Presents
CJTU Fly Tyers Tying Their Favorite Flies
At the November 2004 General Meeting, I filmed seven CJTU fly tyers tying their favorite flies, some of you may remember that night - and I just squeezed some time in and got around to editing it - fishing you know, takes priority.
Agust Gudmundsson, Dick Turse, Ron Ruskai, George Mertens, Bill Ninke, Leon Cheeka and Elias Todd are the featured tyers. They also demonstrate various tying techniques and explain why these flies are their favorites. One fly, the sideways ant takes just a minute to tie but the others are more complicated and the video adds up to 70 minutes. For $10 the video can be yours. Orders will be taken at the October meeting.
First Annual Green Fair
Red Mill in Clinton
Saturday, Sept. 18th
10 am -4 pm.
8th Annual Musconetcong Watershed Association
"Wine Tasting Event"
Sunday, September 26, 2010
1:00pm - 4:00pm
Join the Musconetcong Watershed Association for a relaxing fall afternoon at the Musky Trout Hatchery, located at 279 Bloomsbury/Asbury Road, Asbury, New Jersey for the 2010 MWA Wine Tasting Event. This beautiful site is right on the banks of the Wild and Scenic Musconetcong River.
Sample a variety of imported and domestic wines with an array of delicious finger foods while enjoying good company and foot movin' music from Jam-Bone.
Donations: $25.00 per person. Advance tickets are available at Perryville Wine & Spirits, located just off Rte 78W Exit 12, and online at www.musconetcong.org. Call (908) 537-7060 or e-mail adrienne@musconetcong.org for details.
Musky One Fly Tournament
Saturday, October 9th, 2010
New Jersey State Council of Trout Unlimited is pleased to announce the first Musky One Fly Tournament with 100% of the proceeds to benefit river restoration work under TU's Musconetcong Home Rivers Initiative. Cost to enter is a modest $100 with checks being made to New Jersey State Council Trout Unlimited and mailed to Rick Ege, Ex. Director/Treasurer at PO Box 594, Budd Lake, NJ 07828.
When? Saturday, October 9th from 8am (mandatory mtg.) until 4 pm. We will meet at the former Cliffdale Inn, now Casia Grill at 1280, route 57 North, Port Murray, NJ (Mansfield Twp. above Penwell) for both pre tournament meeting and final "weigh in" at 4 pm.
Where? All open waters on the Musconetcong River (no private club waters)
Details and Rules? This bragging rights tournament is to benefit the works of TU in this critical watershed and help pay for river restoration projects within the watershed of benefit to trout. There will be a fly rod given to the winner, but the idea is to raise funds for a great cause and enjoy a day on the water right after the state fall stocking of 2 year old trout.
CJTU Fly Tying Demo
Dunellen Public Library
November 22, 2010
6:30 - 8:30 pm
Efinger's Wader Sale
All waders and wading shoes 30% off marked price.

All Orvis waders and wading shoes 40% off marked price.

While supplies last.
Cannot be combined with any other discount or discounted items. No additional TU discount. Sale runs - 9/1/2010 - 9/30/2010