President's Letter
May 2010
I would like to start off by apologizing for the absence of my President's Letter in last month's addition of Main Stream. I had to attend to some personal business and was not able to get my letter to our editor in time for the deadline.
This is a great time of year to be a trout angler! The bugs are hatching, the days are warm but not too warm and this year we are blessed with good water levels. Overall the fishery appears to be in pretty good shape. The opening day crowds have given up on trout fishing and it is possible to find solitude on rivers that were lined with fisherman a few weeks back.
March and April are busy times for our chapter. In March we had a presence at the Pequest Hatchery Open House. We assisted at the education pond teaching youngsters how to fish and we demonstrated fly tying and answered questions inside the main building. In April we conducted our annual clean-up of the Musconetcong River. I don't have the final numbers but it appears it was a big success. We removed a lot of trash and debris from the river and its banks. I strongly encourage everyone to participate in these events in the future.
Planning for our big project on the Point Mountain section of the Musconetcong River is moving along but we have been faced with some funding issues. Hopefully I will have more to report on this subject next month as we work through this issue. We are still conducting trout stocking on this section of the river and will continue to do so right up until the end of May. If you are going to fish Point Mountain please remember that the regulations have changed this year. This section of stream is now designated as a year round Trout Conservation Area. In a nutshell this means artificial lures only and you can only keep one fish over 15". If you decide to keep a fish you must stop fishing (no "trading up").
We have some good speakers lined up for you before we take our summer break. So if you pull yourself away from the water, come out and join us at our monthly meetings. I would like to remind everyone that our June meeting date is on the third Tuesday of the month not the second.
Since I would rather go fishing than write about fishing I am going to wrap things up here. I hope everyone is getting a chance to spend some time on the water. When you're out there think about how important our trout streams are to you. While you're at it, think about what you can do to assist us in preserving this resource.
Tight Lines,
Bart Lombardo
You can contact Bart at
Articles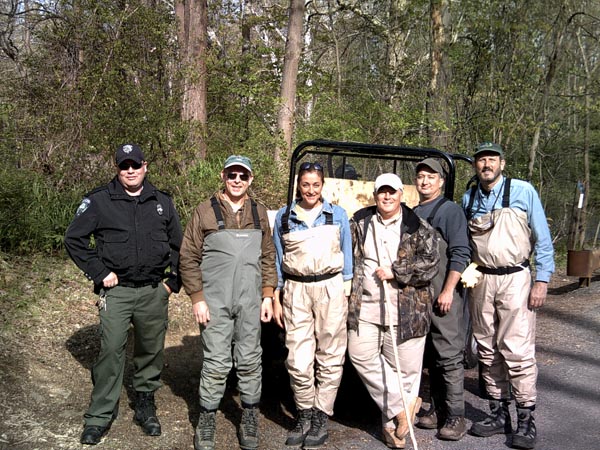 CJTU volunteers Stuart Shafran, Ed Cordyla, Lorne Hargis, Dorothy McCann, and Rich Pasternak stocking the Point Mountain TCA on April 30th
Stock And Bonds
By Stuart Shafran
Volunteers from Central Jersey TU met early Friday morning, April 30th, at Point Mountain Park to help stock the Musconetcong River with trout. With the aid of two Hunterdon County employees our five TU volunteers put in hundreds of twelve inch brookies and rainbow trout upstream of the Point Mountain Road bridge. An added bonus that morning was the release of several ten pound female rainbows into the river.
Volunteers Ed Cordyla and Stuart Shafran and new TU members Lorne Hargis, Dorothy McCann, and Rich Pasternak met the hatchery truck at 9 AM on Point Mountain Road. Hundreds of trout were transferred onto the county ATV called 'the mule' and driven deep into the park. We started at the farthest point that 'the mule' could manage and worked our way back to the first bend in the river. The ten pound rainbows were released in spots where the current was swift, where there were sheltering rocks, and where there was plenty of shade. No further information may be given out at this time. And, yes, we were all sworn to secrecy.
After two hours of releasing fish and collecting hidden debris our crew transferred the party over to the Ken Lockwood Gorge. The weather was perfect, the water temperature was just right, and we all caught lots of fish. A special shout out to Miss McCann. I warn anyone brave enough to join her in the water...this girl can fish!
CJTU would like to take this opportunity to welcome Lorne, Rich, and Dorothy to our chapter. All three joined TU to help make a difference by, protecting cold water environments, giving back to the community, and learning to be better anglers...in that order. From all the unsolicited smiles in the photos I think they'll be back. Stay tuned for more stocking dates.
---
Fishing In Costa Rica
By Dave Hart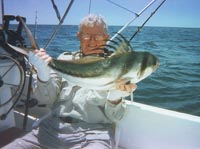 My wife and I booked a Caravan Tour to Costa Rica for twelve days circling around the country and staying two days in each of the five hotels. Each day we had wonderful side trips, including such things as the rain forest, coffee, banana and pineapple plantations, beautiful museums and an awesome volcano. Stopping at the hotels gave us wonderful swimming, meals and pleasant visitations with our fellow travelers. Every day was different and very special. Continue this article
---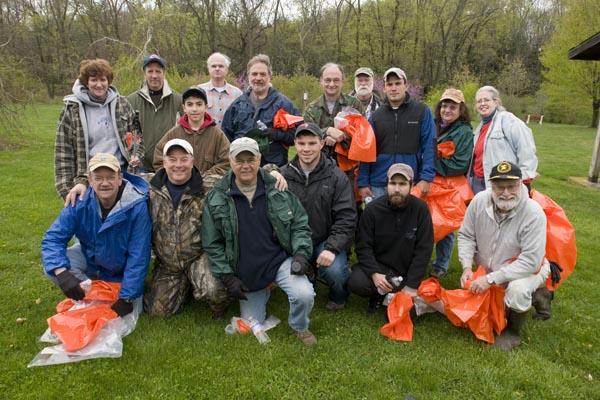 2010 Annual Musconetcong River Clean-Up
By Stuart Shafran
Hundreds of volunteers from all across the state joined the Musconetcong Watershed Association in the annual Musconetcong River Clean-up Day on April 17th. Representatives from many Trout Unlimited chapters, local residents, church groups, scouts, high school and college students, environmental groups, and MWA members combed the river banks for trash from the head waters of Lake Hopatcong to the Delaware River. Every year, either by word of mouth, press releases, newsletters, or by internet e-mails, the clean-up grows in popularity. Every year we cover more of the 42 mile river that the previous year. This year was no exception. On Sunday morning, April 18th , the Mohawk Canoe and Kayak Club, once again, floated and removed trash from the river between Hackettstown and the Penwell Dam. Brian Cowden, organized volunteers from northern TU chapters and covered sections of the river above Hackettstown.
Central Jersey TU volunteers started at Hampton Borough Park, then traveled the five mile length of River Road and included the Point Mountain Park. The two dozen volunteers collected enough trash to fill 25 large trash bags with assorted debris, plus another 11 large trash bags with recycleables. In addition, we retrieved 11 used tires, 1 metal door frame, 50 feet of rubber hose, 30 feet of wire cable, a bicycle, a 50 foot oil boom, a plastic milk crate, two plastic pails, aluminum siding, and a flat wooden trailer w/axle and tires.
Property owners, as well as fishermen, and local passers by stopped and gave us there thanks throughout the morning. Further proof that our good work does not go unnoticed. A generous donation of bright orange trash bags and gloves from the Hunterdon County Road Department made all of our volunteers quite noticeable as we scoured underneath and around each bridge, every pull off/parking lot, and along the road.
On a lighter note, two years ago, members of my volunteer group found four $20 bills, five $5 bills, and several $1 bills. Last year, same area, a volunteer found a $20 bill. This year was no exception. When I heard someone shouting, I found money, I thought it was a joke. Any one wishing to claim any missing cash will have to know the correct serial numbers.
Every now and then the sun, for just a brief moment, would make an appearance. At least the overcast kept the morning temps comfortable. Afterwards many participants came back to the MWA River Resource Center for hotdogs, cold drinks, and humorous clean-up recaps.
Though there are a lot of last minute changes, much effort goes into organizing this clean-up day. With out the support of our donors, and the help of TU, Hackettstown DPW, Raritan Disposal, Hunterdon County Road Department, Warren County Road Department, Stevens State Park, and Lake Hopatcong State Park this program would not exist. The MWA thanks everyone who participated and hopes to see you all again next year.