Articles
Clean-Up On The Wild And Scenic Musconetcong River
by Stuart Shafran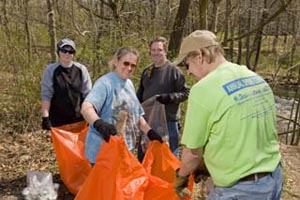 Got cabin fever? Need to get outside? Well then, join us for our 2010 Musconetcong River Clean-up on Saturday, April 17th. We will be assembling once again, at the Hampton Boro Park, located at the intersection of the Musconetcong River and Route 31. Sign-in is at 8AM, at which time clean-up locations will be assigned, trash bags, gloves, water, and snacks will be distributed, and group photos will be taken. Clean-up hours are from 9-12. The Musconcetcong Watershed Association will provide lunch beginning at noon, for all participants at the MWA River Resource Center, 10 Maple Avenue in Asbury.
We recommend that you wear long pants and long sleeve shirts. It may be too early in the year for ticks, but not too early for poison ivy. We also recommend that you wear waterproof boots, a hat, dress in layers, and carry a walking stick. Chest waders are optional. Depending on the flow of the river we may only be working close to the water's edge.
For first time volunteers, travel Route 78West to exit 17North. This puts you onto Route 31North, where you will travel for 7.5 miles to the intersection of River Road/Musconetcong River. Turn left at that traffic signal. At the first stop sign, turn right, and make an immediate right into the park. We will be meeting under the pavilion.
We encourage you to bring friends and relatives, especially young children. This event is lots of fun for the kids. In addition, we hope you'll pack your fishing gear to test your skills in spots you may discover that morning. The river is in great shape and will be fully stocked. Every year this event has proven not only to be rewarding, but lots of fun as well. Here's your opportunity to not only help the environment, but more importantly set good examples for others.
To register or for more information please call Stuart Shafran, 732-500-5239, or e-mail me at s2rtflyfisher@verizon.net. Don't forget a camera!
2010 Shows Report
By Dick turse
This report might be a bit late but it might still be interesting reading for many of you as we wait for our next snow storm. CJTU was again a participant in the Garden State Outdoors Show and the annual Fly-fishing Show in January. Surprisingly the attendance of the Outdoors Show (Raritan Show) on the first day, Thursday, was very good and I talked to some vendors who claimed it was their best day ever financially at that show. Unfortunately most of the people who came by our booth were just tire-kickers. This is not unusual because we lack the "in-your-face" mentality required to make big sales at shows. If any of you think you are good at this type of selling please contact me before next year's shows. Our fish tank once again drew many visitors, especially kids, and the chiller worked flawlessly. We originally thought we might set up a fly-casting contest but no one wanted to take over the responsibility (and work) of organizing it. I have a volunteer for next year who promises me that he will run a good contest. Let's surely hope so. So our financial reward for this show was not much different than in the past shows but we did get our message out to a lot of people. That is a factor that can't be measured in dollars.
When we set up for the Fly-fishing Show we were disturbed by the fact that they moved us to the other side of the hall. This bothered us because most people looked for us in the spot that we occupied for years and the new location lacked a place to put our coats. However, our new back-drop was an attention-getter in both shows and makes our booth look much more professional. Friday's crowd was big as was Saturday's. but the Sunday crowd was down and disappeared in the afternoon due to the football games on TV.
If anyone has some revolutionary ideas how to improve our participation in the shows please contact me at dickturse@optonline.net.
Chalk One Up For The Environmentalists
By Stuart Shafran
On Monday, March 1st, developer F. Greek withdrew his application for a controversial truck transfer station that was proposed near Interstate 78 in Franklin Township, on Bloomsbury Road. "Unfortunately, given the current economic climate, the uncertainty of the pace of the economic recovery and the factors discussed (in the letter), the project simply does not make financial sense at the present time," said the correspondence from F. Greek Development, based in East Brunswick, N.J. While the developer cites economics as the only factor in his decision, a well informed and organized opposition played an important role in this outcome. The organized opposition included Trout Unlimited, Skylands Preservation Alliance, NJ Highlands Coalition, Warren County Rod and Gun Club, The National Parks Service, South Highlands Group of the Sierra Club, Musky Trout Hatchery, Musconcetcong Watershed Association staff and trustees, and local residents.
The project, if approved, would have put 1.4 million square feet of warehouse and office space on a 191 acre site across from the Musconetcong River, in between residential properties, and too close for comfort to a tributary stream of the river. This plan would have allowed hundreds of trucks per day, seven days a week, traveling along a two lane road through a quiet urban/suburban community. In addition, the run off alone from the heated pavement into the C-1 portion of the Musconcetcong River would have caused irreversible damage to aquatic life.
"I could not find enough words to describe how happy we are, not because we live across the street, but because it just doesn't belong there." Said Adrienne Kaczynski, a property owner on Bloomsbury Road.
The request to withdraw came two days before the second scheduled hearing before the Franklin Township Land Use Board. The first hearing took place in the township elementary school to try to accommodate the 300-plus residents and interested parties who attended.