Articles
Starting A New Tradition
By Nick Romanenko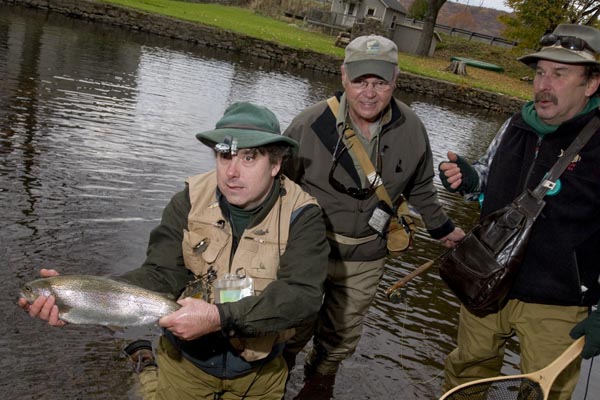 Photo by Nick Romanenko
Califon's Shannon's Fly Shop, along with the Raritan Inn and a sponsorship from Hardy North America hosted the first annual Traditional Angler Day, which included the New Jersey Fly Fisherman of the Year Tournament on Saturday, November 6th. The competition was conceived by Shannon's owner, Jim Holland, as a one fly tournament pitting representatives from every New Jersey chapter of Trout Unlimited, along with representative anglers from the South Branch and Upper Raritan Watershed Associations and the Musconetcong Watershed Association.

Central Jersey's TU chose, by very popular consent, Bart Lombardo to represent the chapter, not just because he's the current president, but mostly due to his acknowledged mastery as a fly fisherman. Bart narrowly missed out winning the entire tournament as his last catch of the day, getting a lunker tangled up in the net resulting in a declaration of a foul hook. This resulted in a "fish off" round between URWA's Keith Bologno and Ken Lockwood TU's Bill Silvia on the River Styx run of the South Branch.

For the next two rather frigid hours, Bill and Keith kept casting to wary trout. Both anglers lost their flies and were allowed to replace them with different patterns. In the end Bill Silvia landed a beauty rainbow and the crowd withdrew to the banquet at the nearby Raritan Inn barn.

The banquet was a big hit, with good food, bucket raffles for great fishing gear and the invaluable conversations of a room full of some of the best and most involved fly fishermen in the state sharing a drink and a fish story (or two).

Jim promises to bring this event back next year, and both watershed associations and State Council of TU received fundraising checks at the end of the night. The TU funds will go towards helping the major restoration project at Point Mountain on the Musconetcong River.

More of Nick's photos can be seen here!