News & Events
General Meeting - Tuesday, April 13th, 2010
Presentation
Dave Rothrock
"Eastern Hatches and Imitations"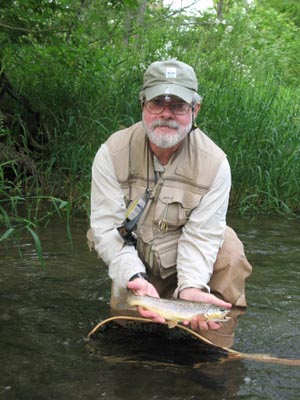 Drawing on decades of fishing regional trout streams, Dave Rothrock will share his personal photos of nymphs and adult stream insects, favorite flies and how to fish them. Throw in a few good trout streams and we have a recipe for success on our next hatch-matching adventure.
Dave is a guide, lecturer and freelance writer. He also teaches fly-tying and casting.
Tuesday, May 11, 2010
Rob Nicholas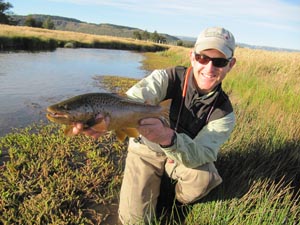 Rob is a full time guide on the Housatonic and Farmington rivers and has been operating Housatonic Anglers Guide Service since 1993. There are very few fresh water guides in New England with as much experience. In addition to guiding, Rob runs a booking agency called Angling in the Andes which focuses on the best areas to fish in both Argentina and Chile. The lodges and outfitters that he recommends he knows personally and has fished with, so there are no surprises. Unlike other booking agents and even the lodges themselves that promote and "dress up" the fishing in their respective areas, Rob will give you the real skinny on what to expect if you travel to Patagonia. By selecting lodges and outfitters in a variety of very different locations, Rob can assist you in finding the place that best fits your fishing preferences and budget. Some of the trips are hosted by Rob but he also offers group discounts to clubs that put their own group together.
Over the years Rob and his clients have taken hundreds of photographs of beautiful Chile and Argentina. Come see what the rivers, mountains and lodges of Patagonia have to offer the traveling fly fisher. Once you see these stunning images you will be making plans to go next winter. For further information have a look at anglingintheandes.com and housatonicanglers.com
Annual Musconetcong River Cleanup
Saturday, April 17th, 2010
What? TU and the Musconetcong Watershed Association are spearheading our annual river clean up around Earth Day celebrations.
Who? TU volunteers, friends, neighbors, Scouts, church groups, all are welcome to help out! We had more than 400 volunteers last year and aim for 500 this year.
When? Saturday, April 17th 9am - noon
Where? Middle river: Hampton Boro Park and please contact either Brian Cowden (brianmag@optonline.net) or our Central Jersey Chapter (Stuart Shafran, 732-500-5239, e-mail s2rtflyfisher@verizon.net) which oversees efforts in this section of the watershed along with the MWA.
What do I need to do to get involved? Just show up with old clothes and waders (if you have them) along with a pair of gloves and we will supply the garbage bags.
Articles
2010 Pequest Open House
By Dick turse
The annual Pequest hatchery Open House was held on the weekend of Mar. 27-28. It usually is held the week before Opening Day but this year that would have been on Easter Sunday which was not acceptable. Early on Saturday morning it was quite cold but the usual crowds were there. So were the regular volunteers. Unfortunately, for various reasons we did not have anyone manning our booth early at the Pequest building. Thank goodness Bart found out about the problem and took over that job tying flies for the day.
The fish were obviously hungry and the kids had a ball bringing in large rainbow after rainbow. I just hope they don't get spoiled and expect our streams to produce in the same manner. The weather improved greatly and the sun was out for the entire weekend. It was very unusual for this program which annually brings rain and wind.
On Sunday Nick R. manned the booth inside selling raffle tickets and outside taking pictures. Many are in this issue of Mainstream. We drew the winner of our 2010 "Fifty" Raffle. Bill S., who lives in Millington and is a member of the Ken Lockwood Chapter, was our lucky winner.
Please consider helping out for the fall Heritage festival and next year's Open House. It is a lot of fun and we do need help manning the inside booth.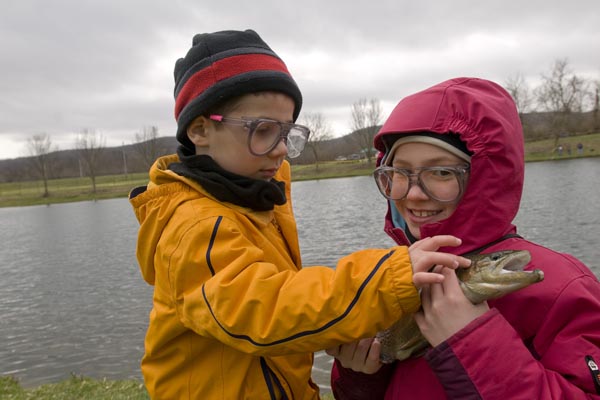 Alex and Laura during kid's fishing at the Pequest Hatchery Pond
More Photo's from the Pequest Open House can be viewed here.
---
Musky Home River Initiative Update
January - March 2010
Brian Cowden
This month Brian give us the January - March update for the Musky Home River Initiative. We would also like to congradulate Brian for being the recipient of this years George Howard Conservation Award presented by the New Jersey State Federation Of Sportsmen's Clubs.