News & Events
General Meeting - Tuesday, October 13, 2009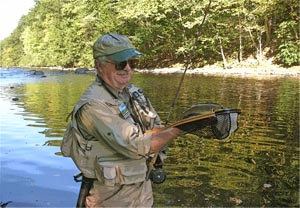 The October meting will feature Jay "Fishy" Fullum" with a program titled "Creative Flies and How to Fish Them"
After working as a designer and graphic artist for over 30 years, Fishy retired in 1995 to pursue his passion for writing, tying flies and fly-fishing. He still utilizes his art talent when illustrating his magazine articles or a new book. Fishy also established himself as an accomplished watercolorist shortly after retiring; selling many paintings that combine his art and fly tying talents.
Fishy has been tying flies since the early fifties. During the past twenty years he has designed nearly a hundred and fifty productive, innovative patterns for everything from bluegills to bonefish. Many of these patterns are featured in his CREATIVE TYING column published in FLY TYER MAGAZINE. Other patterns can be found in Fishy's two fly tying books, FISHY'S FLIES and FISHY'S FAVORITES and A JAR FULL OF HOPPERS, a book of short stories on fly fishing and fly tying. Fishy is featured at fly tying/fly fishing events from Massachusetts to Florida, where he teaches and demonstrates the art of fly tying at the vise, through his PowerPoint presentations and his new video.
Fly Tying with "Fishy" Fullum
As part of the Octobr meting program, Fishy will give a hands on program to interested TU members, demonstrating how to tie a variety of his personal salt and freshwater patterns. All special materials will be provided. We ask that interested tyers bring their basic tools and vise, along with a variety of threads.
Cost for the two hour session, which will run from 4 to 6 pm on the day of Fishy's main program, is only $ 20.
Interested tyers should contact Nick Romanenko at to reserve a space in the class. Fees will be collected at the session.
Coming in November - Jim Freda
Fly Tying Demo
Dunellen Public Library
Novemberber 23, 2009
6:30 - 8:30 pm