President's Letter
As I sit here writing this letter, we're dealing with our second Nor'easter in five days. We had a few good days to fish in January and February, but this March stinks so for. The streams are so high that even if it warmed up and stopped raining, we're at least a week or two away from a fishable height. The reason being the ground is so saturated that it cannot absorb any more water.
I always try to fill you in on my fishing exploits over the last month. Molder's Fish Preserve is only twenty minutes from my home in Marlboro. A few of us have been testing it since we're having our fly casting course there on April 21. Molder's allows us to fish catch and release with barbless hooks for $12.00 a day. If you go there to fish, make sure you tell them you're from CJTU. You can always keep some fish for a fee. He stocks the large trout pond with rainbows and tigers. It was last stocked in November, so there are less trout there now, and those there tend to be spooky.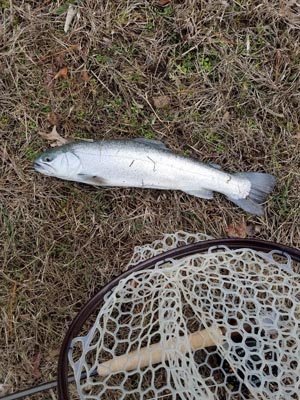 Embedded in this letter is a picture of a thirteen-inch tiger I caught and released about three weeks ago. They are basically silver since I think they feed on minnows exclusively. I couldn't capture the vermiculation in the picture. I did see it though on the fish's back in the sunlight. BTW, the last time I was there I saw a large tiger about seventeen inches near the bank waiting to ambush some baitfish. I tossed my wollybugger in his view but he spooked.
Molder's is waiting for the path to the trout pond to dry up so the stocking truck can get to the pond to stock. They told me hopefully that will happen in the next couple of weeks. You can phone them at 732-446-2850 in a couple of weeks to ask if it has been stocked.
Don't forget our Musky cleanup and stream walk afterwards on April 14. We will meet at 9:00 at the small parking area on Point Mountain Road. If you want to learn which flies to fish and the pools to fish on the TCA Point Mountain Stretch, this is your chance. Please sign up for the cleanup and stream walk at the meeting on March 13.
On March 24 and 25 we will be at the Pequest Open House. We're asking for any old fishing equipment that you no longer use, so we can sell it there. Last year we did very well raising funds by selling flies and the donated used equipment. Please consider looking through your basement and garage to see what you can donate and bring your donation to our meeting on March 13.
In April we're going to be at Rutger's Day on Saturday April 28. That is always a super event to get our TU conservation message out to thousands of people.
Again, this month we have another interesting speaker, Matt Grobert speaking on New Jersey hatches and their imitations. And as usually, pizza soda and a lot of good prizes. Come out and join us!
Tight Lines,
George
---