General Meeting
Tuesday, September 12, 2017
European Nymphing
Bart Lombardo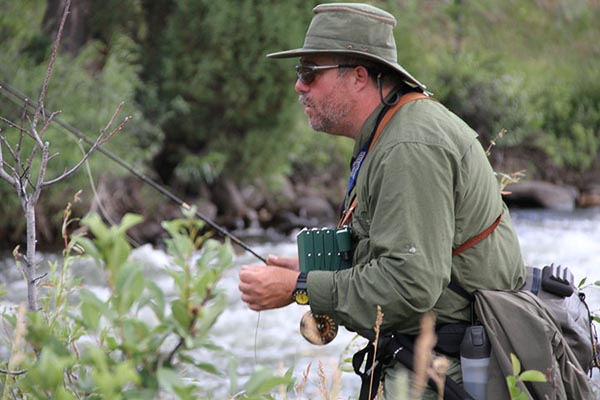 In the 1980s, European Nymphing techniques started to make appearances in international fly fishing competitions. Anglers using these methods won top ranking positions year after year and continue to do so today. This style of fishing has developed into a variety of specialized fishing methods and riggings that are very different from what we typically see here in the United States. Central Jersey Trout Unlimited's Bart Lombardo has been using these methods for well over a decade and is eager to share his knowledge with other anglers. Join us for a presentation on European Nymphing techniques which will cover some of the more prominent European Nymphing styles, the unique style of flies used, as well as tackle and rigging.
The September meeting will start at 7:30 with pizza and soda and the business meeting began at 8:00. We hope to see you there!
Tuesday, October 10, 2017
This Wonderful World of Trout
Dave Rothrock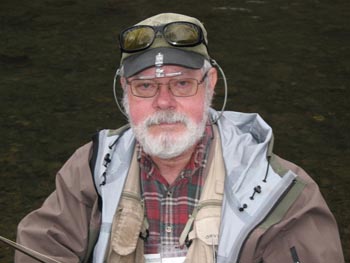 We all know why we go trout fishing with a fly rod: our goal is to fool some trout. The program "This Wonderful World of Trout" expands the focus of our adventures pursuing trout beyond that of just the quarry: the environment in which trout reside includes so much more, and it even goes beyond that! This world is the angler's world and there's so much to see, to experience. Once the angler opens his or her mind we can realize the depth of beauty and wonder the wonderful world of trout truly has to offer. There's definitely a lot here about trout and the stream since they are the ultimate motivators for a trip; however, there's a lot to see along the way as well as when we're on the stream.
Dave Rothrock has been pursuing trout, and other species, with a fly rod since the mid-1960's and he's been tying flies for a bit longer than he's been fishing them. Dave has fished throughout the East, into the Midwest, and Europe where he fished great waters in Austria and Slovenia.
Dave's articles have appeared in Fly Fisherman, American Angler and Pennsylvania Angler magazines as well as other publications. His fly patterns have have graced the pages of various publications, books and calendars. He has presented programs on fly-fishing related topics to groups throughout the Eastern U.S. and Canada. Dave is also a co-author of the book "Keystone Fly Fishing: The Ultimate Guide to Pennsylvania's Best Water."
In 2004 Dave and George Daniel teamed together to compete in the northeast regional qualifier for Barrett Productions' Fly Fishing Masters competition. As a team they placed first out of 36 teams in the two day casting competition.
In the past Dave has worked as an instructor in the L. L. Bean fly fishing schools and has taught fly fishing, casting and fly-tying classes for various fly shops. Dave currently guides and teaching fly fishing and casting through his business, Salmo-Trutta Enterprises. He utilizes many of the best trout streams in central and northcentral PA as his classroom environment.
Tuesday, November 14, 2017
PA Trout Streams and Patterns for Success
Ben Turpin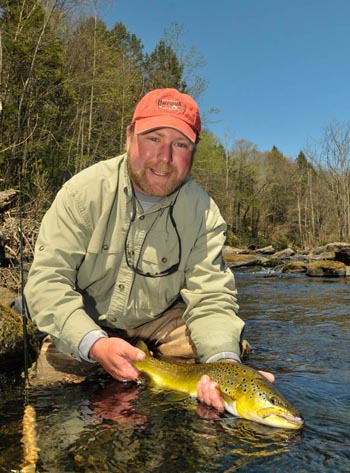 Growing up in Yardley, Pennsylvania, a small town situated along the Delaware River, led to a lot of fishing opportunities. Until the mid-80's we lived in a neighborhood that was actually sandwiched between the Delaware River and the Delaware Canal. I was surrounded by water and it became a big part of my life. When the neighborhood children weren't playing baseball, riding bikes or racing quarter midgets, we fished. It was that simple. Mom would often load a couple of kids in the car and take us to the local pond or creek and we'd go fishing.
My life has been blessed by many people, like my Uncle Sandy, who welcomed me to use the pair of ponds on his family farm thereby honing my fly fishing skills as a youngster. And his friend, Chris, who got me hooked on trout fishing in New Jersey's Rock Brook many years ago. In my early teens my family continued to help me follow my fishing interests. My Aunt Nette and my father drove me all around the state to fish the best trout streams we could find. It was at this time that my aunt introduced me to Dan Shields and Steve Sywensky at Flyfisher's Paradise Fly Shop in State College, PA. A couple of classes with Joe Humphrey's and lots of great advice and I was on my way to becoming a successful fly fisherman.
I attended college at East Stroudsburg University, where I majored in fly fishing the Pocono streams and Environmental Science. It was there that I met and became good friends with Don Baylor, a well-known fly fisherman, entomologist and author, who taught me the Brodhead Creek and all of the nuances of the hatches of the Poconos. In 1996 I started teaching family, friends and even strangers on the stream how to fly fish, until eventually my part time business, Ben Turpin Custom Rod Building and Guide Service was born. I gained valuable experience from my employment in several fly shops and lodges while continuing to guide and build rods. Word got out that I had a knack for catching fish which led to invitations to lecture at local Trout Unlimited meetings and fishing clubs as well as Fly Fishing Shows. Sharing my knowledge and experience with other fishermen through writing Keystone Fly Fishing, Fly Fisherman Magazine and helping authors like Tom Gilmore with editing their books or writing short testimonials for use in articles has also been a pleasure.
Many a client has fantasized about trading places with me and although I've been successful and really enjoyed the work, it hasn't always been easy. The fishing profession can be either feast or famine and I was often away from my wife and children. In 2015 I had the opportunity to accept employment as a Stream Manager for a private fishing club in the Poconos. I now enjoy watching over the McMichaels Creek and instructing members and their guests. I'm also able to guide part-time along with my friends Mark DeLorenzo and Kevin Craig. Between the three of us we continue to teach and guide throughout Eastern Pennsylvania and are keeping anglers hooked up on our local streams. To learn more about Ben Turpin Custom Rod Building and Guide Service contact us at www.BenTurpin.com.
Over the years I have had lots of support from my wife, Jodie, who has always encouraged me and was the first person to believe that I could actually make a living from hunting and fishing. Many said it couldn't be done, but through the grace of God, I am still enjoying making my living on the stream. We currently live in Saylorsburg, PA with our children Andrew and Valery.
American Legion Hall
137 New Market Road
Dunellen, NJ
Meeting starts at 8 PM - Non Members are always welcome!
---