General Meeting
Tuesday, November 14, 2017
Before the meeting, at 7:15 pm CJTU board member (and Rutgers University photographer) Nick Romanenko will be photographing portraits for the New Jersey WCC cards/badges. We will be providing this service for free to all those interested in joining WCC and helping to further TU's conservation mission.
The Wildlife Conservation Corps (WCC), with more than 1700 members, is the largest natural resource management volunteer group in the state. WCC members are involved in all phases of Division activities from wildlife research to fishing education. Every year volunteers contribute services valued at more than $1,000,000.
Central Jersey TU members who are also WCC volunteers help in our annual stocking and Pequest Hatchery programs by the pond. One of the advantages of having the WCC certification is it provides you with insurance protection when participating in such projects.
Anyone 18 years of age and older is welcome to join the Division of Fish and Wildlife as a volunteer. If interested, complete and submit the application form below, or e-mail questions to WCC_DEP@dep.nj.gov.
The WCC application form can be accessed by this link:
http://www.state.nj.us/dep/fgw/pdf/wcc_appl.pdf
PA Trout Streams and Patterns for Success
Ben Turpin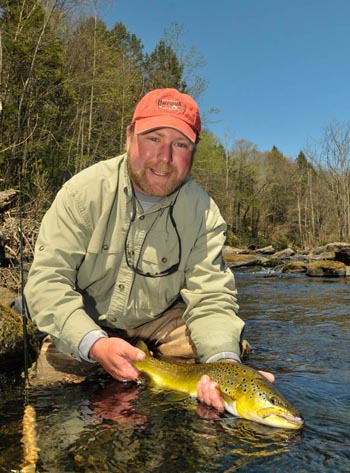 Growing up in Yardley, Pennsylvania, a small town situated along the Delaware River, led to a lot of fishing opportunities. Until the mid-80's we lived in a neighborhood that was actually sandwiched between the Delaware River and the Delaware Canal. I was surrounded by water and it became a big part of my life. When the neighborhood children weren't playing baseball, riding bikes or racing quarter midgets, we fished. It was that simple. Mom would often load a couple of kids in the car and take us to the local pond or creek and we'd go fishing.
My life has been blessed by many people, like my Uncle Sandy, who welcomed me to use the pair of ponds on his family farm thereby honing my fly fishing skills as a youngster. And his friend, Chris, who got me hooked on trout fishing in New Jersey's Rock Brook many years ago. In my early teens my family continued to help me follow my fishing interests. My Aunt Nette and my father drove me all around the state to fish the best trout streams we could find. It was at this time that my aunt introduced me to Dan Shields and Steve Sywensky at Flyfisher's Paradise Fly Shop in State College, PA. A couple of classes with Joe Humphrey's and lots of great advice and I was on my way to becoming a successful fly fisherman.
I attended college at East Stroudsburg University, where I majored in fly fishing the Pocono streams and Environmental Science. It was there that I met and became good friends with Don Baylor, a well-known fly fisherman, entomologist and author, who taught me the Brodhead Creek and all of the nuances of the hatches of the Poconos. In 1996 I started teaching family, friends and even strangers on the stream how to fly fish, until eventually my part time business, Ben Turpin Custom Rod Building and Guide Service was born. I gained valuable experience from my employment in several fly shops and lodges while continuing to guide and build rods. Word got out that I had a knack for catching fish which led to invitations to lecture at local Trout Unlimited meetings and fishing clubs as well as Fly Fishing Shows. Sharing my knowledge and experience with other fishermen through writing Keystone Fly Fishing, Fly Fisherman Magazine and helping authors like Tom Gilmore with editing their books or writing short testimonials for use in articles has also been a pleasure.
Many a client has fantasized about trading places with me and although I've been successful and really enjoyed the work, it hasn't always been easy. The fishing profession can be either feast or famine and I was often away from my wife and children. In 2015 I had the opportunity to accept employment as a Stream Manager for a private fishing club in the Poconos. I now enjoy watching over the McMichaels Creek and instructing members and their guests. I'm also able to guide part-time along with my friends Mark DeLorenzo and Kevin Craig. Between the three of us we continue to teach and guide throughout Eastern Pennsylvania and are keeping anglers hooked up on our local streams. To learn more about Ben Turpin Custom Rod Building and Guide Service contact us at www.BenTurpin.com.
Over the years I have had lots of support from my wife, Jodie, who has always encouraged me and was the first person to believe that I could actually make a living from hunting and fishing. Many said it couldn't be done, but through the grace of God, I am still enjoying making my living on the stream. We currently live in Saylorsburg, PA with our children Andrew and Valery.
American Legion Hall
137 New Market Road
Dunellen, NJ
Meeting starts at 8 PM - Non Members are always welcome!
---