News & Events
Musconetcong River Cleanup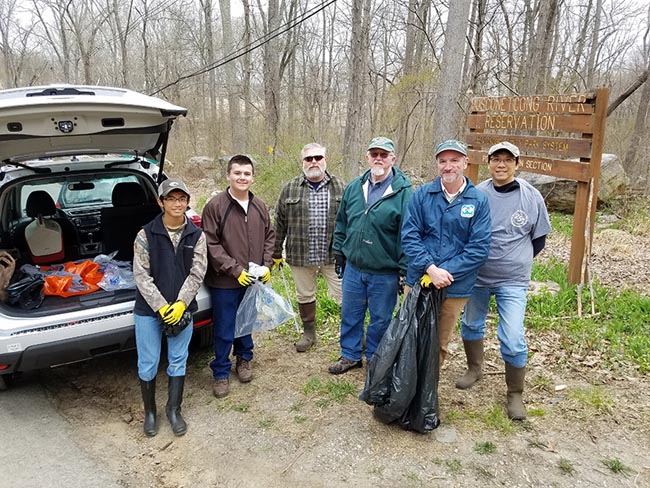 This year marked the 25th Spring Clean Up on the Musconetcong River, which took place on April 15, 2017 and Central Jersey Trout Unlimited (CJTU) members cleaned up the Point Mountain TCA section.
There was a good showing from CJTU members, Scouts, parents, and residents cleaning up the river from Lake Hopatcong State Park to Finesville, NJ.
I've personally participated in most if not all the cleanups in the last 25 years and it still astonishing how much trash ends up or resurfaces in our waterways.
I encourage members to get out and participate in cleanup events because you see the direct effects of our impact on rivers and at the end of the day feel the accomplishment of restoring a small stretch of stream.
Lou Digena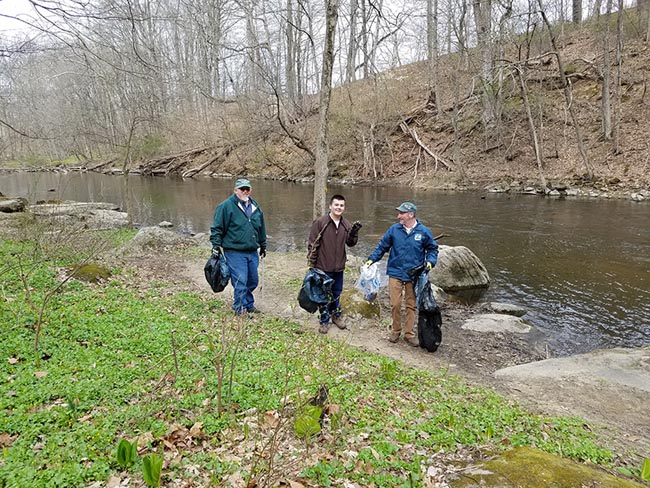 A few more photos can be found here.
---
Point Mountain Stocking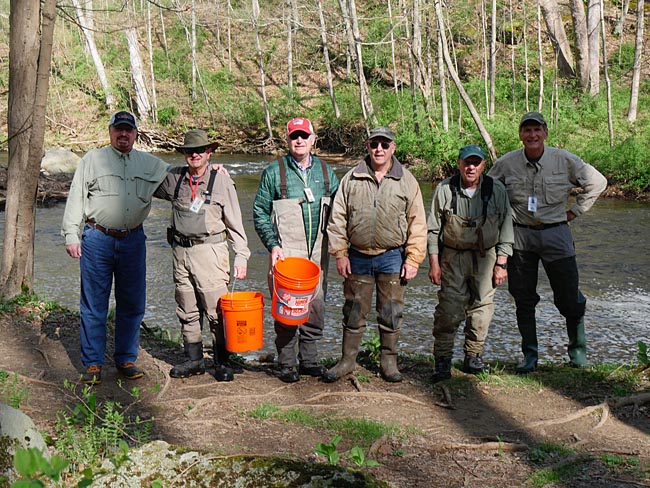 Many know New Jersey Fish and Wildlife stocks the Musconetcong River on Friday. When I was younger, I would follow the hatchery truck to find stocking spots on the rivers I fished. Those days are long gone, but I now help stock those trout along with Hunterdon County Parks Rangers and Wildlife Conservation Corps (WCC) volunteers (most are CJTU members), scattering them along the 1.2 miles of stream on Point Mountain Trout Conservation Area (Musky TCA). The state stills deposits trout where the road meets the Musconetcong River, but these volunteers evenly distributed the trout along the Musky TCA.
Rich Post and his team meets the Hatchery truck and transfer the trout into Hunterdon County Parks Kawasaki Mule that has a mini stocking tank outfitted with an aerator. After the transfer Rich and his team of WCC volunteers head upstream to meet the Mule and start stocking bucket loads of trout along the interior of the Musky TCA.
After the stocking, anyone can fish Point Mountain Trout Conservations Area. Point Mountain is a year round Trout Conservations Area, and the following regulations apply.
Only artificial lures may be used.
Possession or use of bait (live or preserved) or any substance (natural or synthetic) that contains a concentration of bait scent is prohibited.
Fishing is permitted during the spring in-season closures, which apply to the river. All trout caught during these periods must be released immediately.
I'd like to thank Rich and all the volunteers for their hard work. If this is some think you think you'll like to do stop by a meeting or contact us at info@cjtu.org.
Lou Digena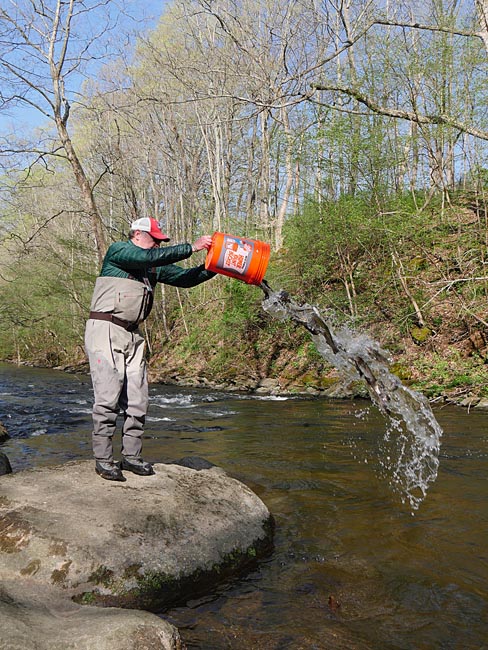 ---
2017 Rutgers Day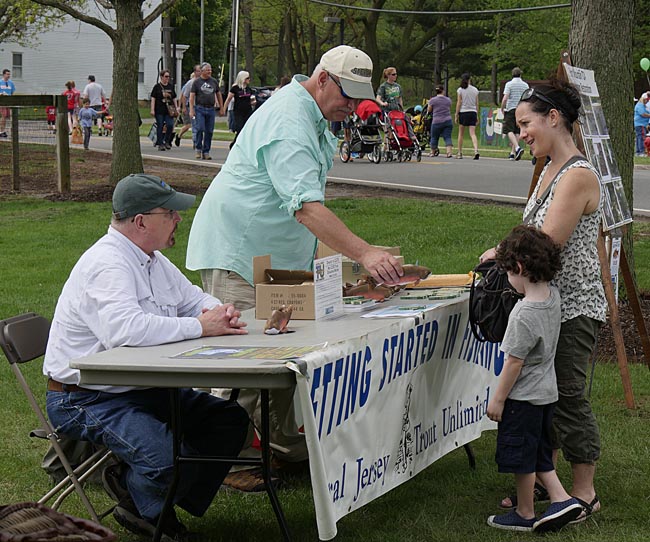 On Saturday, April 29, 2017, Central Jersey Chapter of Trout Unlimited attended Rutgers Day 2017 on the Cook Campus of Rutgers University.
Rutgers Day is an opportunity for the public to learn about and participate in some of Rutgers Agriculture and Environmental programs. The University also opens the event to local environmental organizations, CJTU being one.
At the event, we sold out of our Adopt-A-Trout stuffed animals to parents, grandparents and their children and instructed persons on fly casting. We provided information on the Point Mountain stream restoration and Trout in the Classroom (TIC) program.
I like to thank all the volunteers who gave their time during this event. A special thanks need to go out to John Wester for heading the Adopt-A-Trout program.
Volunteers make it possible for us to run these events, sharing our experience and love of cold-water fisheries. If you have time, please get involved, we need your help.
Thank you!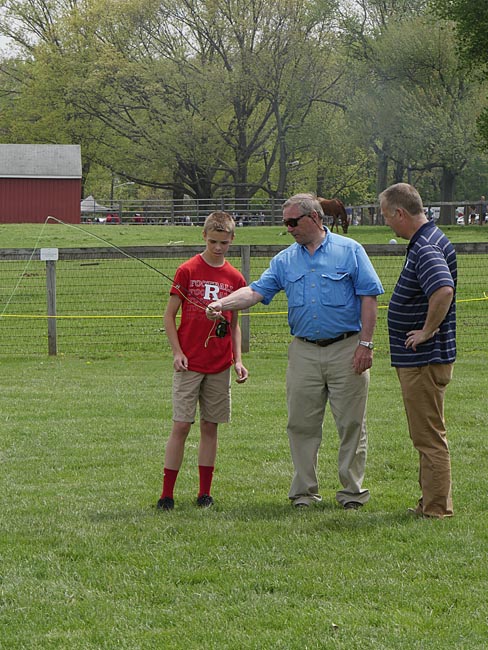 Here are some more photographs from the event.
---
Pequest Open House
and Sportsmen's Flea Market
June 3 & 4, 2017
10 a.m. - 4 p.m. Daily
Due to excessive snow cover and resulting poor condition of the grounds at the Pequest Trout Hatchery, the Open House has been rescheduled from April 1 and 2 to June 3 and 4. The new date will coincide with National Fishing and Boating Week, which runs from June 3 – 11, and the June 10 Free Fishing Day.
Since the Open House has been moved into June, there is still a chance for you to bring us your unused fishing and outdoor gear. In past years we have raised several hundred to over a thousand dollars selling CJTU members old, unwanted gear. This money goes directly to our conservation efforts. We are currently looking to raise funds to support another restoration project on public water, on the Musconetcong River. Please consider making a donation of your unwanted gear to CJTU. You can bring the gear to our monthly meeting thru May. If that is not possible, we can make arrangements to pick the items up at your convienance. If you want arrange for a pick-up please send an email to bartlombardo@optonline.net. Thank you in advance for your support.
For information and updates visit www.njfishandwildlife.com/pequest.htm on the NJDEP Division of Fish and Wildlife website.
---