News & Events
General Meeting - Tuesday, March 14, 2017
Agust Gudmundsson
"New Jersey Trout Streams Tour"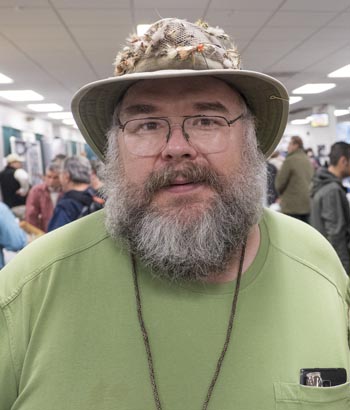 Agust was born in Reykjavik Iceland, and raised in northern New Jersey.  He is an avid angler who's involvement in Trout Unlimited began with a fly tying class in 1975.  Agust joined the Central Jersey Chapter in 1987, after meeting Dick Turse at Efingers while buying tippet and other fishing materials.  Agust has served as Conservation Chair, V.P., Chapter President of the Central Jersey Chapter, State Council Chair and is the Current Membership Director for the NJ State Council.  For the last 7 years Agust has been serving on the NJ Fish and Game Council, having been appointed by Governor Chris Christie, where he currently heads the Fish Committee.  Agust is also the Northern Region representative for the Federation of Sportsmen's Clubs .
Agust's presentation includes a tour of selected NJ streams, wild and stocked, with anecdotes about where to park, what flies to use or lies to tell.  This is expected to be an open conversation, and audience participation will be encouraged. Join us for a fun and insightful evening with one of our own fishing and conservation legends.
Tuesday, April 11, 2017
Tim Flagler
"What's Happening on New Jersey Trout Streams"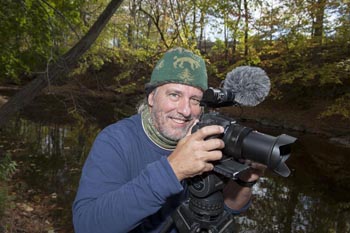 Tim Flagler, videographer and fly tier, is the owner of Tightline Productions, L.L.C., a video production company located in Califon, NJ. Although Tightline produces video programs over a wide range of topics, their specialty is fly fishing. Almost every week they produce a new fly tying or "how to" video which appears not only on their Vimeo and YouTube channels but on Midcurrent and the Orvis fly tying blog as well. These videos often get picked up by other sites too, including Frankenfly, Chiwulff, The Limp Cobra, Globalflyfisher, Gink and Gasoline and Wideopenspaces, just to name a few. Many of the tying videos take the viewer well beyond just the tying of the fly and show what it looks like underwater, what natural it represents and how it can be fished.
Tim's presentation will include a wealth of video about insects, fish, and popular fly patterns and techniques that help you catch trout in the Garden State.
American Legion Hall
137 New Market Road
Dunellen, NJ
Meeting starts at 8 PM - Non Members are always welcome!
---
President's Letter
March 2017
We've had the mildest February on record and many of us took advantage and got out on the water. I went out with Bart Lombardo two weeks ago and had a great time. I landed four fish including a rainbow that we estimated was about twenty inches. It's been about thirty years since I felt weak in the knees when I hooked into a larger fish. This rainbow, however, made me feel young again when he broke water the first time. It was a feeling I cherish. Now Bart on the other hand was a virtual vacuum on the stream. He landed over fifteen fish effortlessly. I guess I still have a thing or two to learn!
This meeting will start off a little differently. The meeting will begin at 7:30 instead of 8:00. Please come out early and enjoy some pizza and soda. Also, there will be a gentleman selling RIO fly lines and some tying materials at a significantly reduced rate. A short business meeting will then begin 8:00 followed by a presentation by Agust Gudmundsson. Agust has a wealth of knowledge when it comes to fishing for trout in New Jersey. If you want to learn of more places to fish in New Jersey for stocked or wild trout, don't miss this meeting!
As far a our coldwater conservation efforts, Fred Simonson who is the chair of our Conservation Committee, feels that if all things move accordingly, the stream improvement work on the A-Frame area of the Musky will begin and be completed next year. We are still working with our State Division of Fish & Wildlife to begin work on one of several brook trout streams this year.
We'll be at the Pequest Open House on April 1 & 2. If you're at the Open House please stop by our table and say hello. We'll also be tying flies at Orvis Princeton on March 12 from 11:00 until 3:00. If you visit Orvis on March 12, make sure to get one of their coupons to receive a 20% discount on fly tying materials and accessories. Bruce Turner from Orvis Princeton is making every effort that their shop is well stocked for fly tying.
By the way we will have a nice monthly raffle on March 14. We will have a bucket raffle which will include a Wild River Fly Shop mid arbor #3/4 reel and a fly tying lamp. Come on out on March 14 for some pizza, great raffle, and super inside fishing information from Agust.
Good fishing,
George
Pequest Open House Fundraising Event
If your like me, you have probably accumulated a lot of fishing, hunting and camping gear over the years. While many of these items are prized possessions, you probably also have some gear lying around that has fallen out of regular use and is just collecting dust. If your married like me, these items are taking up valuable space that your significant other feels could be better served storing something else. Chances are you can't bring yourself to throw the stuff away. What if I told you you could clean out that garage, basement or spare room and help out Central Jersey Trout Unlimited at the same time? We are now accepting donations of any type of outdoor sporting gear.
Every year, Central Jersey Trout Unlimited attends the Pequest Open House/Sportsman's Flea Market at the Pequest Hatchery. This year the event will be taking place on April 1st and 2nd, 2017. Your unused gear could be used to support our 2017 fundraising efforts. In past years we have raised several hundred to over a thousand dollars selling CJTU members old, unwanted gear. This money goes directly to our conservation efforts. We are currently looking to raise funds to support another restoration project on public water, on the Musconetcong River. Please consider making a donation of your unwanted gear to CJTU. You can bring the gear to any monthly meeting December thru March. If that is not possible, we can make arrangements to pick the items up at your convienance. If you want arrange for a pick-up please send an email to bartlombardo@optonline.net. Thank you in advance for your support.
Bart Lombardo
Fly of the Month
"Water Boatman"
Tied by Ed Kordyla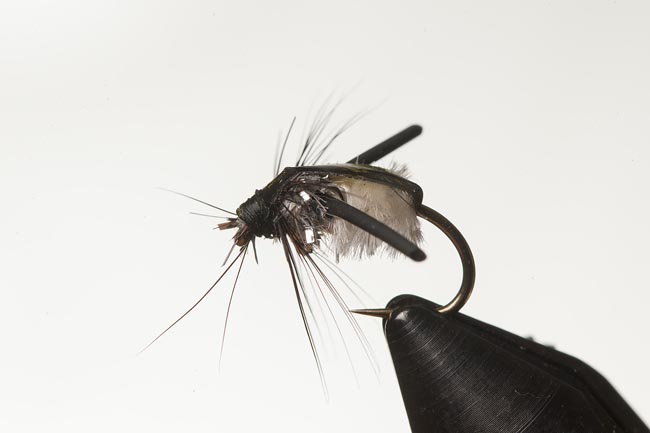 The Water Boatman is a stillwater pattern. Use it to fish ponds and lakes. This fly is designed as a subsurface pattern, so you can weight the fly with wire when you tie it or you can add split shot to your leader.
Cast out and retrieve the fly in 3 or 4 inch strips, as the natural moves through the water in short spurts.
Click here for the recipe!
---