General Meeting
Tuesday, June 13, 2016
CJTU Picnic Meeting
"A Meeting with Food"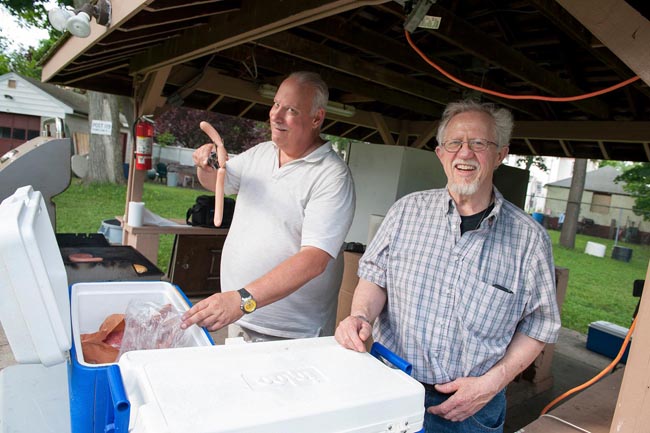 Come join us for our very popular event, the 5th annual "A Meeting With Food" to be held in the grove behind the American Legion Hall on Tuesday, June 13th, from 5 to 8 pm. A great opportunity to move into the summer and exchange some fishing stories with new and old friends. We will be cooking up some delicious burgers, hot dogs and sausage along with macaroni and potato salad. Soft drinks and water will be provided and the American Legion Hall will have it's usual full bar available just steps away.
Price is only $10.00, please submit payment to Sal Lauro prior to the event. Hope to see all of you there !
American Legion Hall
137 New Market Road
Dunellen, NJ
Meeting starts at 8 PM - Non Members are always welcome!
---
President's Letter
June 2017
Well, it's June already and New Jersey trout streams are still fishable because of the rains and cool weather. The New Jersey Department of Fish & Wildlife tells us all streams have plenty of trout. As the season progresses beyond Memorial Day, the number of fisherman on the streams wanes. With that in mind, get out there and wet a line. You now have less competition for your favorite stretch of stream. My close friend, Art Port, and I are still hoping to get our West Branch trip in this year. We've already rescheduled twice because of extremely high water. If I'm at CJTU's annual picnic next Tuesday, June 13, you'll realize we've rescheduled it a third time. We're hoping the water drops by Monday so we can finally take our trip.
On June 3 & 4 CJTU manned a booth at the Pequest Open House at the Pequest Hatchery. Attendance was better in years past because of the weather. We had showers before the opening on Saturday and intermittent drizzle from noon on Sunday. Nevertheless, we did very well raising funds for the Chapter's work. The highlight of the event was the drawing of our year-long conservation raffle. You may remember it was a complete Orvis outfit of rod, reel, and line.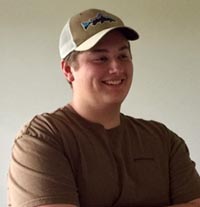 The Chapter raised over seventeen hundred dollars for conservation from the raffle. The winner of the raffle was Bryant Atanasio from Port Matilda, Pennsylvania. Much to our surprise, Bryant, like our Chapter member Andrew Dang, is part of TU National Youth Leadership Council. He attended last Summer's TU Teen Summit in Montana along with Andrew. Both his parents wrote me to tell me that Bryant was thrilled to have won the raffle. Andrew even told me that Bryant bought his ticket at our booth during the Fly Fishing Show this past January in Somerset. Considering his activities in TU, I'm sure the rod will be used often. Bryant, I like to hear what it was like to hook a trout over fourteen inches on that glass rod? Congratulations Bryant!!
Picnic! I did mention the Annual CJTU picnic is this coming Tuesday in the grove behind the American Legion Hall in Dunellen. Please consider joining us for some good food and some friendly conservations. Any woman reading this will be welcomed by Marsha Benovengo in hopes of getting more woman to participate in the Chapter. Additionally, younger teen members will get to talk with two very active youth members, Andrew Dang and Chris Prozor. These two know their fishing, and I'm sure they'll share some fish stories if you bring your son or daughter. Your children no longer need to sit with or listen to older adults. Younger people are the TU leaders of tomorrow. Also, Marsha is also quite the fisherperson, she has already out fished me once. And let me tell you, she reminds me of that often!
Well it's June, and September is only two and a half months away. We are still in need for someone who is willing to take over our Trout in the Classroom(TIC) program. As I mentioned before, Ozzie Ozefovich has stepped down as the leader of our TIC program. I'm hoping we can have someone volunteer to take over the program before September. I have had two general members who have already stepped up to assist with the program. If you want a rewarding experience, please consider taking it over.
Good fishing!
George
---
News & Events
CJTU at the 2017 Pequest Open House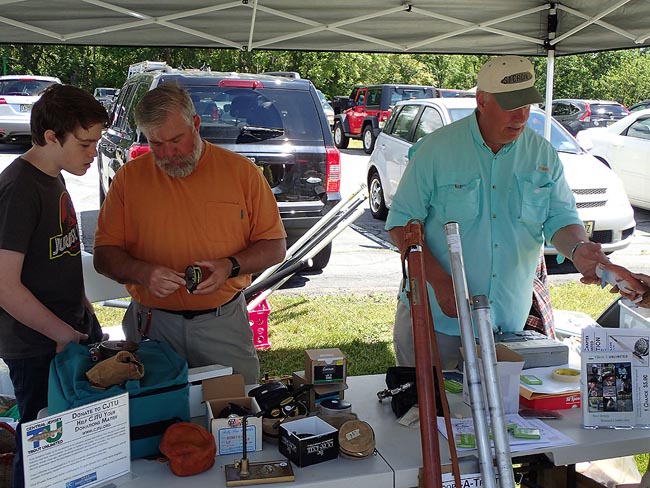 On June 3rd and 4th, 2017 Pequest Trout Hatchery and Natural Resource Education Center had its annual Open House.
The Open House allows the Fish and Wildlife to show off the trout rearing at the Hatchery, and activities include fishing for kids between, archery ranges, and hunter education.
A sportsmen's flea market allowed you can get what you need or to stock up for the fishing and hunting seasons ahead.
CJTU was one of the environmental groups at the event. Inside we sold flies and raffle tickets for the Orvis Superfine Fiberglass outfit. Outside at the flea market, we sold items ranging from ceiling fans to vintage fly rods.
The event is an outreach and fundraiser for the chapter. The event is one where we get to tell folks about the Point Mountain project and Trout in the Classroom. Our primary fundraiser at the event was from the sales of items donated to the chapter and our Adopt-A-Trout program.
Volunteers make it possible for us to run these events, sharing our experience and love of cold-water fisheries, and we all owe then our thanks.
If you have time, please get involved, we need your help!
Thank you!
Here are some photographs from the event.
Lou DiGena
Women's Initiative
Calling all CJTU Women Members, and those who would like to be!
Let's get together at the 5th Annual CJTU Picnic, a.k.a. ''Meeting with Food", on Tuesday, June 13th at 5:00pm at the grove of the American Legion Hall, 137 New Market Road in Dunellen, NJ. Cost is a only $10. There will be lots to eat and drink and time to get (re)acquainted with fellow members. Come and join the fun!
Marsha Benovengo
Women's & Diversity Initiative Coordinator