News & Events
Women's Initiative
Greetings Fellow Central Jersey Trout Unlimited Members:
I am pleased and honored at my recent appointment to the Central Jersey Trout Unlimited (CJTU) Board of Directors, to the position of Women's Initiative (WI) Chapter Coordinator for CJTU!
In this role, I will serve CJTU to reenergize and grow its membership of women and build an energetic and engaged women's membership. The Women's Initiative continues to be a major focus of Trout Unlimited nationally. And, CJTU will be directing some of our energy and resources towards providing opportunities for the growth, involvement, leadership and skills development of our women members. As with all members we will work to discover the interests and experiences of these women, and involve them in all aspects of a vibrant CJTU; while supporting TU's Mission.
I will be reaching out to our present women members directly, doing outreach to women in the communities which we serve and holding a special gathering to listen, and share ideas and information. Also CJTU will be holding a fishing/casting clinic for our women members and prospective women members as well as a Women's Day Out fishing event. It is my hope that all CJTU members will embrace our Women's Initiative.
Growing our membership of women helps to grow the overall membership of CJTU with concerned, involved and diverse members. That makes good sense!
"Thank You" in advance, for your support of our Women's Initiative and for your welcome of women as full functioning members of CJTU. Please remember to invite a woman to our meetings and events and tell her about our plans! I'm excited about meeting our women members and am looking forward to working with all of you!
If anyone has any questions and/or suggestions please feel free to reach out to me at (732) 780-7185 or via email at casabeno@msn.com.
Marsha Benovengo
Woman's Initiative Chapter Coordinator
Central Jersey Trout Unlimited
---
Musconetcong River Clean-up
Saturday, April 15, 2017
CJTU will be working again with the Musconetcong Watershed Association on a river cleanup on Saturday, April 15. We will do our annual clean-up of the Point Mountain Stretch of the Musky.
Many of us spend considerable time fishing this area and we are in effect, cleaning up our backyard, so to speak. Central Jersey TU has put in a lot of labor and money to make this stretch what it is today.
We will meet at the Hunterdon County side of the bridge on Point Mountain Road at 9:00 a.m. We will finish up by noon. For those of you who haven't walked this stretch, you'll have Central Jersey TU members, including myself, who will give you some ideas where to fish along the stretch. Come on out on April 15 for a fun time and some inside fishing information.
See you there on April 15!
Tight Lines, George Hryvniak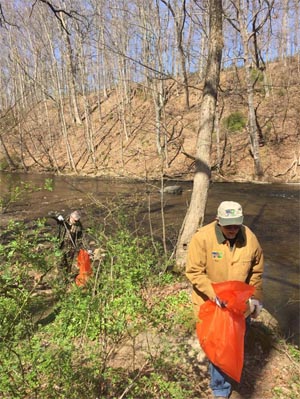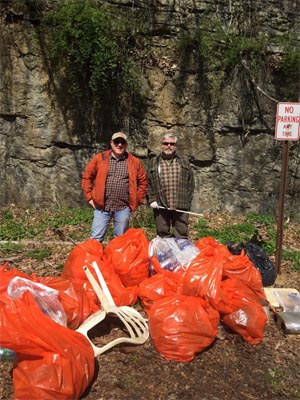 ---
Pequest Open House
and Sportsmen's Flea Market
June 3 & 4, 2017
10 a.m. - 4 p.m. Daily
Due to excessive snow cover and resulting poor condition of the grounds at the Pequest Trout Hatchery, the Open House has been rescheduled from April 1 and 2 to June 3 and 4. The new date will coincide with National Fishing and Boating Week, which runs from June 3 – 11, and the June 10 Free Fishing Day.
Since the Open House has been moved into June, there is still a chance for you to bring us your unused fishing and outdoor gear. In past years we have raised several hundred to over a thousand dollars selling CJTU members old, unwanted gear. This money goes directly to our conservation efforts. We are currently looking to raise funds to support another restoration project on public water, on the Musconetcong River. Please consider making a donation of your unwanted gear to CJTU. You can bring the gear to our monthly meeting thru May. If that is not possible, we can make arrangements to pick the items up at your convienance. If you want arrange for a pick-up please send an email to bartlombardo@optonline.net. Thank you in advance for your support.
For information and updates visit www.njfishandwildlife.com/pequest.htm on the NJDEP Division of Fish and Wildlife website.
---
Point Mountain Stocking 3/30/17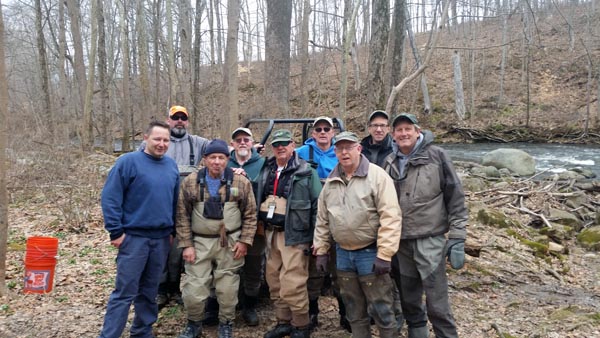 Photo courtesy of Lorne Hargis
Our CJTU/NJFW stocking team had a very successful day at the Musconectcong River Point Mountain TCA. We had 10 members present. By working as a team we dispersed an estimated 900 fish from the 4X4 mule via bucket brigade into the river. The Hunterdon County Parks personnel who drove the 4x4 and helped off load the trout and cooperated with us to get this job done efficiently without any mishaps. Over the last several years we have made an effort to establish a good rapport with both the county parks crew and their county ranger escorts. Perhaps, they don't realize this but they have become valued team members as well. This transition has been achieved by getting to know them and showing respect for the job they are sent to perform. It all centers on the proper means of dealing with people who work with you. In this case it has made the task of stocking that much easier.
Just a note on river conditions, the Musky was running at about 380 cfs's so it was moving rather fast. Under these conditions, it is not safe to venture into the river but instead we passed the buckets to the edge and tossed the fish out into the moving water.
On behalf of the team, I want to thank all 9 members that participated in this the principle stocking of the spring. They are from left to right: Keith Monahan, Michael Stevens, Dan Rodriguez, Kim Ott, Rich Post, Fred Simonson, Ed Kordyla, Emery Mersich, and Lorne Hargis. Not in the photo is Mike Underwood. Again, a job very well done.
Rich Post
CJTU / NJFW Point Mountain TCA Stocking Coordinator
---
Introduction to Fly Tying at Duke Farms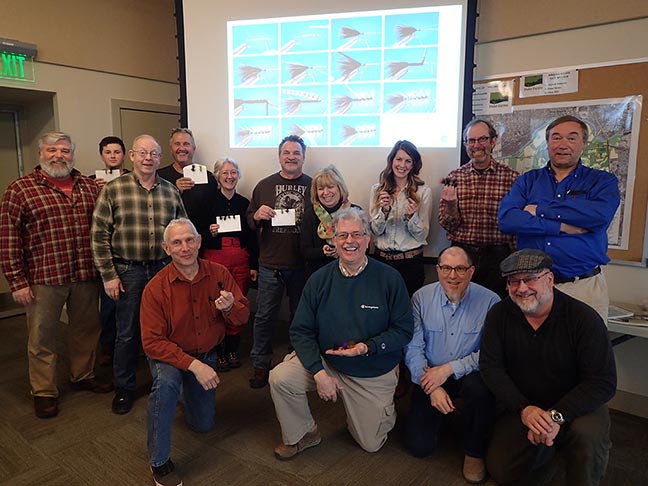 On Sunday, March 26th, CJTU members assisted Duke Farms in introducing steam entomology and fly tying.
Duke Farms mission is to promote stewardship and inspires visitors to become stewards of the land and water. I can't think of a better way to expose to promote stewardship of our cold-water resources than a streamside introduction into aquatic ecosystems that support trout and clean water.
The class started out with short classroom introduction into the cold-water habitat that supports a healthy trout population. Next, we ventured out to Duke''s Brook on the farm and sampled macroinvertebrates in the brook. Our sample turned up several cress bugs, scuds, two baby crayfish, and one Early Brown Stonefly (a.k.a. Willowfly). After the sampling, we headed back to the classroom to tie some flies.
In the classroom we watched video on tying wooly buggers then CJTU instructors worked with students in learning to tie wooly buggers. Students learned the basics of thread control, material and then tied. All the students tied at least three wooly buggers, each one getting better.
At the conclusion of the class, we offered some suggestions to fish their flies and places in the local are to fish. Duke Farms is a great venue, and if you have some time this spring, I would recommend visiting the Duke Farms and checking out their classes and don't forget we will be offering our fly tying school next year.
More photos from this event can be seen here.