News & Events
General Meeting - Tuesday, March 8, 2016
Dave Hess

"What's New in Fly Fishing"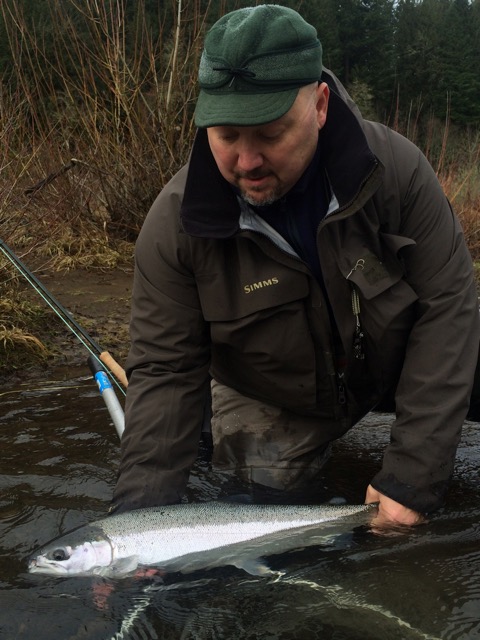 Dave will be bringing samples of new equipment and materials and give a brief description of them for the audience.
Dave Hess is a retired law enforcement officer from PA who has fly fished for the past 30 years. He has travelled and fished extensively throughout the western US and Canada. His passions are fishing dry flies to wild trout as well as swinging flies for steelhead. Currently he is employed at Tight Lines Fly Fishing in Parsippany, NJ.
Become a Wildlife Conservation Corps Volunteer !
Central Jersey TU members regularly assist the New Jersey Division of Fish and Wildlife in helping stock trout streams (we devote many man hours each year to stock Point Mountain for example), help in running various fishing events at the Pequest Hatchery Pond during Open House and special weekend activities, plus volunteer in stream restoration and other "hands on " projects. For a lot of large state projects, or while working at a state hatchery for example, NJF&W requires volunteers to be signed up for the WCC for participation, as this also covers all volunteers for injury while engaged in sanctioned activities.
Well, we at CJTU will make the hardest part of signing up: providing a photo for the WCC ID card, that much easier for you by having CJTU board member Nick Romanenko (who happens to be the Rutgers University photographer by day) photograph portraits at the March 8th meeting, starting at 7:30 pm. These photos are provided free of charge to you as we hope to encourage a healthy participation from CJTU membership in volunteer activities that benefit the environment and help improve fishing in our great state. Plus our members usually end up having the best looking ID cards too!
Information on WCC can be found at: http://www.state.nj.us/dep/fgw/wcchome.htm
An application can be downloaded from: http://www.state.nj.us/dep/fgw/pdf/wcc_appl.pdf
For those not so computer savvy or with limited access, we will also have some printed forms available at the meeting.
Basic Fly Casting
George Hryvniak
In an attempt to help our members and new members, we will be offering basic fly casting instruction. There may be some of you who don't fly fish but would like to start. You may have a friend who needs instruction but is not a member. Please let that person know they are welcome to attend these classes as well. The rate of survival is much higher when a fish is caught on a fly and then released. That is one of the reasons so many of us fly fish. It is another way to protect our coldwater fisheries.
The instruction will begin at 6:30 until 7:45 before the March, April, and May meetings. We have a way of teaching fly casting indoors during inclement weather or until the weather warms. We promise it will be a lot of fun. Many of us take our fly rods out in our backyard or to a local park to just cast. Casting by itself is very enjoyable and relaxing.
We hope to see you at our first session on March 8.
American Legion Hall
137 New Market Road
Dunellen, NJ
Meeting starts at 8 PM - Non Members are always welcome!
---