Central Jersey Gossip
George Hryvniak
Ron Rispoli told me he had a great late December through January with the warm weather we had. He fished in the South Branch North of the Gorge. While fishing this area he caught a number of browns, since this area was stocked along with the Gorge by Shannon's Fly Shop. He also spent time fishing Point Mountain on the Musky. Being retired he limited his fishing to weekdays, going out about two or three times a week. He fished nymphs in the riffles and caught fish between 12" and 14". Because of the cool water and having been in the stream for months the fish fought well. He would catch four to five fish a day and said you really needed to work for them. Now that's how we should all spend early winter!
Paul Rich and his good friend, Joe Nita, spent May 19 on the Pequest. Using a March Brown Nymph he caught a 13" rainbow on his second cast. The fish that day were not hitting hard. He switched to a Gold Ribbed Hare's Ear and then a Black Beadhead Woolly Bugger. On the Woolly Bugger he caught a 14" rainbow. Joe, in the meantime, took one on a Black Woolly Bugger and then he got two on a Muddler Minnow. Paul did mention that last year they had their best trip ever when they went to New Mexico to fish the San Juan River.
Charlie Ribardo is currently recovering from a medical problem. He told me that last year he did manage to fish Broadheads Creek in the Poconos. The best fish he landed was a 24" rainbow, and it put up a tremendous fight. He also caught a number of native brookies and browns in Buck Hill Creek, also in the Poconos. Charlie is determined to complete his recovery before a trip planned for this August to the Kamchatka Peninsula in Siberia to fish for large rainbows and salmon. We're all pulling for you to be able to make that trip Charlie!
Larry Osterberg is 75 and fishes regularly, but now finds wading difficult. He did spend a day just below Clinton Falls on the South Branch. He fished with his son and they caught and released fifteen trout. He enjoyed another day fishing Assunpink Lake for various freshwater fish. Again all his fish were released. The fish were caught on meal worms and a Trout Magnate Chartreuse lure. He also spent a couple days fluking on his buddy's 23' boat and caught three keepers on his first trip and two on his second. When age robs us of our balance to wade we still ways to "wet a line".
Ed Olsen made two trips to Florida this past March and the first week in April. On his first trip he fished with guide Brian Libowitz out of Fort Lauderdale. They fished the Northern part of Biscayne Bay using live shrimp. They caught lady fish and sea trout, the largest lady fish was 22". On his next trip he headed to Islamorada in the Keys. There he fished with guide West King and again caught lady fish and sea trout. On this trip he used Berkley Gulp Shrimp. On each trip Ed caught about fifteen fish.
Since none of the above fellows I spoke with had photos to post, I felt it necessary to post some king of picture. I feel it adds something to the column. After fishing the West Branch of the Delaware in Deposit for the last three years, I finally caught some trout the first week in May. I offer this picture of myself so you can have a 'hardy laugh'. Here it is a monster 9" wild brown. I got this one the first day and four more from 8" to 10" the second. All this while my close friends, Art Port and John Hartmann, were catching 'real' trout up to 19 1/2". Oh well, self-deprecation is good for the soul!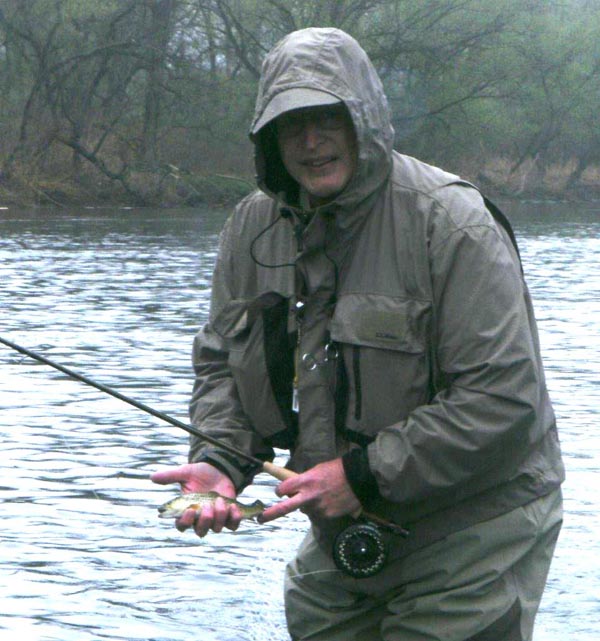 Until next month, Good Fishing,
George
---