News & Events
General Meeting - Tuesday, January 12, 2016
Jeff Dement

"Tales Tags Tell"
50 Years of Recreational Angler Fish Tagging with The American Littoral Society
The American Littoral Society's fish coastal marine fish tagging program was started in 1965 by Graham Macmillan, a Society vice president and an avid sport fisherman. After consulting with fisheries biologists, he set up the program that, with only a few refinements, has served us well since. The premise of the program is that many fishermen release much of what they catch, especially those fish with a legal minimum size such as striped bass and fluke. Why not encourage fishermen to tag those fish before they release them? The Society decided to make the program self-supporting (i.e., the fishermen would pay the cost of the program) and to make data collection as easy as possible. From the program's inception it was decided that all data produced would be published and made available to the fisheries scientists who would use it, and that all taggers and recapturers would hear about the fish they had released or recaptured. Based on the principles set up in 1965, the tagging program has grown to be the largest all voluntary fish tagging program in the nation and is recognized by the ASMFC Interstate Tagging Committee.
This presentation will focus upon the past, present and future of this invaluable citizen science effort, as well as, interesting and noteworthy tagging, and recapture events through the years.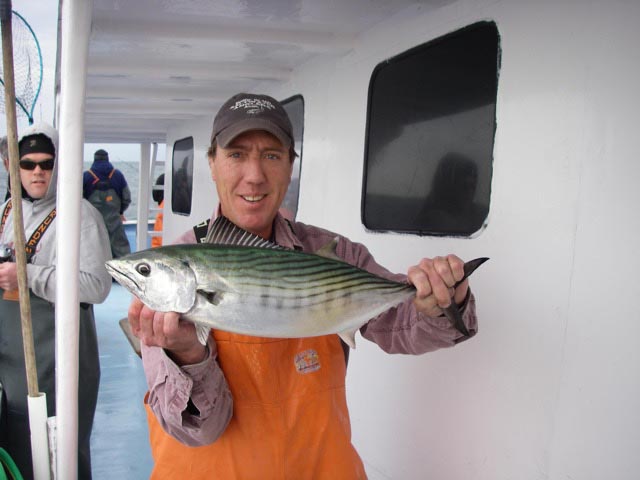 Jeff Dement joined the American Littoral Society in 2008 to manage their 50 year-old citizen science, salt- water fish tagging program, the largest and longest-running program in the U.S. In this role, Jeff manages 1,250 volunteer anglers from Maine to Florida including individuals, fishing clubs, and charter boat captains. Data from the program is shared with the volunteers, the general public, and the National Marine Fisheries Service, at Woods Hole, Massachusetts, where it is shared with fisheries researchers.
In addition to maintaining and improving quality control of data and workflow, processing/overseeing data capture and system maintenance for approximately 15,000 tagged fish and 1,000 recaptures annually, Jeff disseminates data to lay and scientific audiences by writing articles and field notes for American Littoral Society publications and web site. He has brought in new members through innovative education and outreach approaches including popular surf-fishing clinics to teach individuals and families to fish and charter boat fish tagging trips, so that experienced anglers can fish alongside Society members and learn to tag fish. He has also contributed significant effort to the Society's youth education programs including teaching youth in the Society's SeaQuest after school program.
Jeff puts his considerable naturalist skills to work for the Society by leading walks and talks on Sandy Hook and eco-tours on Barnegat Bay.
Prior to joining the Society, Jeff was head teaching assistant in the Dendrology Department where he managed the laboratory and all student field work. Before embarking on his second career in the environmental field, he spent 20 years in the construction field as a union ironworker, working on large projects in New Jersey and New York City.
Jeff holds a B. S., Ecology/Natural Resource Management and a Certificate in Environmental Geomatics (GIS) from Cook College, Rutgers University, New Brunswick, NJ.
American Legion Hall
137 New Market Road
Dunellen, NJ
Meeting starts at 8 PM - Non Members are always welcome!
---
CJTU Fly Tying School 2016
Fly Tying Classes are Starting on Tuesday, January 19th. There is still time to sign up!
The Fly Fishing Show
January 29 - 31, 2016
Garden State Convention Center, Somerset
CJTU will also be at the upcoming Fly Fishing show in Somerset NJ on January 29, 30 and 31. This is the largest fly fishing show in the country. If your a fly fisherman or want to become one you don't want to miss this show.
Central Jersey TU Committee Structure
If you attended the December CJTU meeting and/or have looked at the CJTU web page recently you will be familiar with the new CJTU Committee Structure. We have instituted the Committee Structure to improve how we function as an organization. This structure is intended to provide greater opportunity for the general membership to become more involved in program by providing forums to express your ideas, roll up your sleeves, and follow your passions. Please consider joining and working with one or more of our committees listed below. For questions or more information speak with one of the committee contacts listed below:
Initial Core Committees:
Cold Water Conservation
Contact People: Fred Simonson & Rich Post

External Outreach
Contact People: Bart Lombardo, Sal Lauro, Ozzie O. (coordinator trout in the classroom)

Membership & Membership Experience
Contact Person: Lou DiGena

Finance & Fund Raising
Contact People: Dick Turse & Nick Romanenko

Communications
Contact People: Tom Kapusta & Lou DiGena
Cold Water Conservation Committee
Co-chairs: Rich Post & Fred Simonson
Cold Water Conservation (CWC) is the heart and soul of TU. We in NJ realize how important CWC is because of the limited availability of prime cold water streams in our state. Our recent restoration project at the Point Mt. TCA is a prime example of our stewardship at work. As a committee we will be working to preserve and enhance our "Cold Water" by looking at projects and programs both large and small that we can become involved with whether they be CJTU initiated or driven by other chapters, organizations, or agencies. Please consider joining us or one of our other committees. Rich and I look forward to hearing your ideas and thoughts. Going forward we would like to have you join us on the Cold Water Conservation committee and help turn these ideas into reality. Look for monthly updates in Mainstream as well as on the CJTU website.