---
2016/17 Fundraising Campaign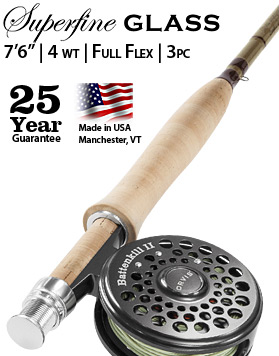 This year we are offering a 4wt Orvis Superfine Glass Outfit. The prize will include a Brand new 7'6" 4wt Orvis Superfine Glass fly rod, and a Battenkill II fly reel loaded with a WF4F Hydros line. This package retails for $613.00. Tickets will be available for $5.00 a piece, starting with our December meeting and will also be available at our upcoming shows and general meetings. The final drawing will held at the Pequest Open House on April 2, 2017. All proceeds from your donations will be used to support our upcoming conservation projects. Our thanks go out to Orvis of Princeton who graciously donated the reel and line in this outfit.
---
Pequest Open House Fundraing Event
If your like me, you have probably accumulated a lot of fishing, hunting and camping gear over the years. While many of these items are prized possessions, you probably also have some gear lying around that has fallen out of regular use and is just collecting dust. If your married like me, these items are taking up valuable space that your significant other feels could be better served storing something else. Chances are you can't bring yourself to throw the stuff away. What if I told you you could clean out that garage, basement or spare room and help out Central Jersey Trout Unlimited at the same time? We are now accepting donations of any type of outdoor sporting gear.
Every year, Central Jersey Trout Unlimited attends the Pequest Open House/Sportsman's Flea Market at the Pequest Hatchery. This year the event will be taking place on April 1st and 2nd, 2017. Your unused gear could be used to support our 2017 fundraising efforts. In past years we have raised several hundred to over a thousand dollars selling CJTU members old, unwanted gear. This money goes directly to our conservation efforts. We are currently looking to raise funds to support another restoration project on public water, on the Musconetcong River. Please consider making a donation of your unwanted gear to CJTU. You can bring the gear to any monthly meeting December thru March. If that is not possible, we can make arrangements to pick the items up at your convienance. If you want arrange for a pick-up please send an email to bartlombardo@optonline.net. Thank you in advance for your support.
Bart Lombardo
---
CJTU Conservation Fund
Many of you have seen as well as had the opportunity to enjoy the newly improved Point Mountain TCA area. I would like to thank those TU chapter members that have responded to our solicitation and contributed to the CJTU Conservation Fund earlier this year. We are currently exploring a number of new ideas and opportunities to improve water conditions and stream ecology on our "Home Waters" the Muscontecong River. For those of you who have not as yet made a contribution we would encourage you to consider donating this year, so that our chapter can continue our commitment to cold water conservation. As 2016 comes to a close this is a reminder that all donations are Tax deductible. Thanks in advance for your support and being a CJTU Member!
Please send all contributions to: CJTU, P.O. Box 55 Pluckemin, NJ 07987
---
Point Mountain Fall Stocking
Our NJFW/CJTU team was at Point Mountain on October 12 to stock an estimated 150 to 200 fish. Whenever possible we attempt to distribute the fish throughout the TCA water. On this date, however, a downed tree blocked the upper trail so we were forced to divert all fish to the middle and lower sections. Some of us tried to move fish filled buckets up river by hand but we found the time and effort involved caused considerable stress to both us and the fish. More than half of these fish were of the large 20'' plus size and they have considerable difficulty surviving in a crowded bucket for a very long time. Although these conditions were not ideal, our team completed the task successfully without any loss of fish. Any members who would be interested in joining our team please see me at a general meeting. Spring stocking will start in April. I want to thank all members that helped with the 5 stockings this year. A job well done!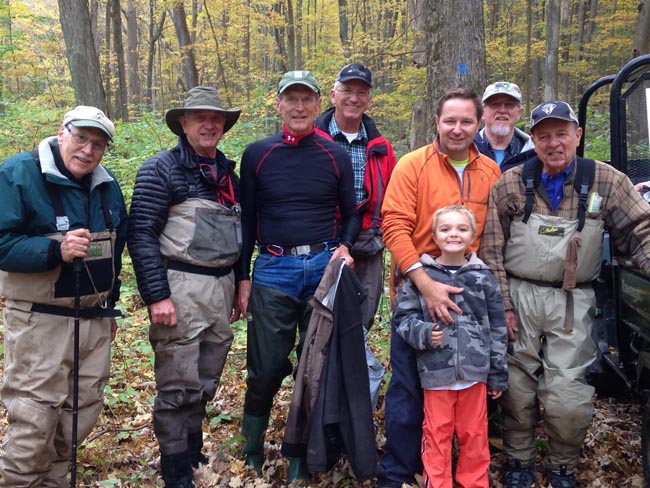 Team members in the attached photo from left to right: Al Galante, Rich Post, Gary Benke, Bob Horton, Keith our Hunterdon County Parks 4x4 driver and his daughter, Kim Ott, and Dan Rodriguez. Fred Simonson was in attendance but absent from the photo.
Rich Post
CJTU Stocking Team Coordinator