News & Events
General Meeting - Tuesday, October 13, 2015
Bill Kibler

"Preserving Open Space to Improve Water Quality: Burnt Mills as a Case Study"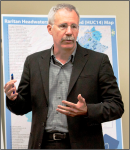 The Raritan Headwaters Association (RHA) owns three adjacent pieces of property along the Lamington River on the border between Bedminster and Branchburg. Working with other local landowners and with the support of federal, state, and local government agencies, RHA intends to remove the derelict Burnt Mills dam, restore the stream, create better habitat for native fish and wildlife, and improve public appreciation for the river. Bill Kibler, Director of Policy for RHA, will discuss how Burnt Mills and similar projects exemplify RHA's mission "to protect, preserve, and improve water quality and other natural resources of the Raritan River headwaters region through science, education, advocacy, land preservation, and stewardship."
Bill was the Executive Director of the South Branch Watershed Association from 2005 until RHA was created in 2011. An attorney (JD, Syracuse University) who specializes in environmental law, he served as an Officer with the Army Corps of Engineers after graduating from the United States Military Academy. An avid fly fisherman, Bill is also Chief of the Califon Fire Company and serves on the New Jersey Highlands Coalition Policy Committee and the Raritan Basin Watershed Alliance.
American Legion Hall
137 New Market Road
Dunellen, NJ
Meeting starts at 8 PM - Non Members are always welcome!
---
CJTU Fly Tying School 2016
Fall Stocking Begins
Fall trout stocking begins next Tuesday, October 13. Approximately 20,000 Rainbow Trout, averaging 14 to 22 inches in length, will be stocked throughout the state. During the first week, 16 streams and rivers in northern and coastal areas will be stocked; during the second week, 15 ponds and lakes in the central and southern portions of the state will be stocked.
For more information, view the NJDEP news release at www.nj.gov/dep/newsrel/2015/15_0087.htm. To view the stocking schedule, go to www.njfishandwildlife.com/flstk15.htm on the Division of Fish and Wildlife website. There are no closed days during the fall stocking period.