News & Events
General Meeting - Tuesday, February 10, 2015
Dragonflies and Freshwater Mussels of New Jersey Streams
Robert Somes
Robert Somes, Senior Zoologist NJ Division of Fish & Wildlife will make a presentation on "Dragonflies and Freshwater Mussels of New Jersey Streams". Robert, who works in the Endangered and Nongame Species Program at NJDF&W will speak about identifying and the significance of these two species in our local waters.
Tuesday, March 10, 2015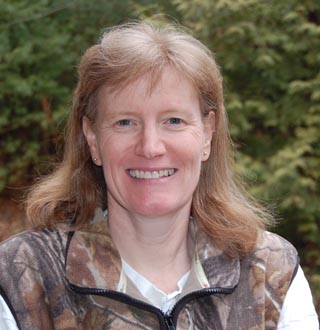 Paula Piatt, Trout Unlimited eastern sportsmen organizer, will present "Heads Up! Protecting Our Headwaters and Trout Habitat". Paula, from National TU, will focus on the importance of protecting our wild and native trout populations. Learn why headwater streams are important, as well as the current and potential impacts on the streams and the habitat surrounding them, including pipelines. This presentation also includes information on current legislative issues that affect fish and wildlife habitat, and how local TU chapters can help with advocacy issues.
An avid fly-fisherman and turkey hunter, Paula is a Pennsylvania native, a Lock Haven University graduate and has recently served as associate editor of New York Outdoor News. She lives in Bradford County, PA.
Tuesday, April 14, 2015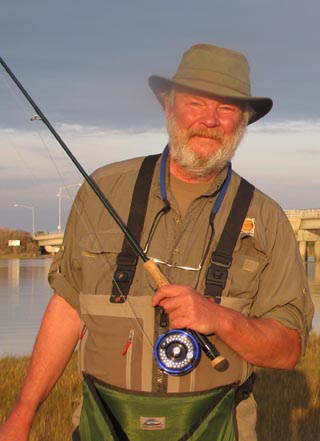 Rod Rohrbach, retired owner of the Little Lehigh Fly Shop, presents his program simply titled "Bugs". Stop being confused by aquatic insects. Rod will provide an easy, humorous, entertaining and understandable approach to entomology for the fly fisherman without the need to acquire a degree in Latin or entomology. You should leave this presentation with a good idea of which fly to use as you fish waterways around the country.
After 30 years as a banker, Rod converted an historic springhouse on the banks of the Little Lehigh into a fly shop. For 15 years he studied this famous limestone's ecosystem while giving hundreds of fly tying and fly fishing lessons and speaking at fishing and social clubs throughout the Mid Atlantic area. Since retiring, Rod spends most of his time camping and fishing around North America.
American Legion Hall
137 New Market Road
Dunellen, NJ
Meeting starts at 8 PM - Non Members are always welcome!
---
Show Report
Dick Turse
In January, CJTU participated in two shows that we have been a part of since their birth many years ago. Unfortunately I can't remember any longer when both started but I was there as Show Chairman in both cases. In fact, we started our "show" participation previous to their beginnings by working in shopping center kiosks selling flies and our other wares.
The first show known today as "The Garden State Outdoors and Sportsmen's Show" began in the old gym at Rutgers where it lasted for a few years. Then it transferred to what was then, "Trenton State College". It was a terribly long commute to man the booth. We showed 8 mm.. movies then ,not videos or DVD's. Finally it moved to its current location, the Raritan Expo Center, about 20 years ago. Then new promoters bought the show about four years ago and made many changes. We also made changes. We used to man five booths which included carpeting and a 50-gallon fish tank loaded with trout from Vern Mancini's Asbury hatchery. For many reasons we have downsized to two booths with a great backdrop. These can be easily set up, taken down and stored. We had a financially successful 2015 event thanks to our dedicated salesmen.
The second show, of course, is the Fly Fishing Show. Once again we were there at its inception. That first year we had a booth inside and, like everyone else, we had a great financial success. The attendees bought everything except the carpeting on the floor. Then we were moved to the lobby where we have remained since. Barry S., one of the original promoters, bowed out about 5-6 years ago and Chuck F. is the sole promoter today. There have been some changes to this show also but it still remains as the premier Fly Fishing show in the country. We also had a successful participation this year thanks again to our dedicated volunteers.
But now it is time for me to step down as the Show Chairman. It has been long, tiring, wonderful experience for me. I met and became friends with so many fishing people that I would never have had the occasion to ever meet personally. There have been many bumps in the road, wild experiences, funny moments, heartaches, and just plain hard work. I want to thank all of those who helped over the years. They are obviously too numerous to name so I won't even try to start. But now it is time for me to help and participate but no longer be the CEO (private joke). I will give my advice, if requested. and all of my aid to our new Show Chairmen, Bart Lombardo and Lou Digena. I am sure they have new ideas and must be supported. I know CJTU has the manpower to continue participation in the shows and to make each year better.
Thanks again to my fellow workers. See you at the shows in 2016.
Dick Turse
---
Don't forget this Volunteer Opportunity
Project Healing Waters Fly Fishing (PHWFF)
This is a program which serves disabled veterans. It is VERY rewarding!
Fly tying events with the veterans at Lyons Hospital in Lyons (Bernards), NJ are on the first Tuesday of the month at 1:00 PM in Building # 57. The coming dates are March 3, and April 7. Come spring, we'll be casting and fishing with those who are able and interested.
In addition, due to popular demand, Project Healing Waters has expanding to include the East Orange VA Hospital. If your available to volunteer at this location please e-mail s2rtflyfisher@verizon.net to get on the mailing list for times and dates.
Also needed--> Female volunteers PGWFF began a group earlier this month for female vets with PTSS. The gals were very enthusiastic. We need a few more women to help whether you can assist in helping them to learn to make flies and / or beginning the basis of casting (indoors, right now, of course!). You don't need to be an expert.
Please also mark your calendar for March 21st for the 3rd Annual March Madness Tie-a-thon at the Cranford Community Center, Cranford, New Jersey. This fantastic event, organized by the Rahway River TU Chapter, supports Casting for Recovery and Project Healing Waters. There will be door prizes, lunch, and lots of laughter. You can sit at the Project Healing Waters table and tie your favorite flies or sit with your own TU Chapter table. All the NJ chapters are invited.
If you're available to volunteer with any of PHWFF programs, so that adequate arrangements can be made with the facilities, and so that you can to be kept up-to-date on future PHWFF dates, please notify the Lyons VA Hospital Project Leader, Stuart Shafran by e-mail at s2rtflyfisher@verizon.net
If you have any other questions you can contact CJTU's liaison to the program, Margaret "Peggy" Salisbury at onionville@aol.com .
Margaret Salisbury
Member Profile
The first in a possible series -- an effort to get to know some of our members a little better
Ron Durlock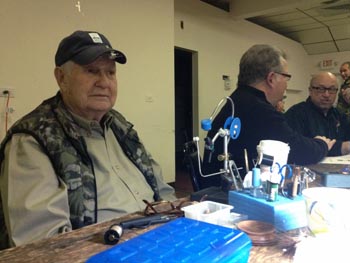 "I fish because for me it is sheer enjoyment. It's very relaxing."
Ron began his lifelong passion for fishing in Alaska in 1952. While in the Army, he was stationed at the Air Force Base in Fairbanks. His 'day job' as a high speed radio operator gave him the opportunity to begin fly fishing in local waters, primarily for grayling and salmon.
Over the years he's fished both fresh and salt water, from banks, in waders, from a canoe or larger and larger boats. These days he most frequently gets to his personal local favorites -- the Pequest and the Musky. Some of his favorite locations are the Adirondacks, Round Valley (when he had a boat) and going for small mouth on the Shenandoah River.
Ron also enjoys tying fly's and that's where we caught the photo of him at our January chapter "tying night." He has been tying for more than 50 years, beginning with streamers back then. His current favorites are woolly buggers, RS-2's and madam x hopper stimulators using his current favorite rod, an Orvis 9 foot #5 weight, although when he's in salt water he switches to a 10 weight.
Ron has been a member of Trout Unlimited "for many years" but has been more active in the past five or so as time and health has permitted. He's also a member of the Bayshore Fly Rodders. He enjoys sharing the sport with others by contributing hands on to Casting for Recovery and Project Healing Waters.
Presidents Letter
I wanted to thank you all for your nomination and subsequent vote to lead the CJTU organization as president. I want also to take the opportunity to speak for all of us to say a heartfelt thank you to our past president Bart Lombardo for his many years of service as a past president for so many years. I am very pleased to say that Bart continues to be involved with the board of directors in many ways as well a tremendous resource for me going forward. Thanks again for all that you do for this organization; you are a gentleman, a scholar, a great friend and one for the best fisherman that I know.
I am happy to report that the Somerset, NJ Fly Fishing show was a success this year. I am grateful to the volunteers that helped staff the booth. I had the pleasure of meeting and speaking with many new people that helped us in raising funds for our conservation projects with their donations and a chance to win a collection of over 300 flies. I am pleased to say that the prize is on the way to our winner from Brooklyn NY, John Robokos, and congratulations and thanks to all of you who supported this effort.
Please join us this coming Tuesday February 10th for our general meeting. Our speaker is Robert Somes a senior Zoologist with the Division of Fish Game and Wildlife and he will be presenting a program on Dragonflies and freshwater mussels of NJ Streams. Additionally, mark your calendars for next months meeting on March 10th when our speaker will be Paula Piatt the Trout Unlimited eastern sportsmen organizer presenting "Heads Up!" focusing on the importance of protecting our wild and native trout populations. Please see the write-ups on our home page for additional details.
I wanted to also draw your attention to the fly-fishing and fly tying gear donation push also mentioned in detail on our landing page. Some of you may know Andrew Dang who has chosen to his 8th grade school service project to benefit PHW Project Healing Waters. I know that we all have some gently used fly-fishing and or tying gear that we no longer use, but has plenty of life in it. Please think of making a donation to Andrew's effort to help supply gear that will give new life to the PHW program helping our returning veterans. For all that they have and sacrificed for our freedom. This is a great opportunity to give back. Please see the details on the home page for the donation process. The deadline for donations is by March 31st, 2015. Thank you Andrew, for your noble efforts on behalf of Project Healing Waters.
I will do my best to keep you all up to date on our dam removal projects. I know that the process is still moving forward and we are looking to finalize the permit process around the last week in February in order to begin the work in the spring window in late March. If all goes well we will need volunteers to help with stream side work around the 12th of March. If the permit is delayed the work will have to wait until at least June 15. Either way look out for an action alert to be sent when the schedule is finalized.
We will hope that the weather holds and allows us all to get together during the winter months. Remember to look out for any cancelations on the website and the FB Facebook page. I believe that the fly-tying course will be made up on March 31st as we had that Tuesday open.
Thanks again and I look forward to seeing you at the meetings and events throughout this year.
Tight Lines
Richard Dooley
Fly of the Month
"Beaverkill 2 Tone Caddis"
by Ron Ruskai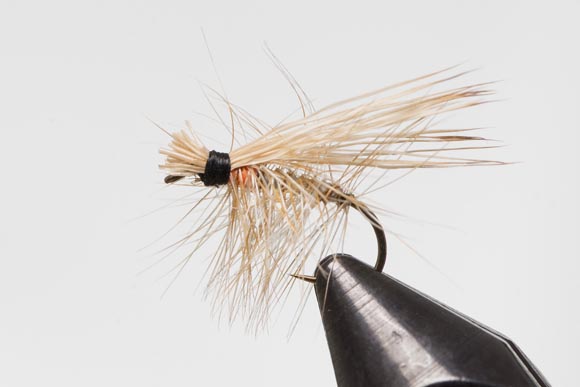 Click here for the recipe!
---
Efingers Annual Fly Tying Sale
Now through Feb 28th
All Fly Tying Materials, Hooks & Tools including Fly Tying Vices are 20% off regular Price.

There will be an additional discount of 10% for all Trout Unlimited members for a total discount of 30%

This discount cannot be used towards the Efingers rewards points program