President's Letter
September 2014
The transistion from summer to autumn has begun. The nights are noticeably cooler and the trees are starting to put on their color, it's time to head back to the river... Autumn is my favorite time to be outdoors. Fall fishing can be fantastic but it is not without its challenges. Skinny, clear water can make the fish very spooky and the major hatches for the year are over. That's not to say that a decent hatch is out of the question, but more often then not, the constant decent of leaves can make dry fly fishing or any fishing for that matter a challenge. Despite all the pitfalls, it's a great time of year to spend a day on a trout stream.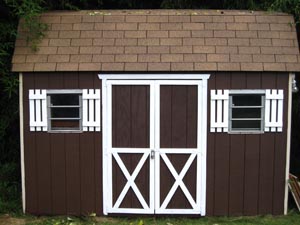 I'm happy to report that our storage shed is now weather tight and sporting a new paint job. John Westor had volunteered to finish all the work that was needed to complete this project and he did a fantastic job. Thanks John!
We have a few events coming up in the weeks to come. First on the calendar is a stream walk and clean up on VanCampen's Brook scheduled for Saturday October 25th. We will be meeting at Millbrook Village at 10:00am. We'll then head up to the river and begin our clean up. We'll have more info at the meeting or you can drop me an e-mail if you want to join us.
Next on the agenda is the annual One Fly Competition and NJTU Banquet on November 1st. This year Rick Dooley will be representing CJTU. With Rick behind the fly rod I'm confident we'll bring home the gold this year. The NJTU banquet will immediately follow the event. The location for both events is The Raritan Inn on the banks of the South Branch of the Raritan River. Tickets can be purchased through Shannon's Fly Shop. Last year the event sold out so if your interested in going, get your tickets early! I'll have more information at this week's meeting.
Finally to wrap things up we will be attending the Fly Tying Symposium in Somerset NJ on November 22 and 23. If you would like to help out at the show please contact me. If your attending the show, stop by and say hello.
I'm pleased to announce that the permits needed to begin the Point Mountain Restoration Project are finally in the hands of the officials. Now the waiting game begins for the permits to get approved. Its unfortunate that we are not ready to go, the conditions are perfect right now! We're keeping our fingers crossed that we sail through this process without any additional problems.
I missed our last meeting where we announced our third fly swap for the year. As I understand it the topic for this swap are "go to flies", those secret weapons we all have. I believe there are still some spots left for those interested. I plan on jumping in myself if there is room.
Thats all for now, I hope to see everyone at our meeting on Tuesday.
Tight Lines
Bart Lombardo