On May 10th, in conjunction with  Orvis, Efingers and  the Bayshore Saltwater Flyrodders  CJTU took part in Flyfishing 101 : Introduction to Fly Fishing.
Efingers hosted the event in the building next to the sporting goods store, which allowed us enough room for three stations which covered knots, stream entomology, fly selection, and casting.  With over thirty participants, we had a great turnout!  Our 'students' were broken into three groups, and rotated through the different 'classes'.  Ed & I taught about the different types of insects, fish, and other prey species that are present in streams, and how these animals translate into flies. With some books provided by Efingers for reference, it was easy to compare pictures of mayfly nymphs to flies such as the hare's ear to see how close these little bits of fur and feather are to the real thing. We also talked about how to fish these different patterns, when to choose a one fly over another and how rewarding catching fish on flies you've tied yourself is.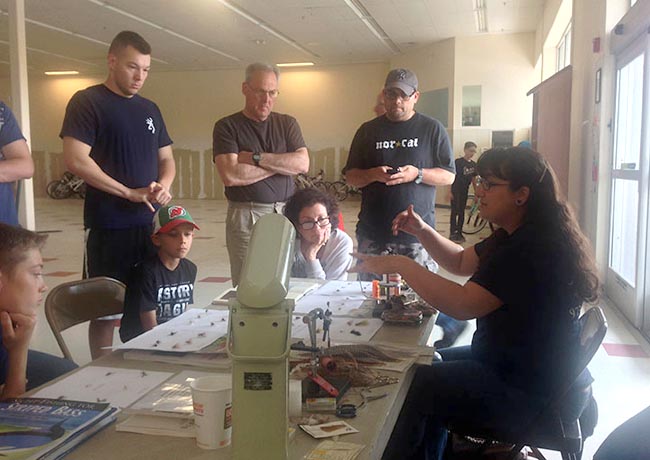 At the next station, the Bayshore Saltwater Flyrodders covered two more great topics: knots and how salt water fly fishing can differ from the freshwater.  To help with their demonstrations, they brought huge rolls of colored monofilament to teach the various knots with. Albright, cinch, nail and surgeon's knots were covered, and I think everybody got a piece of the line to practice with. While it may not be the same size as the 4x tippet we're tying improved cinch knots on, it certainly help to practice the motions. While salt & freshwater fly fishing have a lot in common, they also have some differences. The difference in size between a typical trout setup (4 wt.) from a striper setup (10 wt.) can be daunting but the Bayshore Saltwater Flyrodders made it seem manageable with some practice.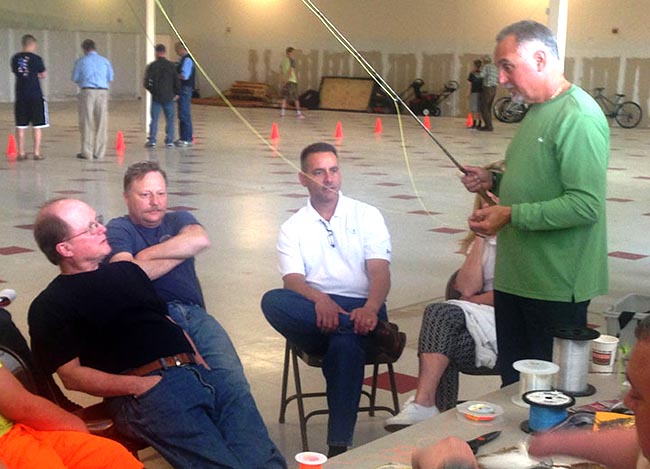 The final station was headed by the regional rep from Orvis, Doug Baer, and taught casting. Several members of our Board of Directors were there to provide one on one instruction to the classes of about a dozen students each. John Wester, Lou DiGena, Ozzie, Tom Kapusta, Larry, and Bart Lombardo were just a few of our members who were on hand to provide one on one instruction to the students. They covered basic false casting, the bow and arrow cast, and the roll cast. (I should've signed up – I always seem to hook myself on bow & arrow casts!) While it was chaotic in the shop, everyone got hands on time with the flies, rods, and knots that build the basics of successful fly fishing. The rep from Orvis was very helpful, Efingers provided a generous coupon, and every student received a free one-year membership to Trout Unlimited. Hopefully with the great turnout & positive attitude that was prevalent – we'll have many new members to greet at the meetings!