News & Events
General Meeting - Tuesday, April 8, 2014
"Not Just Trout"
Wendell 'Ozzie' Ozefovich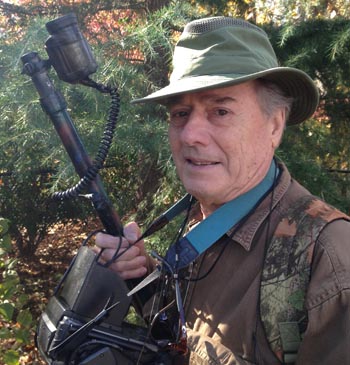 Not Just Trout answers the question "Why do we love to fish?" It includes the most picturesque and unique clips of trout in their liquid environment together with other creatures, flora and fauna – both above and below the water's surface – that were encountered over many years while fishing and filming the underwater world of trout.
Also included are the transformations that wild brook trout go through from the color change in early autumn, to the actual spawning sequence -- and I must include, lots of laughs.
Here is a video link: http://youtu.be/R3ykeeE3ECI
Tuesday, May 12, 2014
"Tuna on the Fly "
Tom Gilmore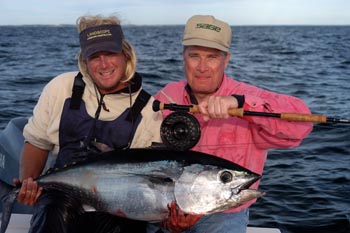 After almost three decades of service, Tom Gilmore retired in the spring of 2012, as President and CEO of the New Jersey Audubon Society, the oldest and largest conservation organization in the state of New Jersey. During that time, he led the conservation community through numerous extraordinary environmental achievements. It's no surprise that Tom has received numerous awards and honors, including the Conservation Medal from the Daughters of the American Revolution, New Jersey Environmental Lobby's first Environmental Legacy Award, Tom was recognized by The Star Ledger newspaper (New Jersey's largest daily paper) as Winner of the Year, for his work to save the Highlands. New Jersey Monthly magazine recognized Tom as one the "101 Most Influential People in New Jersey." He was also awarded the Governors Environmental Achievement Award by both Governors Corzine and Christy.
In addition to being an accomplished environmentalist, Tom is an avid fly fisherman. He has fly fished for around the world for over 40 years. Tom is a well know fly fishing celebrity having given well over 100 programs on fishing for all most all of our North American He is an accomplished author having written numerous articles and is currently working on his fourth book, East Coast Trophy Tailwaters, which will be published in the fall of 2014.
. His first book, False Albacore, was published in 2002, his second book entitled, Tuna On The Fly, was published in the Fall of 2006. Tom's third book a Flyfisher's Guide to the Big Apple was published in 2011.
Tuesday, June 17, 2014
"CJTU Picnic Meeting"
Come join us for what has become a very popular event: our annual "A Meeting With Food", to be held in the grove behind the American Legion Hall on Tuesday, June 17th, from 5 to 8 pm. A great opportunity to wind into the summer and exchange some spring fishing stories with new and old friends. We will be cooking up a bunch of burgers, hot dogs and Kim Ott's famous sausage and peppers. Plenty of side dishes, soft drinks and water, and the American Legion Hall will have it's usual full bar available just steps away. See if you are the lucky door prize winner.
Price is only $ 10 in advance (we'll be collecting advance sales during the March, April and May General Meetings- see Dick Turse, or John Wester at the raffle table) or $ 15 at the door. Hope to see you all there !
Remember the June 17th meeting will be on the Third Tuesday of the month.
American Legion Hall
137 New Market Road
Dunellen, NJ
Meeting starts at 8 PM - Non Members are always welcome!
President's Letter
April 2014
It's finally here, the season opener is a mere 24 hours away! It's been a long hard winter! This year has been the first year I have not enjoyed any pre season fishing so I am especially anxious to wet a line this year. Part of my opening day ritual involves a camp out the night before. It looks like it could be a wet miserable night but tomorrow looks promising.
This year's trout season will be a little different from previous years. As previously discussed, the Furunculosis outbreak has altered the stocking regiment for 2014. There have been a lot of concerns about this but the Division of Fish and Wildlife has stated that there are no human health risks associated with the bacterium which causes Furunculosis. There is some good news for anglers who are worried that their favorite waters may have been adversely affected this year. The following information was posted on the Division's webpage: Over 250,000 trout will be stocked for Opening Day - 60,000 more than previous years! 87 waterbodies will receive more trout than ever before! Rainbow and brown trout will be stocked for Opening Day instead of brook trout that most waters typically receive!
A small pilot study completed by the Division last year demonstrated rainbows were caught 2 to 1 over brook trout in 8 ponds. Four new river sections added to the program for this year only! In addition, two other waterbodies not scheduled to be stocked will receive trout this year. Bonus Broodstock Program continues with ten lakes to receive 30 rainbow trout weighing in at over 5 pounds!
1000 jaw-tagged rainbows are being stocked as part of the Hook-a-Winner Program This will be a great opportunity for anglers to discover new waters! For up to date information visit http://www.nj.gov/dep/fgw/trtinfo_spring14.htm. You can download a PDF that will explain all of the changes occurring this year as well as identifying the new waters receiving trout this year.
All this talk about hatchery fish really is contrary to Trout Unlimited's mission of preserving the ecosystems of wild and native fish. Here in New Jersey hatchery supported waters is something we have to live with. However, there are plenty of wild trout streams in the state. These little gems are often hidden and may take a little detective work to locate, but they are well worth the trouble. Get out and explore them!
I have a few things of interest to talk about. First off is this Tuesday's general meeting. Our own Wendell "Ozzie" Ozefovich will be giving his presentation "Not Just Trout". This is one you will not want to miss! You can check out our website or our Facebook page for a video trailer of the presentation.
Despite the wet weather we had a good time up at the Pequest Hatchery for the open house event. We were able to sell all of our remaining gear donations that our members were so generous in providing. I believe that we raised close to three thousand dollars since we started this three years ago. This has been a great fundraising effort for us and we would like to keep it going. Thanks go out to everyone that has donated something to the cause! Once again we are putting out the request for your unwanted outdoor equipment. Instead of gathering dust in a basement or garage why not donate it to CJTU. We will be accepting donations at every meeting, so if you have any gear laying around you would like to donate bring it to one of our general meetings. Our second fly swap filled up within minutes of being announced. Our first one was a huge success! Thank you to all that participated. Our caddis fly swap is due at our May meeting, so get tying!
You will be seeing some changes in our merchandise promotions in the weeks to come. We are once again taking orders for clothing items with the CJTU logo embroidered on them. All of the items are from LL Bean so you can be assured of excellent quality. We will announce more information as it becomes available. We still do not have any new information on the Point Mountain Restoration project, other than we are moving through the permit process. We did receive word that the Point Mountain tract was stocked, but we did not assist in the stocking. CJTU members who are also associated with the WCC will be assisting in stocking this section two additional times this year.
Finally I want to remind everyone about our June BBQ. It will take place on the third Tuesday in June. Check out the rest of this newsletter for details. Last year's event was a blast you should definitely consider joining us this year! That's it for now. I hope those of you that are heading out tomorrow have a great day.
Tight Lines
Bart Lombardo