President's Letter
December 2013
Well, another year has come and gone.  They seem to slip by faster each year.  This fall did not offer a lot in the way of fishing opportunities for me this year.  I managed to sneak way from other obligations a half a dozen times but that is a far cry from the 2-3 trips a week that would be the norm.  When I did get out I found the fish but conditions were usually tough.  A dry summer created some extremely skinny water this fall, and conditions have not improved much in regards to water flows.  As I write this, rain is pelting the windows and its 60 degrees outside.  It probably would not be a bad time to grab a box of meaty streamers and go rustle up some brown trout.  They are quite active this time of year and the overcast skies and rising water would be just the thing...if only I wasn't sitting here typing out a newsletter.  
Like I already eluded to, its been a busy year for me. It's also a very busy time for Central Jersey Trout Unlimited.  This November kicked off our show season.  Our first show of the year was a new one for us, the Fly Tying Symposium in Somerset NJ.  Its not a new show by any means, but it was our first time attending as a TU Chapter.  It was fairly well attended and the chapter received some good exposure and we even had some new faces helping out at the booth.  Thank you to everyone who took time out of their busy lives to help out.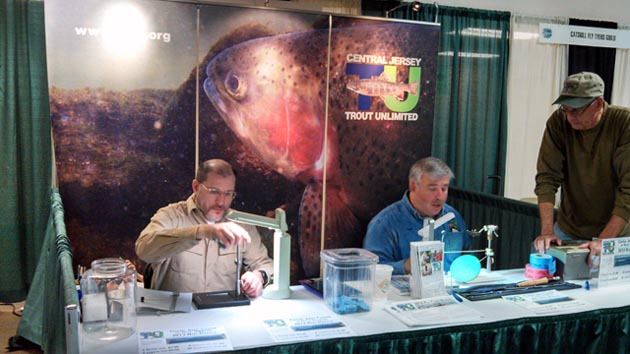 Bart and Lou working the Fly Tying Symposium
During the month of January we will be in attendance at two more area shows.  The first show will be the NJ Outdoor Sports Show in Edison, NJ, January 9th-12th.  The second show will be the Fly Fishing Show in Somerset, NJ, January 24th through the 26th.  As usual we are always looking for help promoting our chapter at these events so if you want to help out you can drop me a line or reach out for me or a director at the next two meetings.  In addition to the the above shows, we will have fly tiers at Efingers Sporting Goods in Bound Brook, NJ every Saturday throughout the month of January.
We are a month late in announcing our slate of directors for the upcoming year.  We will be announcing our first round of nominations at the general meeting next week and finalizing the slate during or January meeting.  I mention this, because we are always looking for more folks to take a more active role in the chapter.  If you think you would be interested in a directors position please see me or one of the other directors at the upcoming meeting or contact me via e-mail and I will throw your name up for nomination.  We have a few open spots to fill this year and quite frankly we'll always find room for anyone that wants to get more involved.
We are a month away from starting up our fly tying classes.  They will be kicking off the third Tuesday in January at our regular meeting location.  You still have two more opportunities to sign up at this and next month's meeting. The cost is $50.00 for the basic and intermediate classes and $10.00 a night for the tiers workshops.
While we're on the subject of fly tying our January meeting is our annual chapter tying night.  We encourage everyone to bring out your vise, tools and materials and join us for a night of tying.  If your not a tier it's still a great night out to socialize.  In addition, we will have a lot of free fly tying materials on hand for the taking.  We are getting rid of all of the materials we currently have in storage, so this will be a great opportunity to score some free material.  We are also conducting our first ever fly swap this winter.  The program received a lot of interest and we are already making plans for our next one.  Check out our website for the details.
Our December meeting will feature a presentation from our very own Wendell Ozefovich, better known as Ozzie.  Ozzie's presentation "Not Just Trout" answers the question why we love to fish. Ozzie's above and underwater photography is amazing. This is a presentation you will not want to miss!  I want to take this opportunity to wish everyone a safe and happy holiday season.  Let's hope Santa brings you that new fly rod this year.
That about wraps it up.  It's back to watching the rain on the window and day dreaming about fishing...
Tight Lines
Bart Lombardo