News & Events
General Meeting - Tuesday, November 13, 2012
Aaron Jasper
"European Nymphing: A Strategic Approach"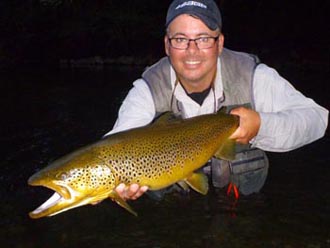 Now that we've all been exposed to the European Nymphing  techniques and many of us have tried them successfully, Aaron will go over when and where these techniques are the most useful and how to approach each situation in a way to maximize catch rates.  Throughout the presentation you will see the various behaviors of trout throughout the seasons and the varying water types that they are caught in. Aaron will also explain the rationale and theory behind his approach for each situation. Be sure to bring a notepad to take notes and ask him questions.  He never hesitates to share his knowledge. if your goal is to catch more and bigger fish wherever you go this is one presentation not to miss.
Aaron Jasper fishes an average of 200-250 days a year, and has been fly fishing since the age seven. He really lucked out when he began fly fishing, because his Aunt was an acquaintance of Lefty Kreh through his photography seminars. In the beginning Aaron was lucky enough to be given several lessons, at fishing shows, from Lefty. He remembers the 3 flies Lefty had personally tied, which he gifted to a young Aaron, and he of course fished them on the Flat Brook in New Jersey. All those masterpieces eventually ended up in the same tree.
Pre Meeting Capsule Classroom
As a new feature in our meetings, we will be holding short focused sessions right before our meetings (and repeated immediately after our meetings and maybe during the break depending upon circumstances). Each session will feature a presentation and demo by one of our Chapter members or Guest on a topic that will improve your skills in tackle management, fly tying, or casting. Launching this set of courses this month will be a discussion of knots used to tie a fly to a tippet. So show up at 7:30 to enjoy this pre-meeting feature.
Tie one On – Faster and Stronger presented by Bill Ninke
"Most fly fishers attach their flies to their tippets using a Cinch Knot or an Improved Cinch Knot. We'll start with examining two traditional ways to tie these knots and then show two faster way to tie them. We'll then move on to testing these Cinch Knots and other knots for attaching flies to tippets. This will be in the form of testing the strength of many traditional knots against what I'm calling Bill's Vastly Improved Cinch Knot. This will be a 'fun-filled' competition between any knot tied by a Chapter member against my knot. Some informal wagering may be part of the testing. So, come prepared to tie your favorite fly to tippet knot and test it against my knot. Yes, I'll eventually reveal my knot and how to tie it. But not until I've taken on all challengers. Of course, I could lose and be forced to eat humble pie. Even this would be fun and educational. Don't bet on it though. I feel I'm a cinch to win."
December 2012 Program
Atlantic Salmon Fishing
Wendell 'Ozzie' Ozefovich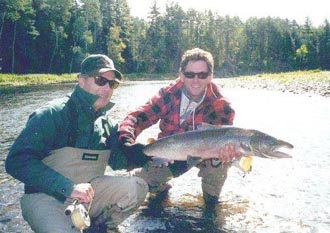 Atlantic Salmon Fishing is a video presentation on the life cycle of the Atlantic Salmon, and fishing the Matapedia, the Restigouche and the Miramichi rivers in Canada.  It also answers the question, "what should we look for in a guide?"  We'll look at good and not-so-good Canadian guides, a lot of laughs, and of course, underwater video of the salmon.
Ozzie will have all three volumes of dvds available to attendees for $10 each -- will make a great Christmas gift !
American Legion Hall
137 New Market Road
Dunellen, NJ
Meeting starts at 8 PM - Non Members are always welcome!
November 10th
Garden State Outdoor Sportsmen's Show
On January 10-13, 2013 CJTU will be participating in the 2013 Garden State Outdoor and Sportsmen's Show. This show is 30 years old and we have been a factor in every one of them including the 2013 version. Now the parent organization of the show is the Outdoor Sports Group which now has several new shows. Check out their website, www.orgshows.com for more details of the new shows and www.gsoss.com for details of this show.
Because of the new show management and our desire to downsize our booth this year it will look quite different from that in the past. Gone will be the fish tank, extra booths for fly-tying, carpets, and the massive size. We have needed to downsize for a few years to save money which was spent on truck rentals, reduce the personnel requirements. and spare the booth managers the very stressful nights leading up to the show. However, we will now concentrate on the most important reasons for our participation such as increasing membership, raising funds and getting our message across to the public, especially the youth. To that end I urge anyone who has not been part of past shows and has a gift of selling to the public to think about participating this year. Just contact Dick Turse at .