News & Events
General Meeting - Tuesday, March 13, 2012
James Jindal
"Fishing Sandy Hook"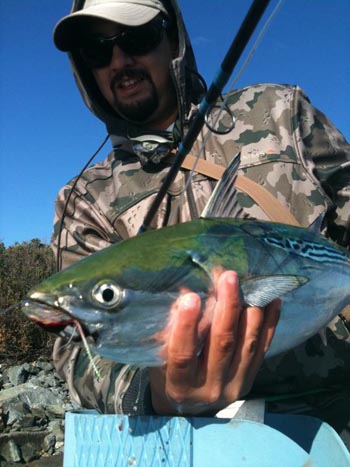 James Jindal grew up in Point Pleasant Beach, NJ 3 blocks from the ocean. He spent his childhood fishing from the northern end of Barnagate Bay north to Sandy hook. This region encompasses the northern portion of the bay, Point Pleasant Canal, Manasquan River and Inlet, Monmouth County jetties, Shark River, Sandy Hook, and the Navesink and Shrewsbury Rivers. Striped Bass are his number one target but bluefish, fluke, False Albicore, and Weakfish are quite prevalent given the time of the year.
James will go over the lay of the land, where, when, and how to fish it. Moon phase, tides, currents, tackle, flies, forage, and target species are some of things he will touch on.
James comes to us from Tightlines Fly Shop located in Parsippany, NJ.
American Legion Hall
137 New Market Road
Dunellen, NJ
Meeting starts at 8 PM - Non Members are always welcome!
Fly Fishing 101
We will be teaching a Fly Fishing 101 course at Efinger Sporting Goods store in March. On the evening of March 9 a couple of us will be tying flies in the fishing department of the store from about 5:00 PM to closing. On Saturday, March 10, some of us will be teaching the course in the empty building next to Efinger's from 10:00 AM to about 12:30 PM. The fly tying demo will continue on Sunday, March 11. On Saturday, March 17, we will repeat the course for new students in the same building. This will run from 10:00 AM to 1:00 PM.
The course will consist of fly casting lessons, rod, reel, line and leader recommendations, and fly tying demos. We will show you how to build a leader. tie knots, purchase an outfit, read waters and all basic fundamentals that you need to know to start fly fishing.
The course is free but you will need to register at Efinger;s so we will know how many instructors we will need. Just e-mail Ron at Efinger's , stop in the store or contact us and you will be registered. Hope to see you there.
TU Chapters Join To Clean Up The Musconetcong River
Saturday, April 14th
by Stuart Shafran
Got cabin fever? Need to get outside? Well then, join volunteers from every TU chapter in the state for the annual Musconetcong River Clean-up on Saturday, April 14th. We will be assembling once again under the pavilion, at Hampton Borough Park, located at the intersection of the Musconetcong River and Route 31, in Hampton, NJ. Sign-in is at 8AM, at which time clean-up locations will be assigned, trash bags, gloves, water, and snacks will be distributed, and group photos will be taken. Clean-up hours are from 9-12. The Musconetcong Watershed Association will provide lunch beginning at noon, for all participants at the MWA River Resource Center located at 10 Maple Avenue in Asbury.
We recommend that you wear long pants and long sleeve shirts. It may be too early in the year for ticks, but not too early for poison ivy. We also recommend that you wear waterproof boots, a hat, dress in layers, and carry a walking stick. Chest waders are optional. Depending on the flow of the river we may only be working close to the water's edge.
For first time volunteers, travel Route 78 West to exit 17 North. This puts you onto Route 31 North, where you will travel for 7.5 miles to the intersection of River Road/Main Street. Turn left at that traffic light. At the first stop sign, turn right, and make an immediate right into the park.
We encourage you to bring friends and relatives, especially young children. This event is lots of fun for the kids. Here's your chance to help make a difference and set an example for others. In addition, we hope you'll pack your fishing gear. The river is in great shape and will be fully stocked. To volunteer or for more information please call Stuart Shafran, 732-500-5239, or e-mail me at s2rtflyfisher@verizon.net. Don't forget a camera!
President's Letter
March 2012
It looks like winter is fading fast. That being said, I really can't say for certain that winter actually ever got off the ground. The blizzard right before Halloween had a lot of us really worried that we were in for one hell a winter. The fact is, it never really happened,as far as I am concerned it was just one long autumn. I have managed to fish in only shirt sleeves at least one day every month since April of last year! I have actually logged as many days on the water this winter as I did last spring due to the fact last year's high water kept me off the water more days than I would have liked.
This winter has produced some of the best fishing I have ever experienced. There has been great dry fly fishing since the beginning of February. Our little black stones have been coming off steady for over a month now and they show no sign of slowing down. Any good imitation of these insects will bring trout to the surface. For those that prefer the nymphing game, stone flies as well as caddis and midge larva are working well. In addition, most of our area streams are now loaded with suckers. These early spring spawners will have trout reacting positively to small egg and sucker spawn patterns in the coming weeks as well. I landed my best fish this winter, a 26" brown trout, on a sucker spawn pattern last Tuesday! Unfortunately, the window on this great fishing is rapidly closing. Trout season will close next Sunday at midnight. All stocked waters (except for trout conservation areas) will remain closed until the season opener on April 7th. So get out there while you st can!
In addition to the mild temperatures, one of the reasons the fishing has been so good has been the low water flows. Although it makes for great conditions to fish our winter stone fly hatches, we will be in trouble come late spring if we don't get more water in the system. Temperatures on the South Branch of the Raritan reached near 50 degrees on the day this letter was written. We need the water to help keep the temperature in check as we move into the warmer months. So pray for a wet spring, though not as wet as last year!
March will be a busy month for us here at Central Jersey Trout Unlimited. To start off the month, we are conducting two beginners fly fishing seminars in conjunction with Efingers Sporting Goods. On Saturday, March 10th and Saturday, March 17th we will be conducting these seminars in the vacant building next to Efingers Sporting Goods located on Route 28 in Bound Brook, NJ. The seminars will run from 10:00am until 12:30 or 1:00pm. We will be reviewing the all the basics of fly fishing including casting instruction. The programs are free and if you are interested in signing up for one you can contact Efingers, or get a hold of me at next week's meeting.
We will also be at Efingers tying flies from 5:00pm until closing on March 9th and during the day on Sunday on March 11. Come on by and say hello. Efingers has a lot going on in the store this weekend so it will be worth the trip.
Do you have any old fishing equipment lying around that you would like to get rid of? If so, why not donate it to the chapter. During the Pequest Hatchery Open House event on March 31st and April 1st we will selling old fishing gear to raise money for the chapter. Our members have donated everything from fly rods and reels, waders, flies and lures as well as spinning and casting gear both fresh and saltwater. In fact any unwanted outdoor equipment donated to the chapter can help us raise money. If you have any gear you would like to donate please bring it to the general meeting on Tuesday, March 13th. If you can't make it to the meeting but plan on coming up to the open house event you can bring it there as well.
We have a great program in store for you this month so be sure to come out for the general meeting on Tuesday. I'll see you there, as long as can get off the water in time!
Tight Lines,
Bart