News & Events
General Meeting - Tuesday, February 14, 2012
Bob Romano
"Flyfishing the Rangeley Lakes Region of Western Maine"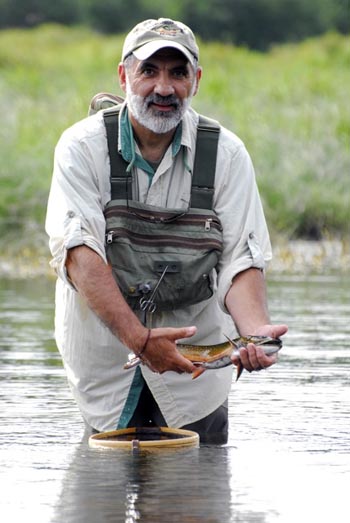 The brook trout of the Rangeley Lakes Region are about as big as you'll find south of Labrador and the rivers and lakes also contain a thriving population of landlocked salmon.
Outdoors writer, photographer and illustrator Bob Romano and his wife, Trish, have had a camp in this area for over thirty years. Bob has a unique voice in describing the lakes, rivers and streams of this part of country, where Carrie Stevens tried her Gray Ghost streamer and Louise Dickinson Rich wrote her books about life along the Rapid River.
American Legion Hall
137 New Market Road
Dunellen, NJ
Meeting starts at 8 PM - Non Members are always welcome!
2012 CJTU Fly Tying School
Fly Fishing 101
We will be teaching a Fly Fishing 101 course at Efinger Sporting Goods store in March. On the evening of March 9 a couple of us will be tying flies in the fishing department of the store from about 5:00 PM to closing. On Saturday, March 10, some of us will be teaching the course in the empty building next to Efinger's from 10:00 AM to about 12:30 PM. The fly tying demo will continue on Sunday, March 11. On Saturday, March 17, we will repeat the course for new students in the same building. This will run from 10:00 AM to 1:00 PM.
The course will consist of fly casting lessons, rod, reel, line and leader recommendations, and fly tying demos. We will show you how to build a leader. tie knots, purchase an outfit, read waters and all basic fundamentals that you need to know to start fly fishing.
The course is free but you will need to register at Efinger;s so we will know how many instructors we will need. Just e-mail Ron at Efinger's , stop in the store or contact us and you will be registered. Hope to see you there.
Annual Trout Stocking Meeting
The NJDEP Division of Fish and Wildlife invites all interested anglers to attend the annual Trout Stocking Meeting at the Pequest Trout Hatchery on Saturday, February 11 at 10:00 a.m.   This is an excellent opportunity to ask questions, voice opinions, and give suggestions regarding the trout stocking program.
Changes for 2012 season will be presented and explained.  Additional topics will be results of the 2011 Flatbrook Trout Angler Survey and ideas for an upcoming Trout Telephone Angler Survey.
For more details, including a link to directions to the hatchery, visit http://www.njfishandwildlife.com/news/2012/troutmtg12.htm on the division's website.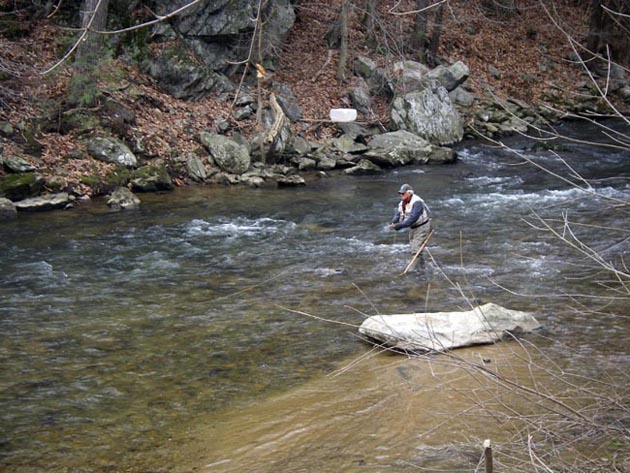 An angler taking advantage of one of the recent mild winter days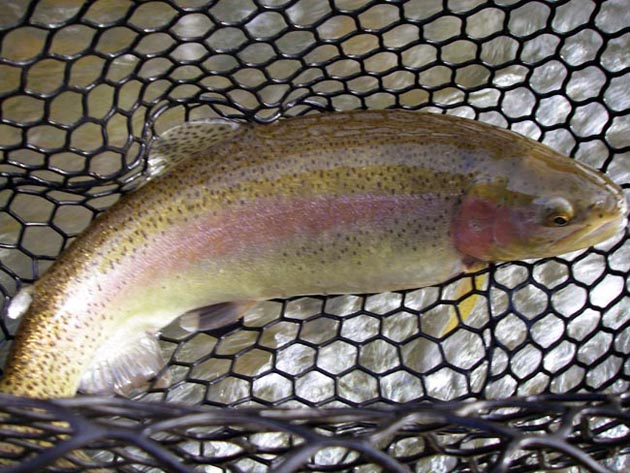 A winter rainbow that fell for an Early Black Stonefly nymph