News & Events
General Meeting - Tuesday, April 10, 2012
Brian Cowden
"River Channel Restoration"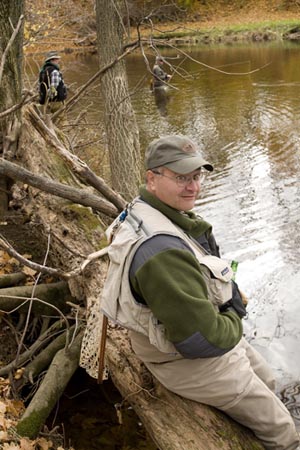 Our speaker for April will be TU's Musconetcong Home Rivers Initiative Coordinator Brian Cowden. Brian's program is entitled "River Channel Restoration" . As Brian points out, River channel restoration as a practice is generally not as well known as dam removals nor as understood, but the needs often outweigh those of obsolete dam removal projects depending on the site. This presentation will discuss the needs (causes), funding, permitting, and practices used to restore degraded river channels as well as the benefits to the aquatic ecosystem"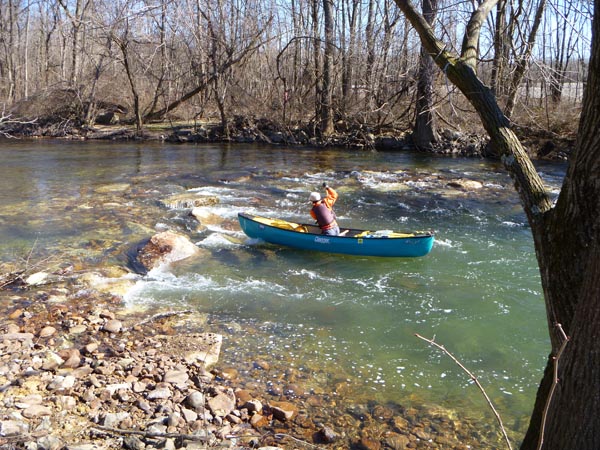 The results of channel restoration on a section of the Musconetcong.
American Legion Hall
137 New Market Road
Dunellen, NJ
Meeting starts at 8 PM - Non Members are always welcome!
TU Chapters Join To Clean Up The Musconetcong River
Saturday, April 14th
by Stuart Shafran
To volunteer or for more information please call Stuart Shafran, 732-500-5239, or e-mail Stu at s2rtflyfisher@verizon.net. Let Stu know as soon as possible so he can get an accurate head count and order supplies for the event!
Got cabin fever? Need to get outside? Well then, join volunteers from every TU chapter in the state for the annual Musconetcong River Clean-up on Saturday, April 14th. We will be assembling once again under the pavilion, at Hampton Borough Park, located at the intersection of the Musconetcong River and Route 31, in Hampton, NJ. Sign-in is at 8AM, at which time clean-up locations will be assigned, trash bags, gloves, water, and snacks will be distributed, and group photos will be taken. Clean-up hours are from 9-12. The Musconetcong Watershed Association will provide lunch beginning at noon, for all participants at the MWA River Resource Center located at 10 Maple Avenue in Asbury.
We recommend that you wear long pants and long sleeve shirts. It may be too early in the year for ticks, but not too early for poison ivy. We also recommend that you wear waterproof boots, a hat, dress in layers, and carry a walking stick. Chest waders are optional. Depending on the flow of the river we may only be working close to the water's edge.
For first time volunteers, travel Route 78 West to exit 17 North. This puts you onto Route 31 North, where you will travel for 7.5 miles to the intersection of River Road/Main Street. Turn left at that traffic light. At the first stop sign, turn right, and make an immediate right into the park.
We encourage you to bring friends and relatives, especially young children. This event is lots of fun for the kids. Here's your chance to help make a difference and set an example for others. In addition, we hope you'll pack your fishing gear. The river is in great shape and will be fully stocked.
Fly Fishing 101 at Efingers
Several CJTU members participated with Efinger's and Orvis on two Saturdays in March in what we hope will be an annual event. We ran a basic fly-fishing course for beginners which was entitled, Fly-fishing 101. Since the building adjacent to Efinger's was empty we were allowed to conduct the course inside. That meant we were able to give casting instruction in addition to lectures and demonstrations. Each week there were about 15 students who had signed up previously at the store.
The course started with lectures on flies, fish food, etiquette, equipment, and casting demos with a fly-o. A question and answer session followed. Then each instructor took a couple of students and gave them individual casting instructions. Other students waiting their turn spent the time learning about flies, lines, leaders and knots. Even though the building was very large and had a high ceiling two of our casting teams managed to catch electrical fixtures hanging from the ceiling. Thank goodness we had a huge ladder or we might have lost some fly lines. Nevertheless the students did learn quite a bit and all received a gift membership in TU thanks to Orvis. Hopefully we can repeat this next year with an even better plan of instruction. The only problem will be access to a site for casting since that building will probably not be available next year. Any suggestions?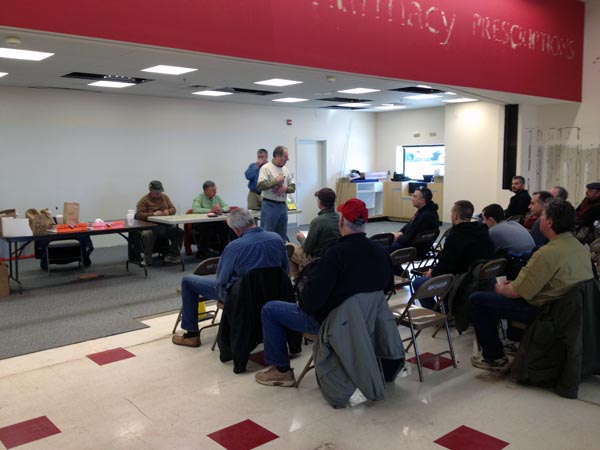 The class listens to a presentation on aquatic insects and their importance as trout food.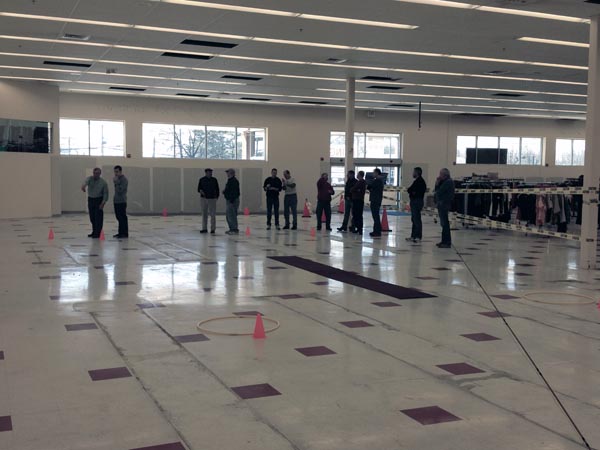 There was plenty of room available for individual casting instruction.
Trout In The Classroom 2012
The following fifteen schools are participating in the Central Jersey Trout in the Classroom Program for the 2011/2012 school year; two of the schools have more than one aquarium.
Central Jersey TU Schools
2011 - 2012 School Year
Dunellen High School, Dunellen
Somerset County Vo-Tech, Bridgewater
Watchung Hills Regional High School, Warren
Colonia Middle School, Colonia
Hammerskjold Middle School (2 Aquariums), East Brunswick
Crossroads Middle School (2 Aquariums), Monmouth Junction
Angelo L. Tomasao Elementary School, Warren
Wardlaw-Hartridge School, Edison
MiddlesexCounty Vo-Tech, East Brunswick
Edmund Hmieleski ECC, Perth Amboy
North Plainfield High School, North Plainfield
Van Holten Elementary School, Bridgewater
Voorhees Elementary School, Old Bridge
Warnsdorfer School, East Brunswick
Old Turnpike School, Califon
If you live in any of these school districts or if you have children or grandchildren attending these schools, we can always use assistance with the delivery of brook trout eggs in the fall and in the macroinvertebrate identification program.
Pequest Hatchery personnel will be collecting aquatic insects and larva by sinking onion sacks filled with leaves in the Pequest River at this time. The macroinvertebrates drift downstream where they find this a favorable feeding environment . Three weeks or so later the sacks will be lifted and TU volunteers will deliver them to the schools that choose to be included in the program. Some of the students enjoy digging into the half rotted leaves to pick out the bugs for identification, others choose to just identify them.
Another CJTU Fly Tying School has Ended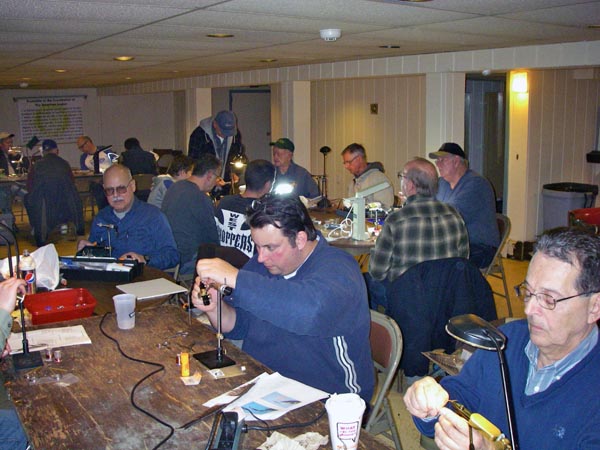 The last session of the 2012 Fly Tying School was held on March 27. Thanks go to Ron Ruskai and the Instructors for making this another succesful year. The 2013 classes will be starting in January.
President's Letter
April 2012
By the time you read this the opening day of trout season will be less then a week away. The traditional high,off colored water of spring will be noticeably absent this year. Unless we experience a few days of very heavy rain between now and Saturday expect low, gin clear water. Although the present water conditions allowed for the best winter fishing I ever experienced, there could be serious problems this summer if we don't get some more water in the systems. With water temps reaching 55 degrees in March, our trout could be facing some problems come late spring and summer.
Almost all of our insect hatches will be a few weeks earlier this year. I hear that many rivers are experiencing good Hendrickson hatches right now. Keep your fingers crossed that the bugs are still around come opening day. We had a bumper crop of little black stone flies this winter and though they are all but gone now, good numbers of caddis are on the water now. So expect some dry fly action on opening day if the weather holds. During the early morning hours when the water is cooler nymphing will be a little more successful in bringing fish to the net.
For those of you that pursue trout with spinning gear you should expect great fishing as well. You may want to consider lightening things up a bit in regards to line weight. As I mentioned earlier the water is at summertime flow levels and very clear. These conditions may cause the trout to spook a bit when the crowds descend on the streams on opening day, so you would be wise to seek out some water less trampled and make careful presentations to likely holding water. You'll find fish in places other than the normal stocking locations like bridges and roadside areas,
March was a busier than normal month for Central Jersey Trout Unlimited. We wrapped up our fly tying classes this month. Once again everyone involved thoroughly enjoyed the classes. Consider signing up next fall if your interested in learning how to tie your own flies or want to brush up on your skills. We also conducted two beginner fly fishing seminars in conjunction with Efingers Sporting Goods. We had a great turnout and look forward to doing more of these classes in the future. We also attended the Pequest Open House event during the last weekend in March. Although the weather could have been a little more accommodating it was a good weekend for us. We managed to raise about $1,200.00 dollars by selling donated sporting equipment and flies. I want to thank everyone who donated gear and/or their time to make this weekend such a success. We definitely plan to build off of this next year.
We hope to be announcing some stream improvement projects this winter. We have a few projects in the works that are awaiting permits and final scheduling. When news of these work projects develop we will send out an Action Alert e-mail to everyone.
Thats all I have for now. I hope everyone enjoys the season opener. I know I will, this is the year I introduce my son to the traditions of opening day. The day will be more about teaching than fishing but I am looking forward all the same. Try and get off the water early enough to attend our general meetings this spring. We have some great programs lined up for you.
Tight Lines,
Bart
Fly of the Month
"Hendrickson Nymph"
by Bart Lombardo
It is Hendrickson time here in New Jersey. The hatch is a few weeks early due to the mild winter we have experienced here in the north east. We are all hoping that the bugs stay around long enough for the season opener. If you want to fish this hatch you can still get out on our trout conservation waters which are open year round, though they are likely to be crowded. There have been no real prolific hatches report yet but there have been some sightings which mean the bugs are on the move.
Although I fish a number of emerger and dun patterns, I only fish on nymph pattern for this hatch. I first found this fly in the book Flies for Trout by Dick Stewart and Farrow Allen. I have been fishing the fly since the early nineties when the book first came out and I have never needed another pattern. The grey band of dubbing in the center of the fly is essential to the pattern as the naturals often have a lighter coloration mid-abdomen. I prefer the fly as shown (minus the crazy long guard hard that need to be plucked out!), though you can also add a bead if that's the way you roll.