News & Events
General Meeting - Tuesday, March 8, 2011
Jerry Fabiano "Double Feature"
"Sand Eel Fishing at Sandy Hook"
"Surf Fishing Mexico for Rooster Fish"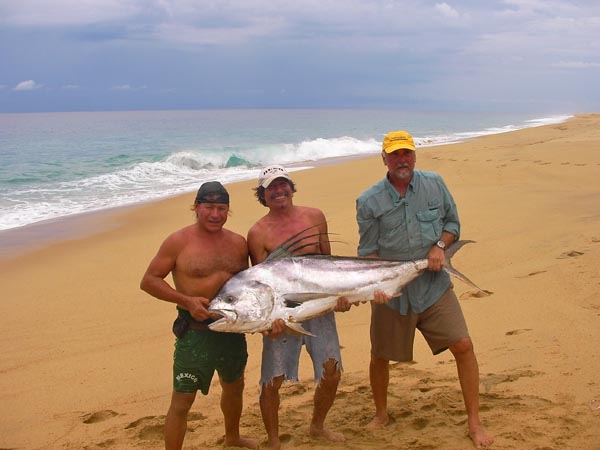 For our March program we are lucky to have Jerry Fabiano with a "Double Feature" program. The first part will be a video created by Steve Farrar on fly fishing the Sandy Hook surf in the fall with sand eel patterns. Sample Flies and the fly fishing gear used will be on display.
The feature presentation is Jerry's exciting video of his recent trip to Mexico to surf fish for the legendary roosterfish. He will also have the tackle and lures used on display.
Jerry is a resident of the Jersey shore, a fly Casting Instructor for LL Bean, has his US Coast Guard Captains License and is Vice President of the Bayshore Fly Rodders. He is also the producer of the custom wood "RV Plugs".
Fly Tying Materials Sale
We will be offering for sale a large amount of donated fly tying materials at Tuesday nights general meeting. Get there early for the best chance to pick up some bargains!
Sale start time 7:00pm
Over 300 zip lock bags of Materals
Lots of Dry fly Hackle and Soft Hackle
Hooks,Dubbing,Fur,Floss,feathers
1.00 each zip lock bag
Dry fly Necks 2.00 each
Hooks 1.00 per box
All in very good condition
Pequest Trout Hatchery
Open House
April 2 & 3
10:00 - 4:00
Clean-Up Of The Wild And Scenic Musconetcong River
by Stuart Shafran
Got cabin fever? Need to get outside? Well then, join us for our annual Musconetcong River Clean-up on Saturday, April 16th. We will be assembling once again under the pavilion, at Hampton Boro Park, located at the intersection of the Musconetcong River and Route 31. Sign-in is at 8AM, at which time clean-up locations will be assigned, trash bags, gloves, water, and snacks will be distributed, and group photos will be taken. Clean-up hours are from 9-12. The Musconcetcong Watershed Association will provide lunch beginning at noon, for all participants at the MWA River Resource Center, 10 Maple Avenue in Asbury.
We recommend that you wear long pants and long sleeve shirts. It may be too early in the year for ticks, but not too early for poison ivy. We also recommend that you wear waterproof boots, a hat, dress in layers, and carry a walking stick. Chest waders are optional. Depending on the flow of the river we may only be working close to the water's edge.
For first time volunteers, travel Route 78West to exit 17North. This puts you onto Route 31North, where you will travel for 7.5 miles to the intersection of River Road/Musconetcong River. Turn left at that traffic signal. At the first stop sign, turn right, and make an immediate right into the park.
We encourage you to bring friends and relatives, especially young children. This event is lots of fun for the kids. Here's your chance to help make a difference and set an example for others. In addition, we hope you'll pack your fishing gear. The river is in great shape and will be fully stocked.
To volunteer or for more information please call Stuart Shafran, 732-500-5239, or e-mail me at s2rtflyfisher@verizon.net. Don't forget a camera!