News & Events
General Meeting - Tuesday, April 12, 2011
Adam Franceschini
"Hatches of the Housatonic "
American Legion Hall
137 New Market Road
Dunellen, NJ
Meeting starts at 8 PM - Non Members are always welcome!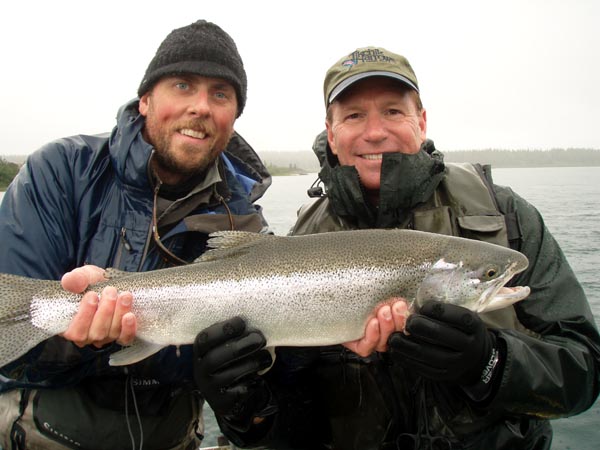 Adam began guiding on the famed rivers of western Montana, where he quickly learned how to navigate a drift boat on big water. Since then, he has guided on the San Juan, where the well-known Baetis hatches helped him refine his sight nymphing skills, and the Amazon basin of Brazil, where he chased peacock bass on the fly.
Adam is a year-round Professional Guide, and spends his summers guiding for Tikchik Narrows Lodge located in Bristol Bay Alaska. Over the past four years he has used his boat handling skills, as well as his excellent indicator nymphing techniques, to help him catch some of Alaska's massive leopard rainbow trout.
This winter, Adam was named Head Guide at Housatonic River Outfitters. Growing up in just 15 miles from the Housatonic, Adam has fished much of the local waters. Guiding wading trips, drift boat trips, and instructing classes, Adam has made a home, once again guiding on the water he where learned to fish.
May 10, 2011
Don Bastian
"Tactical Tips for Trout"
This program presents a wide range of accounts detailing the difference between the fishermen in the old adage, "Ninety percent of the trout are caught by ten percent of the fishermen." The reason for this is that the ability by the ten percent group to learn, observe, study, adapt, experiment, and ultimately apply the on-stream observations and lessons that they have experienced. All methods of trout fishing will be covered; streamers, nymphs, traditional wet flies, and drys.
Clean-Up Of The Wild And Scenic Musconetcong River

Saturday, April 16th
Come out and join Stu and his group of CJTU Volunteers !
Got cabin fever? Need to get outside? Well then, join us for our annual Musconetcong River Clean-up on Saturday, April 16th. We will be assembling once again under the pavilion, at Hampton Boro Park, located at the intersection of the Musconetcong River and Route 31. Sign-in is at 8AM, at which time clean-up locations will be assigned, trash bags, gloves, water, and snacks will be distributed, and group photos will be taken. Clean-up hours are from 9-12. The Musconcetcong Watershed Association will provide lunch beginning at noon, for all participants at the MWA River Resource Center, 10 Maple Avenue in Asbury.
We recommend that you wear long pants and long sleeve shirts. It may be too early in the year for ticks, but not too early for poison ivy. We also recommend that you wear waterproof boots, a hat, dress in layers, and carry a walking stick. Chest waders are optional. Depending on the flow of the river we may only be working close to the water's edge.
For first time volunteers, travel Route 78West to exit 17North. This puts you onto Route 31North, where you will travel for 7.5 miles to the intersection of River Road/Musconetcong River. Turn left at that traffic signal. At the first stop sign, turn right, and make an immediate right into the park.
We encourage you to bring friends and relatives, especially young children. This event is lots of fun for the kids. Here's your chance to help make a difference and set an example for others. In addition, we hope you'll pack your fishing gear. The river is in great shape and will be fully stocked.
To volunteer or for more information please call Stuart Shafran, 732-500-5239, or e-mail me at s2rtflyfisher@verizon.net. Don't forget a camera!
Pequest Open House Report
By Dick Turse
The Division of Fish and Wildlife held their annual Open House on the weekend of April 2-3, 2011. With other TU chapters we had a presence in the main building and also had some volunteers working at the pond helping the kids get a real fishing experience. There were thousands of people visiting all of the activities and booths so it was a great opportunity to get our message out and raise some money for our treasury. Unfortunately we did not have anywhere the number of volunteers needed to take advantage of this opportunity. In addition, three of the four pond volunteers on Saturday are over 70 years old. One man at the kiddie pond is in his 80's. Guys and gals we have a volunteer problem. I know we all have a private life but, as time goes by and people age, CJTU cannot survive unless younger people pitch in and get involved. I know this is a plea of many organizations but it is a fact of life for our chapter
I have talked at shows to many of our members who told me that they are CJTU members but have never come to a meeting. When I ask why some explain that they have obvious complications and conflicts that make it impossible but many others admit they never considered it Guys and gals this is your organization. Provided you are able you have to participate if you want it to survive. I know this sounds dire but the problem will become serious in a few years. If we had some more volunteers at the Open House we would have been able to raise quite a bit of money for our conservation efforts.
I also urge those of you that do go to meetings to stand up and volunteer for the various programs. We need you. At the next meeting we will discuss this topic further.
At the event we had the drawing for the winner of our trip raffle. His name is Stephen Laney from Skillman, NJ. He won a four-day series of guided trips on the Delaware River system along with bed and breakfast accommodations for two. I am sure they'll have a great time with their guide, Ben Turpin.
President's Letter
April 2011
Well, trout season is finally upon us. It looks like we have made it through the cold wet winter. The rivers look like they are in good shape for the season opener. They are a little running high, but thats to be expected at this time of year. Hopefully the cool, wet trend will continue, which will keep our trout in good condition. I hope everyone gets an opportunity to get out and sample the fine trout fishing this state has to offer. Remember, the season does not end in May. It is possible to catch a trout in New Jersey twelve months out of the year, but you need to pick your days and locations carefully during the summer. High water temperatures put a lot of strain on these cold water species. Fortunately that is not a concern for us right now. Get out there and stretch a line!
All though we like to talk about fishing, it is important to remember that Trout Unlimited is a conservation organization. We strive to improve the cold-water habit that trout happen to live in. As part of our efforts to do just that, we will be conducting a stream clean up on Saturday, April 16th on the Musconetcong River. As always, we are looking for volunteers to help lend a hand. Its a great day out for the family, so bring out the kids and show them one of the ways we can improve the world we live in. Please refer to the article in this month's newsletter for all the details.
We just wrapped up our 2011 fundraising event. The winner of our Delaware River fishing trip was Stephen Laney. Congratulations Stephen, we all hope you enjoy the trip. This year the raffle yielded just over $3,000.00 profit for us. Each year this number gets smaller, a definite sign of the times. The board of directors spent a considerable amount of time discussing this issue at our last meeting. Fundraising is our largest source of income and at this time we are spending more than we have coming in. So here is a challenge to each and every member...if you have an idea for a fundraiser please share it. If you have a skill or a talent that you can share please step up and make yourself known. In the past I have been approached by members or are craftsman or hobbyists that have offered they skills or products to assist us in our fundraising efforts. We would love to hear from you. Please contact me or any of the members of the board of directors and share your ideas. I can be reached by e-mail at president@cjtu.org. I look forward to hearing from you.
Another source of income for the chapter is though donations. In the last thirty days we have been fortunate enough to receive donations from two generous sources. Unfortunately both of these donations came as result of a death of a chapter member or friend. In February of 2011, Roy T. DeVoe tragically lost his life. Roy was a local businessman who enjoyed fishing and was an avid collector of vintage fishing lures. In his honor Nicole and Matt Barry have donated $150.00 to Central Jersey Trout Unlimited.
Ross Kremer and his family donated all of his father's fly tying equipment to the chapter. His father, Francis Kramer, was an avid fisherman. There was a wonderful photograph of Francis with a beautiful brown trout included with his letter. Francis was 80 years old when he caught that fish! I hope I'm still reeling them in at that age. During our last meeting we held a fly tying material sale and raised several hundred dollars from the items donated by the Kramer family. We still have some of the material left and will be offering for sale at up coming meetings.
We offer our condolences for the families and friends of these two fine men and extend our thanks for the generosity of those who thought of us during their time of sadness. Your actions mean a lot to us and we would like to let you know that you donations will go towards conservation to ensure that future generations can enjoy the pastime that meant so much to these two men.
Now that trout season is underway we will be resuming our stocking program on the Point Mountain stretch of the Musconetcong River. Our stocking dates are April 29th, May 20th, and May 27th. To participate in these stockings we ask that you become a member of the Wildlife Conservation Corps. This is required by the state to answer liability concerns. There is no cost involved and if you are not a member yet, we will have applications on hand at our meetings. Fill them out and we will handle the rest. If you are interested in helping out reach out for a director at the next meeting or drop me an e-mail.
That about wraps it up for this month. Come on out to a meeting if you can break away from fishing. We have some great speakers lined up for the rest of the year.
Tight Lines,
Bart