News & Events
General Meeting - Tuesday, November 10, 2009
Capt. Jim Freda will be with us in November speaking on "Tuna on the Fly"
Jim has been fishing the Jersey Shore for over 30 years. He is co-owner of Shore Catch Guide Service located in Manasquan, NJ that specializes in saltwater fly fishing and light tackle charters from both the beach and boat. He is a part of the National Factory Pro Team for St. Croix Rods and pro staff for Sufix, Aquaskinz, Avet Reels, Spro, Gamakatsu, Hogy, Korkers, Costa Del Mar, and Columbia Sportswear.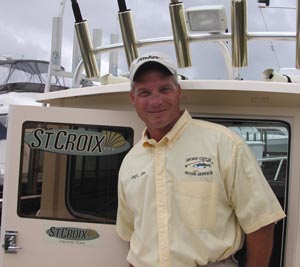 Jim is a highly respected charter captain, author, outdoor writer, seminar speaker, and photographer. His first book "Fishing the New Jersey Coast", Burford Publishing Company, has been a best seller and has received the "New Jersey Center for the Book Award" as one of the most notable NJ books. He co-authored a second book "Saltwater Fishing a Tactical Approach, A Guide for Northeast Beach and Boat Fishermen", with his Shore Catch partners Capt Gene Quigley and Shell E. Caris.
Jim has weekly fishing columns that appear in the Bergen Record-NJ's second largest newspaper and the Coast Star and Ocean Star newspapers of Monmouth and Ocean Counties. Nationally, Jim is a contributing editor for Fly Fishing in Saltwaters Magazine and also writes for Fly Fisherman Magazine, Saltwater Sportsman, Eastern Fly Fishing, Big Game Journal, and StriperSurf.com. Regionally he writes for On the Water Magazine where he has is own monthly column, The Fisherman Magazine and the NJ Federation of Sportsman Clubs newspaper.
Capt. Jim is on the water in his 28 Parker Sport Cabin with charters from April through December targeting striped bass, bluefish, weakfish, false albacore, mahi, and tuna. He lives in Manasquan, NJ with his lovely wife Mary and their three children Christie, Carlie, and Tommy who are his favorite crew to be out on the water with.
CJTU December Meeting Flea Market
We will be hosting our fishing flea market at the beginning of our December 8, 2009 General Meeting. This is an oportunity for many of you to clear out that unused or surplus equipment.
The market will start at the earlier time of 7 pm, allowing us to also have our usual speaker presentation. We have a lot of fun and great deals when we run this market, so come early and don't miss out! The details can be found here..
Fly Tying Demo
Dunellen Public Library
Novemberber 23, 2009
6:30 - 8:30 pm
Fly Tying School 2010
Registration for the 2010 session is now open!
You can sign up at the November meeting
Get more information here!
President's Letter
November 2009
The weather has been a bit unstable this fall. There has been loads of wet weather, warm days followed by cool days, but the fishing has been hot! I hope you have had a chance to enjoy it! There was also some pretty good dry fly action thrown into the mix as well which is always a plus. One thing that I have learned during this late season fishing spree is that my fly boxes are a mess. I was not as diligent as I have been in the past in keeping things organized. My dry fly boxes have nymphs , streamers and wet flies scattered about and visa versa. Not to mention all the holes that need filing. As colder weather sets in I start tying flies to fill all those holes in the boxes as well as experiment with new patterns. Recently I have been taking stock and noting what supplies I need to purchase. If you have such a list yourself you may wish to consider dropping by the Fly Tying Symposium at the Double Tree Hotel in Somerset NJ. The dates are November 21st & 22nd.
The weather has made it difficult to schedule some of the restoration work I mentioned last month. These projects are often dependant on good weather and stable stream flows. When we get word that they are a go we will send out an action alert e-mail.
CJTU is still moving forward with the Point Mountain stream work project. At this time we are still in a fund gathering stage. As soon as more information develops I will pass it on.
Next month we will be having our annual fishing flea market fundraiser at our December monthly meeting. If you have any fishing gear or other outdoor equipment that is good shape and you don't use it anymore, please consider bringing it to the meeting and putting it up for sale. If it's sold we ask for a small percentage to be donated back to the chapter. This event has been a success for us in years past. It puts money in your pockets just in time for the holidays and helps the chapter out at the same time.
There is still plenty of fishing to be had before the water gets hard so get out there and wet a line.
Tight Lines,
Bart Lombardo
You can contact Bart at
Trout in the Classroom
The Start of a New Season
On October 21 Rich Post, Jon Burgess and I travelled to the Pequest Hatchery to pick up the brook trout eggs and accompanying materials which are to be used in the 2009 Trout in Classroom project. We met members of all of the NJTU chapters who also were there to get their eggs. One familiar guy was Ken Devory, past Director and President of CJTU. Ken now is a Director for the Jersey Shore chapter and he was picking up supplies for 23 schools in his area.
Jessica Griglak, hatchery coordinator for this project gave us all a quick overview of the project as well as directions for establishing the initial introduction of the eggs. We received a bag of eggs, three different kinds of feed, Vibert boxes, and instructions in a huge box for each school. I am still wondering why the "stuff" came in such a large box. Someone must have gotten the boxes for a huge discount. Of course, we had to keep the eggs cold in a cooler while we travelled with them.
CJTU was responsible for sixteen schools. Rich and Jon handled eleven and I was responsible for the other five. Since the eggs were given to us in the inverse order of the distance we had to travel, South Jersey got their's first. And the process did take time. This tended to create a bit of nervousness on our part because the eggs had to be delivered to all of the schools by 3:00 PM, closing time. It was approaching 11:00 AM and we were still at the hatchery. However the eggs had to be transferred to our bags slowly to insure that they remained viable.
But your heroes were successful. We did get the eggs to all of the schools before they closed. We expected the first eggs to hatch on Nov. 3 and as I write this on Nov. 4 I have not heard any report. Hopefully the chillers will all continue to work and there will be a successful program in all of the schools. One last comment makes me smile. When I delivered the eggs to each school the students treated me as a celebrity and hero. Then I went back to my real life.
Dick Turse
Articles
Rich Thomas gives us an account of his meeting one of TU's founding members, Art Neumann, during the National Meeting in August.
It was during a brief intermission that I saw I had my chance. As he stood there amongst several others, telling his story as he had done countless times before, it was my hope that he would have the time and desire to tell it once more. When I saw his current audience disperse, I walked over to pay homage to one of the men that pulled this whole thing together. "Mr. Neumann," I said intently, "it is an honor to meet you and I want to thank you for your dedication for starting this great organization." Thank you he said politely," in a way only a 92 year old man could do. He had a peaceful aged smile on his face and I knew it would not be an issue to ask my next question…"How did this all start?" Continue here