News & Events
General Meeting - Tuesday, September 8, 2009
There are no General Meetings during the months of July and August
South Branch Watershed Association
Treasures of the South Branch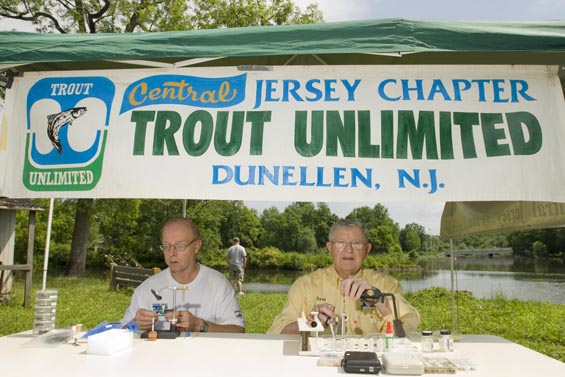 Nick Romanenko Photo
CJTU members Ed Kordyla and Dave Hart man our booth at the Treasures of the South Branch festival that was held on Saturday, June 13th in Clinton. More photos from this event can be found here.
Articles
Dave Hart gives us a story titled "Black Bear On The Little Lehigh Creek" for this months article.
Kelcey Burguess spoke at our June 16 Meeting with his program, "Black Bears on the Fly: Avoiding Conflicts, Managing Encounters." He is the Black Bear Project Leader of the N.J. Division of Fish and Wildlife and presented this excellent program for us; it must have been something very similar for this Pennsylvania fishing group.
For Sale
17 ft. 1986 Boston Whaler with 75 HP Mercury engine and 1998 trailer
Excellent condition
Catches fish
Asking $9900
Contact Dick Turse

Pequest Programs 2009
We have been informed that Pequest will once again be shutting its doors on weekends with the upcoming voluntary furlough days that Governor Corzine is imposing. Sorry for any inconvenience but all weekend programs are being cancelled.
Fly Casting Clinic for Beginners - Cancelled
Saturday, July 11th 11am - 3pm
Saturday, August 1st 11am - 3pm
CJTU Kids Fishing Education Day - Cancelled
Saturday, September 19th 10am - 3pm