February 2009
General Meeting - Tuesday, February 10, 2009
This months program is titled "The Realities of Global Change"
by Dr. Roger Locandro
| | |
| --- | --- |
| | Professor Emeritus of Natural Resources and Fisheries at Rutgers University, Dr. Roger Locandro will share his insights of global climate change and it's impact on water resources and fisheries. If you've experienced a talk by "Doc' Locandro before, you can expect another great presentation that takes on conventional wisdom, and touches upon the history, geology and people involved with this important issue. |
March - Jonas Price
Five Creeks of Central PA
Jonas is owner and guide for The Feathered Hook, a fly fisher's B&B located on Penn's Creek. He will be doing a presentation on some of the world class trout fishing near Spring Creek, in the State college area of Pennsylvania.
April - Wendell 'ozzie' Ozefovich
Trout in the Classroom
UnderwaterOz is back after being UnderWeatherOz last December.  The Life Cycle of the Brook Trout, a presentation as given to the Trout in the Classroom students.
The Life Cycle of the Brook Trout was developed for students who are engaged in the Trout in the Classroom program. It is a narrated video presentation of 22 minutes duration, and interaction with the students during the presentation extends the time to approximately 30 minutes.
It shows the class where the trout eggs came from, and then what happens to the trout after their release. The presentation explains the life cycle of both hatchery-bred and wild trout that reproduce naturally in our streams and rivers, the food they eat, their predators, and other perils that trout face throughout their life cycle.  It also includes the spawning sequence of wild trout from the physical changes that take place in the fall, to the final spawn.
News & Events
CJTU Fly Tying Demo at Efinger's
Saturday, February 7
10 am - 2 pm
Annual Open House and Fishermen's Flea Market at Pequest Hatchery - NJ Division of Fish and Wildlife
Saturday and Sunday, April 4 and 5 from 10:00 a.m. - 4:00 p.m.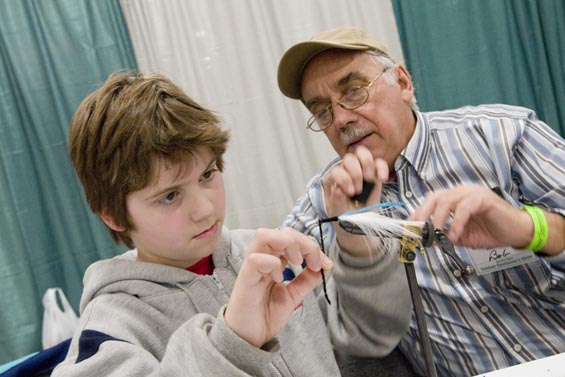 A popular attraction at the Garden State Outdoor Sportsmen Show is the kid's fly tying program run by CJTU. For more photos from the show click here.
President's Letter
February 2009
Winter is finally here! Although it has been officially winter for almost two months, the weather was unseasonably warm at the start of the season. For the last few weeks the ground has been covered with snow the lakes and ponds have frozen over and ice starting to close off some of our smaller streams. But there are sure to be some warmer days in the mix. The weatherman (if you believe him) says it could hit 50 degrees or more in the next few days. A couple of days of above freezing temperatures, especially several days of 40 or 50 degree temps and a good days fishing is a definite possibility. Although trout don't feed with the frequency they do during the warmer months, they still need to eat during the winter.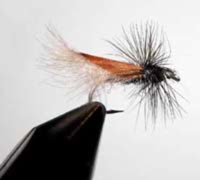 If you fish a slow and deep enough presentation over the right water you can catch fish all winter long. When you have mid winter days in the 50's it can even be enjoyable, and you may even run into a hatch or two. Midges hatch all year long, and little black stoneflies make their first appearances during February and March. Most anglers miss this important stone fly hatch. One of my favorite little black stone fly imitations is pictured below. Louis Digena, a C.J.T.U. member, designed this particular pattern, which was featured as the fly of the month in March 2008. You can find more information on the fly by visiting the fly of the month web site.
If the right weather conditions are present you can experience a good day of dry fly fishing in the middle of winter. Other insects such as blue winged olives are also a possibility. So although nymph fishing is generally the rule during the winter, a little dry fly action is always a possibility.
Last month was a busy month for Central Jersey Trout Unlimited. We had a presence at two shows in January. We also kicked off our 2009 fundraiser. This year we are raffling off a complete bamboo fly outfit. If you purchased raffle tickets from us in the past we mailed this years raffle to you. If not you can still purchase them at a general meeting or before the drawing at the Pequest open house April 4-5, 2009.
We have a lot of great speakers lined up for our upcoming meetings. I hope you can make it out to the meetings. Please make a note that our June general meeting will not be on its usual date. Due to a conflict with the hall we will be having our meeting on the third Tuesday of the month (June 16). Please make a note of the change. I will make an effort to remind everyone of the change several times in the months to come.
Tight Lines,
Bart Lombardo
The Fishing Shows
The chapter was once again involved with two fishing shows in the last month. In reality the first show, labeled Garden State Outdoors Show, was not a fishing show and one must stretch his imagination somewhat to call it an outdoors show. As usual it had a little bit of everything for the casual attendee. Our booth once again featured our fish tank with five different species of trout. We also had the largest area in the show encompassing five booths in which we tried to sell flies and clothing while trading stories with the customers and each other and gave fly-tying lessons to the kids.
We had a new chiller this year which worked fine but for some reason we lost three trout during the four-day show. There were over 20 guys who spent some time manning the booth and some worked the entire four days. Thanks to all who participated.
The Fly-fishing show was another matter. Once again we were in the lobby with only one table and our new LCD TV showing Ozzie's demo DVD. Many guys passed through, dropped off their coat and visited the show. Some guys actually did work the booth and we picked up a couple of new members.
All-in-all they were relatively successful shows although there were noticeable changes in the exhibitors in both of them. It remains to be seen what changes we might expect next year. We will keep an open mind regarding participation.
Dick Turse
Articles
Dave Hart gives us this months feature story titled "Bonefishing Trip - November 2007"
November 2007 was one of our bonefishing trips to Long Island in the Bahamas We flew from Newark to Nassau and then took a plane to Andros Island in the Bahamas. Andros Island, which is 230 Miles long and 4 miles wide, is located 160 miles south of Nassau. It is at the Tropic of Cancer with the gulf stream warming the ocean in winter and trade winds cooling it's shores in summer. It has a population of 3500 people with northern shores characterized by high cliffs in the north near a statue of Christopher Columbus and shallow sandy beaches in the south. Deadman's Cay covers all community stretches from Gray to Scrub Hill and is the social and educational center of the island. Our lodge, Greenwater Creek, is located on Long Island. It has air-conditioned rooms, ceiling fans, tiled floors, full bathrooms, a dining room, service bar, living room, color TV's in every room and an outdoor swimming pool. Continue the story
Pequest Programs 2009
CJTU volunteers are needed at the kids fishing pond or other duties at the Pequest Open House
Annual Open House and Fishermen's Flea Market
Saturday and Sunday, April 4 and 5 from 10:00 a.m. - 4:00 p.m.
Come celebrate the arrival of spring and the opening of trout season at the Pequest Trout Hatchery Open House. There are activities for people of every age. Come see some of NJ's wildlife artists, taxidermists and carvers. Get to know some of NJ's conservation groups and learn what they do for NJ's natural resources. Visit with historical reenactors or learn how to safely shoot a shotgun or bow. There are many activities for kids including fishing in our education pond for kids between the ages of 8 and 16 (all equipment provided), younger kids can try to catch a fish in our kiddie trout tank, or join our staff to learn about insects and fish biology. You can even take a self-guided tour of the hatchery and see where more than 700,000 trout are raised each year for NJ's rivers and streams.
Be sure to visit the NJ Endangered Wildlife Exhibit now at Pequest.
The following CJTU weekend programs are tentative and may be cancelled depending upon what the present administration has in mind. Details on the programs will follow.
Fly Casting Clinic for Beginners
Saturday, July 11th 11am - 3pm
Saturday, August 1st 11am - 3pm
CJTU Kids Fishing Education Day
Saturday, September 19th 10am - 3pm
Fly of the Month
This month's fy is a sparse Crane Fly pattern from Bart Lombardo.

Sparse hackle flies are effective because the imprint mimics most mayflies as well as crane flies. This particular fly is a crane fly pattern but it illustrates the technique. All that needs to be changed to imitate a mayfly is the position of the wings (make them upright) and add a few more turns of hackle . It only needs enough hackle to float after some floatant is applied. This one is dark dun, but it can be tied with a variety of colors. More info.