News & Events
General Meeting - Tuesday, December 8, 2009
John Wester and Larry Gove will be presenting an introduction to center pin fishing after the Flea Market. This short demo will include rigging, casting, fighting and landing your fish, along with recomendations on where and when to fish for steelhead, browns and salmon.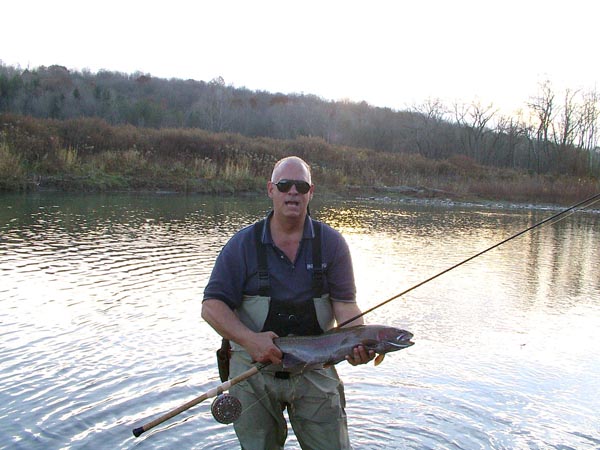 CJTU December Meeting Flea Market
We will be hosting our fishing flea market at the beginning of our December 8, 2009 General Meeting. This is an oportunity for many of you to clear out that unused or surplus equipment.
The market will start at the earlier time of 7 pm, allowing us to also have our usual speaker presentation. We have a lot of fun and great deals when we run this market, so come early and don't miss out! The details can be found here..
Fly Tying School 2010
Registration for the 2010 session is now open!
You can sign up at the general meeting on Tuesday
Get more information here!
Fly Tying Demo
Saturday, Jan. 9, 2010
Efinger Sporting Goods
10:00 AM to 3:00 PM
Holiday Tying To Everyone
by Stuart Shafran
As part of the new CJTU community outreach program we will be holding a fly tying demonstration at Michael's Craft Store of Bridgewater. The event will be Saturday, December 12th, from 9am until 2pm. Our program will emphasize only patterns tied from materials found in the store. Our goals are to promote TU, increase membership, and to attract new students for the winter tying classes.
The demonstration tables will be featured at the front entrance. We will be greeting every shopper that comes in, so volunteers are required to brush their teeth and wear clean shirts. Holding this event in the middle of their holiday shopping season will guarantee us a large crowd. The store manager, who's father is a fellow angler and tyer, hopes this is the first of many programs from CJTU.
Credit for this event should be given to Jay 'Fishy' Fullum. He has held many such programs near his home in Albany, NY. During his last visit with us he complained how his busy schedule prevents him from participating more in these fun events. With his permission, several of Fishy's award winning patterns and variations will be on display. Wonderful friend and teacher that he is, he is always incouraging us to make his patterns our own...and to have fun!
Michael's is located between Route 28 and Patriot Stadium. For directions or to participate contact Stuart Shafran,
2010 Shows
by Dick Tutse
As usual we will be participating in two outdoor shows in January 2010. The first is the Garden State Outdoor Sportsmen's Show which will be held on Jan. 14-17, 2010 at the NJ Outdoor Convention and Exposition Center at the Raritan Center in Edison, NJ. We have participated in the show since its inception in the early 1980's. While it is not a fishing show per se there are displays for most kinds of outdoor activities and we have the largest booth next to the casting pond. We are changing our booth this year to attract more people and have some new surprises for the folks. If you are not participating in the show try to visit us some time during that weekend. As far as participation you are invited to help in one way or another. We are particularly in need of flies, especially pheasant tail and gold-ribbed hare-wing nymphs of all sizes. Please bring them to the Dec. and Jan. meetings. Also we need fly-tying instructors for the kids during that weekend. This is a very important part of the show and we are always short of help. Please contact me at to volunteer.
The other show is the annual Somerset Fly-fishing Show held on Jan. 22-24 at the Garden State Exhibition Center in Somerset. We only have a small booth in the lobby so we do not need volunteers to work the show. But you can come and sit in with us to rest your weary legs, spread fishing gossip and just say hello at any time during the show.
One more activity for January will be our annual fly-tying clinic held at Efinger Sporting Goods in Bound Brook. It will run from 10:00 AM to 3:00 PM on Saturday, Jan. 9, 2010. This is during the 20% (30% for TU members)-off sale on fly fishing materials and equipment during the month of January at the store. Come and join us and get some great buys. Hope to see you guys as we design and display some new flies for the coming season.