May 2009
General Meeting - Tuesday, May 12, 2009
This months program is on "Methods of European Nymphing" by Aaron Jasper
Aaron Jasper is going to give a presentation on the different European nymphing techniques. He has been fortunate enough to have been taught by some of the best anglers out there. He will peak your curiosity with his show an hopefully many of you will like it enough to get started "Euro Nymphing" on your own!
Note: The June meeting will be held on the third Tuesday which is June 16th
June 16- Kelcey Burguess
Black Bears on the Fly: Avoiding Conflicts, Managing Encounters
Kelcey Burguess is the Black Bear Project Leader for the New Jersey Division of Fish and Wildlife (NJDFW). His presentation, "Black Bears on the Fly: Avoiding Conflicts, Managing Encounters", will discuss the history and population expansion of black bears in New Jersey, how bears become habituated and the NJDFW bear research and management program.In addition, he will outline what people should do if they encounter a black bear, how to "bear proof" their residence, and other tips to minimize conflicts between bears and people that will be geared towards anglers. "Cyngen," one of NJDFW's "Bear Dogs" will also be in attendance.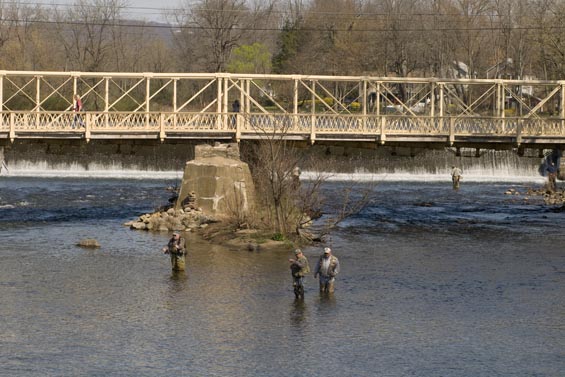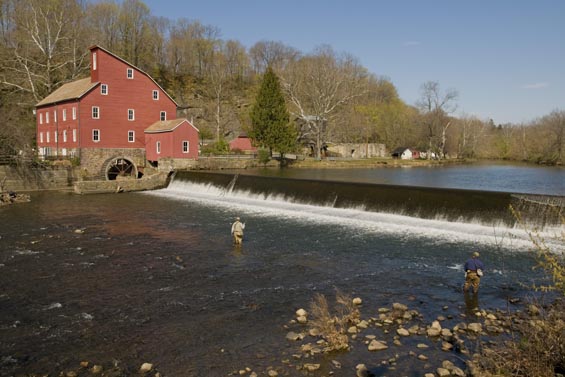 Trout Fishing in Clinton on the day of the South Branch Watershed association Clean-up
Photos by Nick Romanenko
News & Events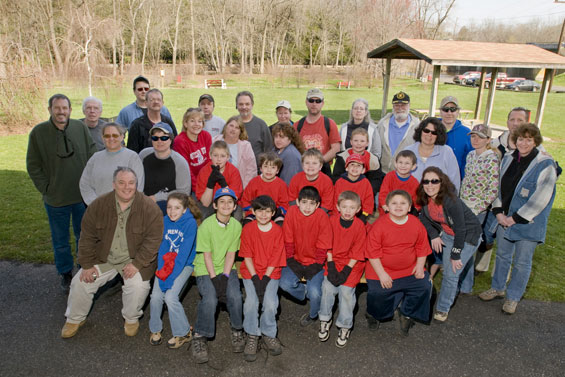 Stuart Shafran and crew at the Musky River Cleanup
Photo by Nick Romanenko
More photos from this event can be found here.
President's Letter
May 2009
I took a break from fishing this week, though not by choice. A week of solid rain put most of our streams in flood stage. I'm not complaining though, because we desperately needed the rain. During most season openers the rivers are usually full of water, but this year water levels were way down making it look like early summer instead of April. I found water temps in the 70's last week on a stream that is well known for holdover fish, far too warm for this time of year. So don't be too disappointed about missing a few days of fishing, in this case it was a good thing.
Despite the low water it has been a great season so far. The weather has been great and there has been loads of fish. I'm looking forward to fishing the sulphur hatch and this month's fly of the month is one of my favorite patterns. Speaking of flies our chapter has started selling boxes of flies developed for specific local streams. These are time tested, effective patterns, tied by our members. Included are a dozen flies, a TU fly box and a fact sheet describing the patterns and offering fishing tips. You can pick them up at one of our meetings and if the concept takes off we may offer them for sale online.
This month's speaker is Aaron Jasper he will be giving a presentation on the methods of European nymphing. I am speaking from experience when I tell you that European nymphing is a highly effective nymphing technique. I started experimenting with the various styles of Euro nymphing and since then I have all but abandoned "traditional" nymphing methods. I encourage you to come out to the meeting and learn more about this technique and the flies used with it.
That's about it for now. We still expect some work projects to surface in the weeks to come so keep your eyes on your inbox for the next action alert.
Tight Lines,
Bart Lombardo
Articles
An article from Stu Shafran titled "Musconetcong River Clean Up And Wrap Up" is featured this month.
After many months of planning and organizing the Musconetcong River clean up day, Saturday, April 18th, finally arrived and was a huge success. For the first time in the history of this annual event, we were able to cover nearly the entire length of the river which begins at Lake Hopatcong and ends at the Delaware River. From Internet e-mails, press releases, local advertising, newsletter articles, and by word of mouth, the volunteer count this year was well over three hundred. One of the many changes to the clean up was a greater effort to separate out recyclables from the usual car and truck tires, car batteries, shopping carts, mattresses and box springs, indoor and outdoor furniture, plastic milk crates, clothing... etc.
Pequest Programs 2009
We have been informed that Pequest will once again be shutting its doors on weekends with the upcoming voluntary furlough days that Governor Corzine is imposing. Sorry for any inconvenience but all weekend programs are being cancelled.
Fly Casting Clinic for Beginners - Cancelled
Saturday, July 11th 11am - 3pm
Saturday, August 1st 11am - 3pm
CJTU Kids Fishing Education Day - Cancelled
Saturday, September 19th 10am - 3pm
Fly of the Month
This month's fy is the Hi-Vis Sulphur Parachute from Bart Lombardo.

Sulphurs will start coming off this month, and this fly is a good one. I feel that parachute patterns are imitating emerging insects opposed to duns. The parachute style of tying puts the body of the fly right in the film a longer than usual tail may imitate the shuck of the nymph. The bright orange post of this fly makes it easy to see on the water. Trout often key in on the emerging nymphs and ignore the high floating duns making this a very effective pattern. More info.