President's Letter
November 2008
I want to start off this month's letter from the president by thanking those of you that answered our call for help last month. A few of you responded to last months letter and advised you would be willing to help out with some upcoming projects. Your assistance is greatly appreciated. We are not out of the woods yet so if you feel you would be interested in getting more involved with Central Jersey Trout Unlimited drop me a line either through our website or at bartlombardo@optonline.net .
The weekend after listening to last month's guest speaker, Don Bastion's presentation on wet flies I was overcome with the desire to go out and wet some wet flies myself. So I headed up to the South Branch with friend and fellow C.J.T.U. member Rick Dooley. I fished some gaudy old school wet fly patterns and Rick fished a new creation that came off his vice the night before (maybe I can talk him into sharing this pattern for a future fly of the month, it was a killer!). Right off the bat it was established that the fish were keying in patterns with orange in them. Partridge and Orange for Rick and a Queen of the Waters for me. We took well over a dozen fish a piece in the course of a few hours. It was a great day on the water.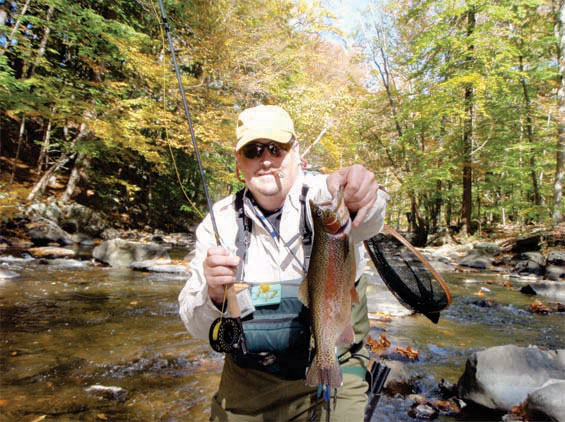 Rick with a nice South Branch rainbow.
That's why I have selected the Queen of the Waters for this month's Fly of the Month. If any of you would like to share a favorite fly please drop me a line with a description of the pattern and a photo if possible. Better yet send me a sample! We will post it on the fly of the month column for you. Speaking of fly tying we will be hosting classes for all levels of fly tiers starting in January. Look for more info on these classes in the future or contact Tom Kapusta (cjtutying@verizon.net) for additional information. While still on the subject, donating flies is another way to help out your chapter. We sell the flies tied by our members as part of our fundraising efforts. We are currently in need of flies for the up coming show season. If you are a fly tier don't miss the International Fly Tying Symposium held at the Double Tree Hotel in Somerset NJ on November 22nd & 23rd you can get more information by clicking this link. That's it for now; if anything comes up between monthly meetings we will send out an Action Alert. As always if anyone needs to contact me you can reach me via e-mail at bartlombardo@optonline.net .
Tight Lines
Bart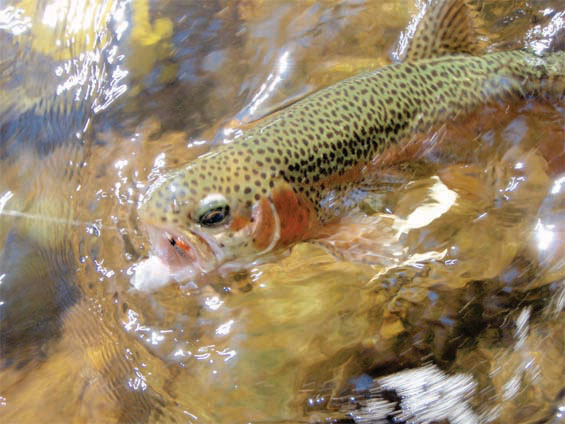 Fooled by the Queen of the Waters