President's Letter
December 2008
This is the time of year when I clean off the fly tying desk, which has been gradually accumulating clutter all summer long, and get back to the business of tying flies. Fly tying has become almost as enjoyable as the fishing itself...almost. As I write this the first snow of the season is falling, its really not much more than a flurry but is snow. When you can't get out on the water, fly tying is an excellent way to stay involved in the sport. Not to mention the added benefit filling your fly boxes.
Right know I am going through my fly boxes and taking inventory. At first glance it looks like it was a pretty good year, there are a lot of empty compartments to fill. I will also check my supplies and make a list of needed materials. With the Fly Fishing Show right around the corner this is the perfect time to take stock of what is needed.
Once the desk has been cleared, lists written and supplies in order I get down to business. I wish I could say I have the time to tie flies whenever I want but that is far from the truth. Usually its for an hour or so a couple times a week once the wife and kids have gone to bed. I usually start out working to refill patterns missing from boxes. Tying an hour or two a week this could a month or two. Once the boxes are stocked its time to start tying up new patterns I want to try. In addition there are always plenty of late night experiments a few of which turn out to be winners but the vast majority eventually end up in the bluegill box or tucked away in some obscure corner of my vest.
If your interested in fly tying or looking to learn more about the hobby we are excited to tell about a new feature on our website. We have recently redesigned our Fly of the Month portion of our website. The site currently has almost three-dozen patterns listed with plans to put up our entire archives in the next few months. There are also plans to add a fly tying tips section to the site. At the present the site is linked to our main site but is hosted on a different server. Eventually we will move it on to our server but it is fully functional and you can start using it right now. Please consider submitting your own patterns to share with other C.J.T.U. members. If you would like to submit a pattern just click on the e-mail me link of the Fly of the month home page.
I also want to mention our fly tying lessons that will be starting up this January. You can visit the website for additional information or speak to Tom Kapusta or any other director at the nest two general meetings.
We will be giving a way a Sage LE 690 9 6wt fly rod this month to one lucky individual who has shared their e-mail with us to receive this newsletter. You dont have to be at the meeting to claim your prize but it is a great excuse to get out of the house on a Tuesday night.
This month we have a great program for you. Our own Wendell Ozefovich known as Ozzy to most will be given a presentation on our Trout in The Classroom program. It will be a great opportunity to learn about one of our most important ongoing projects.
Next month we will be hosting our Fishermans Flea Market, where folks bring in their unwanted gear to sell and donate a portion of the proceeds to the chapter. You get to clear out the garage to make room for all the new stuff your going to buy this year, go home with a little cash in your pocket and put a little cash into the chapters pocket. You decide what you want to give be it a little or a lot. By the way if anyone has a pair of size 13 waders/boots they are thinking about getting rid of bring them to the meeting or shoot me an e-mail. One of our members contacted me and mentioned he is looking for a pair.
Speaking of raising money we will be kicking off our annual fund raising raffle next month. We have a bamboo fly rod and reel outfit with a bunch of other goodies thrown in. If you have purchased tickets from our past mailings your on our list and will receive yours in the mail. If not, dont despair you can pick yours up at our meetings or at any of the shows where we have a presence.
Thanks again for those e-mails from those of you interested in volunteering. Rest assured, we have your information and we will contact you when projects come along, we expect to be pretty busy once the spring rolls around. We will be distributing a survey at the next few meetings where you can give us suggestions on the direction you would like to see your chapter heading. Please participate; we would love to hear from each and every one of you. Your opinion is important to us, fill out the survey and be heard!
One final word, a lot of folks hang up their rods once the weather gets cold in the fall. If your one of those people, your missing out on some fine fishing. I am not complaining mind you because there is a lot more elbowroom on the water. But I feel guilty having fish like this all to myself.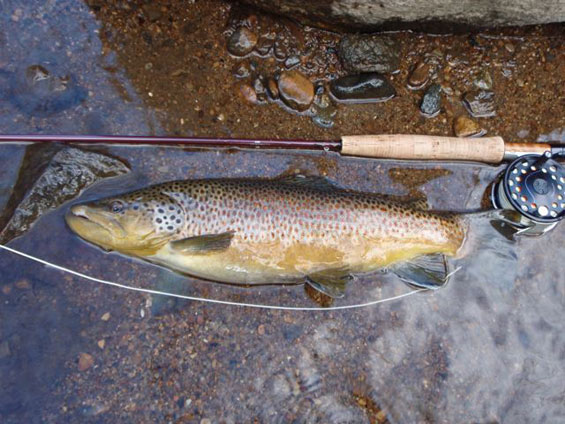 Caught last Saturday on the ...
Tight Lines
Bart