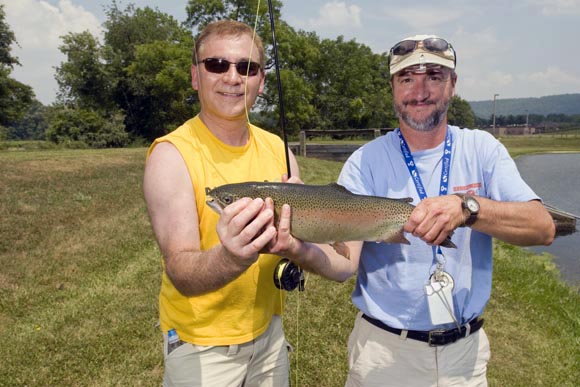 Photo from the "Fly Casting for Beginners" program at the Pequest on July 19th.
We had 13 students and 13 instructors, and pretty much everybody caught fish. Some actually caught quite a few bruisers. It was hot as blazes, so we were very fortunate the fish were active. The students really had a good time.
Agust led the casting lesson, and a few of our volunteers tried out Rich's new rod with the Sharkskin flyline. Agust pronounced it cast like a cannon but Ozzie said it was too noisy.
Our Chapter also gains a few new members after free programs such as this one.

More photos can be seen here.
CJTU's First Fall Picnic / Fishing Day
Saturday, October 4,2008
Join fellow TU members and their families Saturday, October 4,2008, 11 am to 6 pm, at the Raritan Inn at Middle Valley for CJTU's First Fall Picnic / Fishing Day.
We'll be featuring a pig roast, ready around 3 pm, but will have other grilled items available at noon. We welcome any special side items you may wish to bring.
Soft drinks and water will be provided, otherwise it's BYOB. We'll provide the coolers and ice, you bring the rest.
Advance tickets are $40 for adults, $10 for kids under 16 years of age, $45 /adults and $12 / kids on the day of the picnic. You can purchase your tickets at the September 9th General Meeting in Dunellen, or by mailing your check or money order made out to CJTU to:
Central Jersey Trout Unlimited
P.O. Box 55
Pluckemin, NJ 07978
Click here for more info on the picnic.
Articles
This month we have a pair of articles from Stuart Shafran. The first is a report on the Musky tire cleanup that was held on June 25th titled "Tire, Tired and more Tires".
Several weeks ago, what I thought would begin as an ordinary volunteer event with the usual handful of characters, instead wound up becoming one of the most memorable and rewarding events I've ever attended. It would have been as satisfying as any fishing day I could remember if not for the fact that I had to go back to my day job afterwards.
I received an e-mail from Brian Cowden, TU's Home Waters Chairman, requesting volunteers to help haul out discarded tires from the Musconetcong River. Brian included photos in his e-mail of a stretch of river formerly known as the Gruendyke Dam, with dozens of car, truck, and tractor tires along the banks and littering the river bottom. One look at those photos and there was no question whether I would help. We believe but cannot prove, that for many years someone was dumping tires into the river. Judging from the amount and vintage of what we hauled out, we're talking several decades worth. With the combination of the dam removal and recent storms, hundreds of tires were unearthed and washed downstream resting above and below the Pump House Restaurant.
To continue the article, click here.
The second article is a story called "Who Knew?"
In a previous article I wrote that I had joined a volunteer army and together we had hauled out hundreds of tires from the stretch of river once known as the Gruendyke Dam. One of the volunteers, John Nordstedt, is an old friend of mine, a long time member of TU and of this chapter. I enjoyed his company that day as well as many other days fishing together on our chapter trips. On one of several work breaks at the old dam, John entertained me with a story that I enjoyed so much, that I asked his permission to share it in Mainstream.
One of John's and my favorite rivers to fish is the Farmington River in Connecticut. Combined we have almost twenty years of fish tales at each and every pool and run from the dam at Hogback Reservoir to the Hillside Motel, in Canton.
Not too long ago, mid July, John was fishing Church Pool, the most heavily fished pool on the river. It's a small stretch of river located at the intersection of Routes 318 and 181. It was just about 6 AM and John was the second to arrive at the pool. The first guy was fishing under the bridge. He was as far out as he could wade. John was standing below the bridge rigging up his rod to fish nymphs.
Click here to continue the story.